Chicago Justice Season 1 Episode 6 Review: Dead Meat

Jack Ori at .
With Ben Stone as a father, Peter has a lot to live up to.
The elder Stone didn't have much of a personal life in the original Law & Order, but now Peter regularly describes him as strict, having high expectations for his son, and not always able to be there for him.
And on Chicago Justice Season 1 Episode 6, Peter seemed almost as haunted by the advice his father gave him after missing his baseball game as by his inability to get justice for a grieving widow.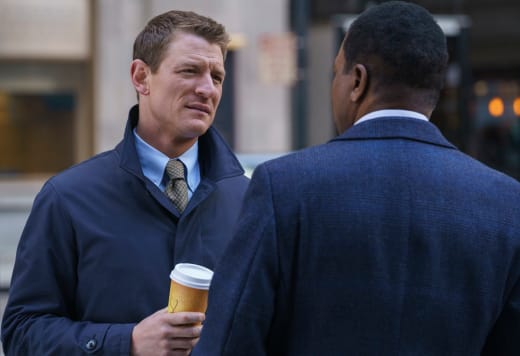 At first, I wasn't sure why Stone was so affected by this case.
Sure, Gail Marcus was upset and cried on his shoulder, but he seemed to be taking her case awfully personally and not just because he'd lost at trial.
I was pretty sure Chicago Justice wasn't going to go the route of Stone having an affair with a witness so soon after Valdez had an ambiguous relationship with a judge. On the other hand, you just never know what TV writers may think makes great drama, and there was clearly something going on.
I was so relieved when it turned out Stone was trying to live up to his father's belief that you have to ease the pain of people who have lost everything!
Peter: My dad, he was a big ADA back East. He tried to make it to all my games when his trial schedule allowed. Senior year, we made it to the finals. He canceled everything, made it to all my games. Sat in the same seat every time. It's the bottom of the sixth, I'm on the mound, I look up and his seat is empty. I didn't hear from him for three days.
Valdez: He didn't call?
Peter: I didn't TAKE his calls. Screw him, right? So finally, he comes home. It turns out he caught a homicide. Ten-year-old girl. He said to me, 'Someday you're going to meet someone who's lost the most important thing to them, and when you do, if you don't do something to ease the pain, what good are you?'
The little conversation between Stone and Valdez was one of the highlights of the hour and possibly my favorite part of "Dead Meat."
I was enthralled by Stone's story of his father missing his baseball game and the reason that happened, and I loved seeing Valdez be supportive.
Valdez hasn't been on much since her judge got killed, and I wondered if she's on some sort of punishment for that whole mess. But it didn't matter because she shined in her small role as Stone's confidante and supportive friend.
In any case, I could feel how much pressure Stone has lived with his entire life. I doubt the elder Stone will make an appearance, at least not played by Michael Moriarity, considering the circumstances under which he originally exited Law & Order.
But there's so much dramatic potential in a father-son reunion here that I hope I'm wrong!
Jeffries: You're grinning like a twice-shot fox.
Peter: What does that mean?
Jeffries: Dunno, but my ma used to say it right before she smacked the smile off my face.
It was utterly amusing that Jeffries made a joke about his mother right after Stone told that serious story about his father. That was a nice juxtaposition of the two men's experiences.
I also really liked Jeffries' advice to Stone. It seems like he often gets too caught up in the facts of the case and doesn't think about the role emotion plays in jury decisions.
Jonesy: Slit wrists. It was obviously a suicide.
Dawson: Hot water. Whoever did this wanted the body to decompose.
Jonesy: Excuse me, did you just say whoever did this? We know who did this. He killed himself.
Laura: Look again, Officer. What's missing?
[as Jonesy looks] Dawson: The knife.
Laura: Maybe Officer Jonesy can get us some coffee.
Dawson: What a terrible way for a cop to go.
Jonesy: Wait a second, did you just say he was a cop?
Dawson: You mean your boss didn't tell you?
Jonesy: No.
Laura: Officer Jonesy, meet Officer Ted Cody, Chicago PD.
I should have known from the beginning that Officer Jonesy was going to do something stupid that may have cost the SA's office their case. He seemed pretty incompetent at the crime scene.
There was no word about what happened to him after the debacle at trial, but I hope he ended up sitting on a desk for a while.
Jonesy made a lot of mistakes that were probably borne out of naivety, but his behavior got important evidence thrown out of the trial and who knows what else could happen to him or his partner while he's not following protocol and then lying about it.
Beckett: You know what I think? I think this is it for you. Day after day putting away the bad guys. But one of these days you're gonna wake up in the morning, brush your teeth, shave, look in the mirror... and realize you're the one in the cage.
Stone: But here I am.
I'm not sure how I feel about re-opening the Marcus case. It was kind of necessary to the plot, and I guess there are times where a trial should have been a mistrial, but I feel like the precedent of re-opening cases that resulted in an acquittal could be dangerous.
Certainly, the original case Stone referenced, in which a judge was bribed was grounds for a mistrial, and jury tampering fits that bill too, though I'd love to know why it took the SA's office so long to discover it.
But I wondered what the standard is for re-trying a case under the presumption that it should have resulted in a mistrial and how the judicial system protects itself against misuse of this exception to the rule against double jeopardy.
I was glad to see Beckett get his comeuppance, in any case, though I wondered if there was any truth to his claims about Paul Marcus
Up until almost the end, Beckett claimed that he didn't know that Paul was in the warehouse and that he was busy trying to get his pigs out of it. He said in a flat tone that he killed Marcus when Stone told him that admission was a requirement for his plea bargain.
That felt somewhat coercive to me. 
Beckett likely did commit the murder, since he paid off a juror to find him innocent. I don't like seeing coercive elements introduced even when a suspect is guilty, though, because if rights are eradicated on the basis that the defendant was guilty anyway, then they can be eradicated for people that those with power just believe to be guilty.
Laura: I wonder if there's a bar around here.
Dawson: I could sure use one.
Laura: Not for us. The alcohol in Cody's blood... he didn't have a mini-bar in his room.
On the lighter side, I loved the banter between Laura and Antonio, as usual. I hated the Laura character at the beginning, but I'm warming up to her, or at least to her relationship with Antonio.
What did you think of Dead Meat? Did you figure out that Beckett used his pig-wrangling skills on Cody before Stone did? Do you think Stone's father will show up, and do you want him to show up?
Weigh in below, and don't forget you can watch Chicago Justice online if you missed anything.
Jack Ori is a senior staff writer for TV Fanatic. Follow him on Twitter.