The Young Pope Season 1 Episode 10 Review: Matters of the Heart

Lisa Babick at . Updated at .
Was it a heart attack or just a broken heart?
On The Young Pope Season 1 Episode 10, Lenny finally lets himself be seen, but it doesn't turn out very well for him in the end.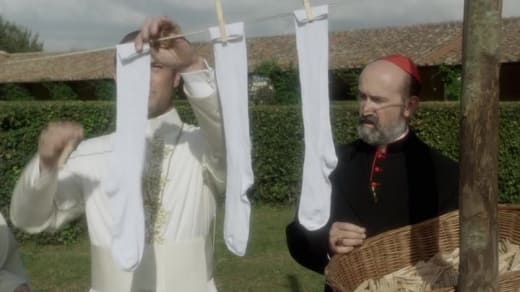 Lenny has definitely changed throughout the course of The Young Pope, but one thing that hasn't changed is his desire to find his parents. It's a yearning that will never go away. A search that will never stop until the day he dies.
Could Voiello have been right when he said that Lenny's parents didn't want to contact him because of a difference of political opinion?
Could Lenny's hard stance on everything have truly been the reason they stayed away after he became pope?
If you think about it, it was kind of mean for Voiello to even say what he did. He had to have known that Lenny would blame himself for them staying away. And he did.
He canceled his trip to Guatemala, because of it. Something he had been looking forward to even if he seemed reluctant at first.
Maybe Voiello was trying to punish him for taking away Sister Mary. Punishing him for all the trouble he's caused during his short reign as pope. 
But you'd think Voiello would be happy at how much Lenny has changed. I mean, the guy actually hugged Tomasso after making him a cardinal.
It was almost a shock for the other cardinals after having witnessed him in full papal regalia forcing them all to kiss his feet mere months before.
Lenny: You have no idea how many objectives can be obtained by humiliating one's fellow man. But there's a secret to it.
Sophie: What is it?
Lenny: The person humiliated can't realize they've been humiliated.
Sophie: If you don't mind my saying so...you're diabolical.
Lenny: You think? People that know me well actually say I'm a saint.
Lenny also realized that everything isn't always black and white. The fact that he's become softer on homosexuality is one of those things.
Lenny connected with Gutierrez the minute he met him. He formed a deep relationship with him and even though he knew he was gay, his respect and friendship never wavered.
He never thought (at least we never saw it) to pull back from that relationship even when he found out the truth whenever he did, I'm imagining it was early on, and he might have done some of his own investigating since learned about Gutierrez being abused as a child. 
Everyone's secrets couldn't have only come from Tomasso.
I liked the reveal that Lenny sent Gutierrez on the Kurtwell case because of his abuse experience. Lenny knew that he would do the right kind of job whereas if he would've sent someone else, they might not have been so determined to get to the truth as Gutierrez was.
Lenny has softened and it almost appeared that he was going to let Kurtwell return home, but Lenny sending him to Alaska showed that he's still holding on to some of the old Lenny. Not everything about Lenny was completely hard nosed. 
Archbishop Kurtwell, your disease has deceived you.

Lenny
Kurtwell deserved some kind of punishment. Putting him back in New York with all of the abused would not have been a good thing, and Gutierrez was visibly relieved when Lenny made the final decision. 
While there was plenty of seriousness in this hour, there was also lighthearted moments. My favorite was when Lenny stuck his tongue out at the little boy after scaring the kids during his failed tour attempt.
I also loved when Gutierrez gave him the toy telescope. It was the perfect toy for the boy that was searching...for his parents...for God.
I was surprised that he admitted once again that he didn't believe in God. This time it seemed real. He might have said it to Tomasso numerous times, but saying to Gutierrez gave it a different weight.
It's hard to believe that Lenny doesn't believe in God considering everything he has witnessed, but he equates God with his parents, and if he can't find his parents, he can't find God.
It's skewed thinking, but it is what it is.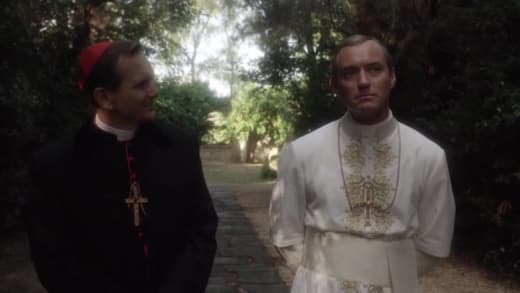 Sister Mary was given the task of taking over for the rotten and dead Sister Antonia. Lenny letting her go was a very grownup thing to do, but he also did it for her happiness.
Once again, he put others before himself. And once again, he knew everything that was going on between her and Voiello which was rather amusing.
Not amusing was the ending of the hour. Is Lenny dead? He saw visions in the clouds, but was it a joke? I felt there was some connection to the fake healer (and wasn't that the guy Voiello was talking about to the boy?). It was almost like a last laugh. 
So was the smoking woman. Maybe the final message was just that smoking kills? Or was it that Lenny died of a broken heart? His parents walking away being the final nail in the coffin?
Who knows? Trying to come up with an answer just gives me a headache. If there's one thing this show does...it makes you think.
Have we taken everything that has happened on The Young Pope too seriously? Have we over analyzed what didn't need to be analyzed in the first place? Were we taken for a ride? Was it all a joke?
What you think? Is Lenny dead? Is it all just a dream? What was your favorite part of the finale? Should there be a Season 2?
Hit the comments and share your thoughts!