The Young Pope Season 1 Episode 9 Review: Life and Death

Lisa Babick at . Updated at .
We've learned plenty about Lenny in the past eight episodes, but on The Young Pope Season 1 Episode 9, we learned that Lenny is a lot more than he claims to be.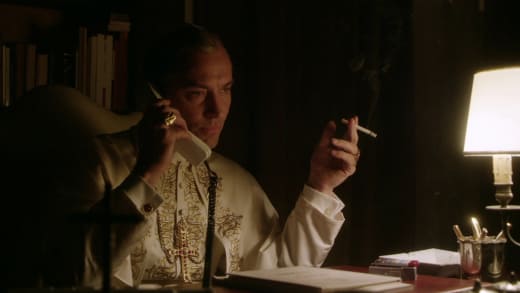 Could Lenny have saved Spencer the way he did Billy's mom? Maybe he could have, but it's clear Lenny has no desire to abuse the gift God has given him.
If Spencer had asked, Lenny would have had a hard time saying no, but he wouldn't have dropped to his knees to have his private conversation with God. 
Lenny loved Spencer like a father, but he didn't feel compelled to save him. He could have tried, but it probably wouldn't have worked.
For Spencer, it was enough just to hear the story of Lenny's miracle. He was able to die in peace knowing that despite all his doubts, God does exist.
If all of us can have doubts about God, why can't priests? Spencer had talked about having doubts earlier in the season. Even when God is standing right before us per se, we sometimes still can't see Him.
Maybe that's what Spencer was trying to say when his spirit rustled the trees? God does indeed exist.
Lenny: Abortion is saying no to life.
Spencer: Who gives a damn about life? Life is not some stupid centerpiece on the side table of nothingness. Life is to be used and used well. To love and be loved.
That's a battle Lenny has been having all his life. He was a conduit for God with Billy's mom, yet he continues to have doubts even in the present. 
Of course, it all has to do with his mother, but that's the underlying everything with Lenny. Why was he able to save another boy's mom, but couldn't find his own? Why did God allow his mother to leave him in the first place?
It makes sense he would have doubts about God. Who wouldn't?
After all, Lenny is still human. He's still a man. Right?
The love letters Lenny wrote to his California girlfriend were nothing short of beautiful. If Lenny wanted to, he could have had a long-lasting relationship with the woman or any woman for that matter. He could have had Ester if he wanted.
He's battling against death which is the least interesting of the battles we're summoned to fight.

Kurtwell
He could have been an Andrew or Kurtwell  - a priest with a side life - but that's not who Lenny is.
Lenny is an innocent who actually lives within the lines of his life. Still, it didn't prevent him from expressing his feelings for the California girl. He had every right to have those feelings. The important thing was that he never acted on them.
He never mailed the letters, yet the letters showed a side of Lenny that people were yearning to see. 
He may not be showing his face to the public yet, but he's starting to allow them inside. These letters were a stepping stone. 
Lenny obviously left a strong impression on the woman he met in California because she remembered his name even if he forgot hers. I loved how she decided to show her kids she knew how to juggle. Too bad they'll never be able to know just how she learned to do it.
Did anyone else notice that the California girlfriend bore no resemblance to Ester? I think Ester reminded Lenny of his mother and that's why he has such a strong attachment to her. 
Ester's husband must've been the one to move them out Rome because she held that picture tight when she found it by the sand castles. It's good to know Lenny doesn't harbor any ill will towards Ester. It's just too bad he wasn't able to maintain a relationship with Ester and the child.
Hopefully, when he finds his mother (if he does), the relationship will last.
It's strange to say this, but Lenny would have been not only a great husband but also an incredible father had he he chose a different life than the one he did.
And wasn't that the whole point of this hour: life and death, both literally and figuratively?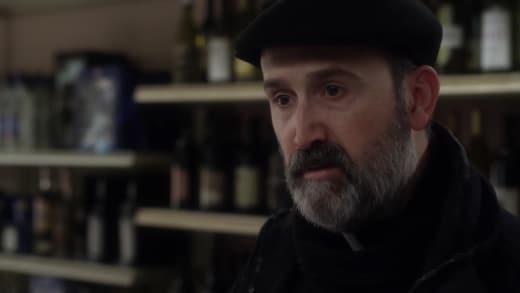 Gutierrez was killing himself trying to find something on Kurtwell but was failing miserably. It wasn't because he wasn't trying, the pieces just weren't falling into place.
Then his investigation was given life by the very life that Kurtwell helped create.
Gutierrez could have given up and gone home when Lenny told him to, but he stayed his course, and the "miracle" happened. 
In turn, he performed a "miracle" for the hotel manager by allowing her to breathe the same air as he was. It might have let her live a little longer, at least long enough for her to get outside via the crane that she had wished for.
And let's not forget about the broad discussion Lenny and Spencer had at the beginning of the hour about abortion, the ultimate life and death discussion. It was a very civil argument about the morality of it all, but it was more about the need for Lenny to change more than anything.
By the end of the hour, he had changed. He's finally becoming a pope people can relate to.
But, seriously. What would everyone think if they knew about his special gift? Would they take it as gifts from God or would he be thought of as the Anti-Christ because of them?
What did you think of the "Ninth Episode" of The Young Pope? Hit the comments and share your thoughts!