Scandal Season 6 Episode 4 Review: The Belt
Paul Dailly at . Updated at .
Cyrus Beene always finds a way to manipulate situations for his personal gain. 
That much rung true on Scandal Season 6 Episode 4 as we got to witness him in jail. It was pretty amazing. 
Throughout his tenure on the series, Cyrus has tried to find power by any means necessary, and that's what has made his arcs so thrilling.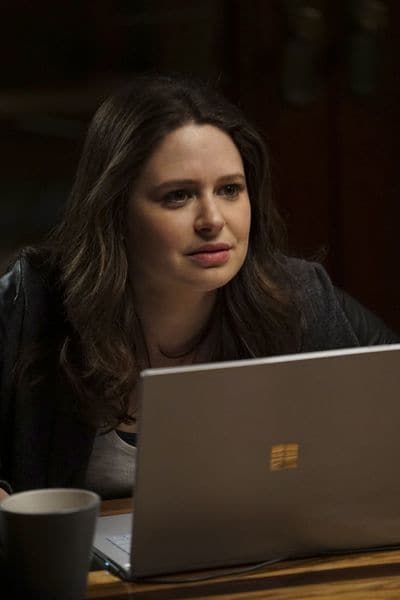 Seeing this character finally get a comeuppance has been exciting. This was the episode I never thought would come. He's covered his tracks well in the past, but Tom managed to bury him. 
Manipulating Gerald into helping him was just one of the scenes that proved Cyrus was a force to be reckoned with. Don't even get me started on the man in the other cell. 
I was floored when that man used the belt to get the upper hand on Gerald. It seemed like Cyrus was using the belt to commit suicide because how of badly things had become for him. 
Michael losing it and leaving him was going to happen sooner or later. I can't think of any time Cyrus has ever been genuine with him. 
There's always an ulterior motive. That's why Cyrus started trying to play happy families with him when there was a chance he would be making his way inside the White House.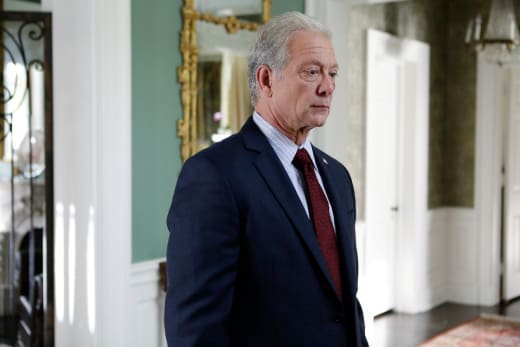 It sucked for Cyrus that the letter he was using to get Tom to admit the truth was the thing that made Michael decide he was done with the charade of a relationship. 
There were so many red flags in that relationship. I get that Michael loves Cyrus, but there's not a chance in hell that Cyrus feels the same. 
If he did, he would have cut Tom out years ago and never looked back. Cyrus does not like to keep all of his eggs in one basket. 
It is hard to feel sorry for Cyrus when you consider all of the wicked things he has done. That said, the dream sequence was brutal. 
It was all too good to be true. This is not a storyline that can be shoved under the rug in a matter of scenes. There's too much riding on this to have it end prematurely. 
However, I got the feeling the that Cyrus was not making it out alive. He made a miraculous recovery to be able to call Olivia hours after lying in a pool of his own blood. 
With Liz doing his dirty work, there was a real chance that Tom was going to come clean about not having anything to do with the murder. 
Liz: Abby says to tell you not to worry about the death penalty.
Cyrus: Great, well I'll just settle in for a lifetime of solitary confinement.
Liz: Sounds like a plan.
The twist that Tom did not murder Frankie was great. He's lucky he decided to come clean when he did, or he would have been killed. 
This presented Cyrus with the drive he needed to ride out his time on the inside. He knew he would be able to get someone to listen to the story. 
Will that person be Olivia? It seems likely. Yes, she was very vocal about how he needed to own his s**t, but she now has confirmation that Cyrus was set up. 
Would it be surprising if she cut Mellie loose and offered to help if it got her in the White House? Not at all. Like Cyrus, Olivia wants all the power. 
All of the stuff with Abby was hilarious. She thought she was the voice of reason, and that came back to bite her in a big way. I can't help but believe Angela planned to come clean to Fitz about him taking the death penalty off the table. 
You could tell by her reaction to Fitz warning Abby to stay away from the case that she was glad by the turn of events. Turns out, boning the President of the United States does get you somewhere. 
It remains to be seen whether Abby will join forces with Olivia to get revenge on Angela, but it's probably too soon to be talking about that. 
Fitz: Sit down.
Abby: Well, I was going to sit down. I guess I'll do it faster.
We still need to get the truth about who gave Frankie the bullet to the head. Oh, Scandal, who would have guessed that you would stage a return to form this late in the game?
The shorter episode order is clearly benefiting the show. The writing, acting and directing are all on point. 
"The Belt" was, without a doubt, the best episode of this sudsy ABC drama in years. Hopefully, the twists continue over the rest of the season. 
Other tidbits from the episode:
Liz making a comment about Open Table was fantastic. Will she be able to rise from the ashes after being seen with Cyrus?
What the Huck? I can get on board with Huck having a relationship, but not if he gets that infatuated with someone he likes. That chick should run for the hills. 
Jenny's friend was right that her death was not fully being investigated. This was down to the President of the United States being murdered. That took top priority among the media outlets. 
Olivia going off on Quinn and Charlie for making fun of Mellie was tough to watch. It was like a mother giving her kids in trouble. 
Remember you can watch Scandal online right here on TV Fanatic. Get caught up now!
Over to you, Scandal fanatics. What did you think of the developments?
Sound off below!
Note: Scandal returns March 9 on ABC!
Paul Dailly is the Associate Editor for TV Fanatic. Follow him on Twitter.