Blindspot Season 2 Episode 13 Review: Name Not One Man

Brittany Frederick at . Updated at .
This episode of Blindspot was supposed to be the big kahuna. The whole enchilada.
Blindspot Season 2 Episode 13 was teased as giving us all the answers about Shepherd's identity and her connection to Kurt Weller.
So did it? And was it worth the wait?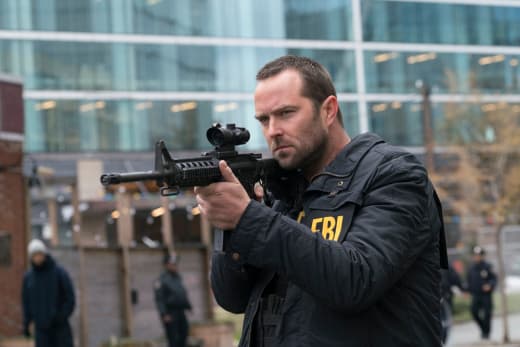 Not really. We didn't learn anything about Shepherd that wasn't already fairly apparent if you thought about it. She's a high-ranking military officer? Well, obviously. Where do you think her skill set came from?
She funded Weller's entire education and orchestrated him staying in New York? Of course she did because we already knew she thought highly of him and if he had gone anywhere else we wouldn't have a show.
She's got another plan called "the Truman Protocol"? (Not to be confused with The Truman Show.) That makes sense because if she had just one plan we also wouldn't have a show.
At least we know her real name now, and Michelle Hurd got to show more emotion in her one scene with Sullivan Stapleton than she has in any other episode.
She saw something in you.

Nix
But "the Truman Protocol" is like "Welcome to Phase Two." It's like "Orion" and "Operation Daylight." It's another phrase for us to wonder what it means for awhile until we get to the next one. To quote Pink Floyd, it's another brick in the wall.
And let's talk about that scene of Weller meeting Shepherd. It obviously had to happen at some point. Once Blindspot connected those two characters there had to be a confrontation, just like Jane confronting Shepherd in the midseason finale.
Yet c'mon. This is the second time Weller has been kidnapped and tied to a chair this season. He's getting abducted more than a Super Mario Bros. princess.
"Named Not One Man" is also another great example of how deceptive TV promos can be. If you watched the teaser for this episode it wanted you to think that Jane and Weller were in an armed standoff with each other.
In reality they were both pointing guns at an ex-Army member turned domestic terrorist as seen above. That's the power of editing, kids. It can make you think there's a double agent when the whole episode is about Weller being a stickler for ethics.
Speaking of, how many secret programs are there? This is the second one involving an FBI agent. And then there's Nas and her super secret Zero Division. It's like everyone has one - and like Blindspot is starting to stretch plausibility for plot.
I need to know what is happening under my watch. I need to know now.

Weller
But that's not the biggest problem with this episode. We could look past everything else if not for Reade. Poor, misguided, completely stupid Edgar Reade. We love you, dude, but just a thousand times no.
It's utterly random to have a scene of Freddy's ex-girlfriend in Reade's bed smack in the middle of the teaser. It lasts maybe 20 seconds and breaks up the entire pace of it.
Plus, do we need to be told he got laid? It could easily have been inferred by the way the last episode ended and his conversations with Zapata later in the episode. We can do the math and save those 20 seconds for something more relevant.
There's nothing to deal with. Jones is dead. It's over.

Reade
And then it's strongly implied that he goes and snorts cocaine. Let us repeat that in capslock because it's so insane: READE IS DOING DRUGS. READE IS DOING DRUGS AFTER GIVING THE SPEECH ABOUT HOW HE'S AN FBI AGENT.
That's like burning a building down after saying that you're a firefighter. It makes no sense, and it's not clear why he'd decide to do crack either. He just does it because his fling of one day says it's fun? He doesn't need to be loved that badly. If he does, he needs to get a dog.
C'mon, man. Even Tina Belcher knows better than this.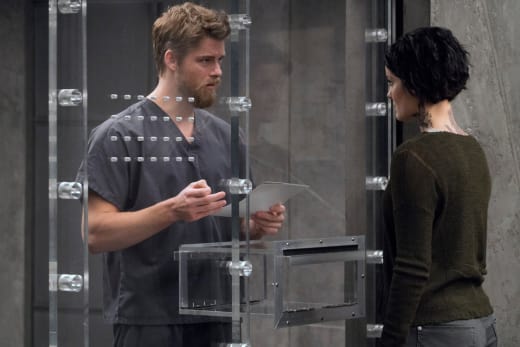 The best part of this episode are the limited scenes of Roman questioning why he'd ever follow a total psychopath, and contrasting what he's being told with the feelings he has toward Shepherd.
These are valid problems and Roman is becoming that contrarian voice that keeps Blindspot in the grey area that it operates best in. in fact, Luke Mitchell is fast becoming the best thing about Blindspot.
It's too bad Roman couldn't move into Jane's apartment (or wherever she's living now) and we could have a whole sibling-buddy comedy going on. Including the scene where Jane's brother questions Jane's new boyfriend.
We'll be in the minority on this, but good for Jane in moving on past Weller, since Blindspot let that ship sail a long time ago. No reason she can't be happy. Somebody on this show should be.
Kevin, everyone that she kills will be on your hands. Can you live with that? It's not too late to do the right thing.

Weller
This isn't the big episode of Blindspot that we thought it would be or that we wanted it to be. It's more like a start to some bigger pieces along the way. Maybe part of that was the misrepresentation set up by the teaser, but this episode just doesn't have much going for it.
What it does have, though, is a reminder of how talented this entire cast is.
These actors are so phenomenally good people and they bring it no matter what. Even Michelle Hurd finally got to break out of Blank Shepherd Face for the week, and Australian Stephen Moyer (as we refer to Jane's new squeeze) was nice to see again, too.
Plus, who didn't get sniffly hearing Marianne Jean-Baptiste's voice again?
But there's more to the story than this. And more out there for the show and its fans, too.
Patterson: I don't want to bother you with the intricate details.
Reade: Since when?
Blindspot continues Wednesday, February 15 at 8/7c with Blindspot Season 2 Episode 14 called "Borrow or Rob." Don't miss Rich Dotcom making his second appearance of the season as the team needs his help with their next case.
In the meantime, if you want to re-watch "Name Not One Man" again or catch up on any of Blindspot Season 2 so far, you can watch Blindspot online. And be sure to leave your thoughts on this episode in the comments. Were you satisfied with what we learned about Shepherd? Or did it leave you wanting more?
And say no to drugs.
Brittany Frederick is a staff writer for TV Fanatic. Follow her on Twitter.