Arrow Season 5 Episode 13 Review: Spectre of the Gun
Paul Dailly at . Updated at .
Rene is quickly becoming one of the best characters on Arrow. 
He took center stage on Arrow Season 5 Episode 13 as we finally got some insight into how he became a vigilante. 
Heartbreak does not begin to cover it when it comes to how he lost his family. Having the flashbacks from Rene's perspective was a nice change. 
Rene having a child was teased a few episodes back when he had that talk with Diggle about family. Ever since that moment, I've been questioning how his back story played out. 
Thea: What were you doing with a gun in here?
Rene: Judging by how I attacked the guy, saving people's lives.
Rene losing his wife must have been tough, but having Zoe taken from him around the same time must have been hell. Getting to see him become Wild Dog was one of the best moments of Arrow Season 5. 
Will he be able to keep it together and get his daughter back? That will be one of the more pressing questions as we head into the final episodes of the season. 
However, I can't get on board with making him Quentin's assistant. That came out of the left field and seemed way too fast. It was only Arrow Season 5 Episode 12 the pair were bickering. 
Sure, it's good that Rene is being further developed, but it was a bizarre turn of events. He's a god guy at heart, but like Thea, I can't get on board with it. 
Yes, Thea was back from her mystery hiatus, and I loved every single one of her scenes. Taking jabs at Susan was something she was always going to do. 
I liked Oliver defending his girlfriend. The sad thing is that he will not be defending her when he finds out the truth about what she's doing.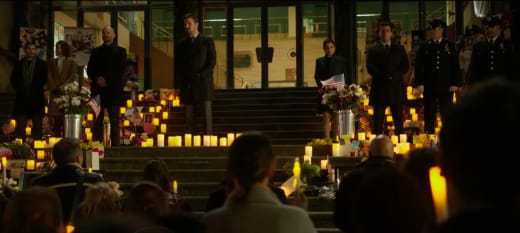 Thea would probably suit up just to have the pleasure of kicking Susan's ass. Ever since Susan first appeared, Thea has been skeptical of her actions. Like most of us, Thea sees her as an opportunist who will stop at nothing to get the story of her career. 
Hey, she's got to pay the bills. There's bound to be more twists in the tale. It would be interesting if she turned out to be Prometheus, but I don't see that happening. 
Oliver trying to solve the latest crimes in Star City as the Mayor was the right thing to do. In the past, he turned to violence and he knew this was not the time to do that. 
Oliver made a very mayoral decision in telling the councilwoman they were not leaving the office until they found an appropriate solution.
Keeping the streets of Star City safe were a difficult task enough. 
The gun control plot also provided unofficial confirmation that Adrian was the other vigilante, thanks to Oliver asking him to follow a lead on the Bertinelli family. 
Then, the vigilante appeared when Oliver was quizzing one of the Bertinelli family. I'm unsure whether it was meant to be that obvious, or if it was thrown in there to throw us off. 
I'll be shocked to the core if Adrian is not the other vigilante at this stage. The dude was shot, so he was probably livid that he could not do something to save everyone. 
Also, if Oliver was the one in the hospital, he would make it his mission to get back on the streets and find the killer. Either way, we need some solid answers about this in the coming weeks.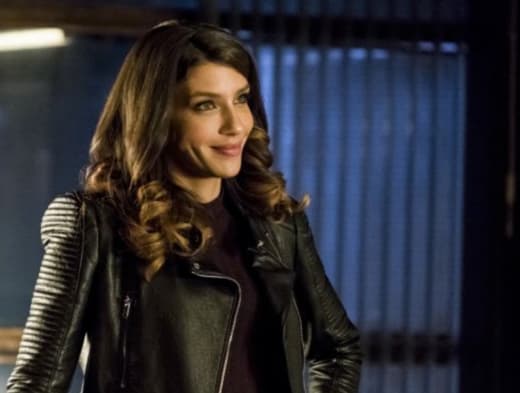 Who would have ever guessed that Dinah and Diggle would become such great friends? I felt for Dinah when she struggled to adjust to how regular people live. 
She spent so much time on a mission to get rid of the people who changed her life that she forgot what it was like to live normally. It was good that she opened up to someone about her concerns so soon. 
Through three episodes, she has brought a very different dynamic to the show. It's surprising to me that some of the newer characters on the series are starting to outshine the veterans. 
When I heard about all of the new cast members before Arrow Season 5 premiered, I was cautious about how things would change. 
All they need to do is get Black Siren back on a more permanent basis, and I'll be the happiest Arrow fan out there. 
"Spectre of the Gun" was another solid episode of this CW drama. It had some great character moments, as well as some meaningful messages. 
Other tidbits from the episode:
It's good to know that Felicity has not shelved her plans to find Prometheus. Finding his mother will be the key to getting close to the truth. 
Curtis has a knack for going off on tangents when he speaks, but I was thrilled when he offered to help Rene get Zoe back. 
The scene with the reports was grim. Oliver really should have been better prepared. He did nothing to let the residents of Star City know there was light at the end of the tunnel. 
The hospital scene was tense. Oliver managing to talk the killer down from the brink was lucky. More people could have died. 
Did anyone else find it odd that Felicity had no opinion on guns?
Remember you can watch Arrow online right here on TV Fanatic. Get caught up on all the drama now!
Over to you, Arrow Fanatics! What did you think of all the drama?
Note: Arrow Season 5 Episode 14 airs February 22 on The CW!
Paul Dailly is the Associate Editor for TV Fanatic. Follow him on Twitter.