Vikings Season 4 Episode 19 Review: On The Eve

Stacy Glanzman at . Updated at .
Well, if you were disappointed by the lack of fighting on Vikings Season 4 Episode 18, I think it's safe to say Vikings Season 4 Episode 19 more than made up for it. 
Maybe they thought including the battle against Aelle would have been overkill? 
Regardless, we got the first half of the battle against the Saxons, as well as a battle back home in Kattegat.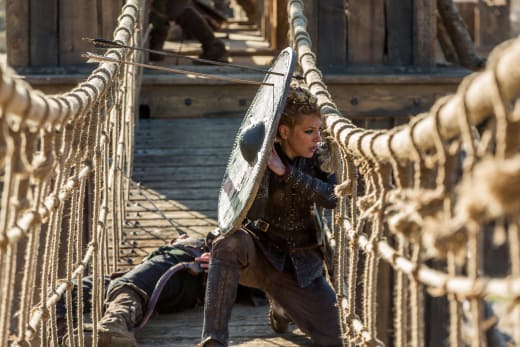 Lagertha understandably didn't join Bjorn and his brothers on the trip to England with the Great Heathen Army, but it would have been disappointing if that meant we missed out on getting to see her fight. 
She stayed home to defend Kattegat, and that's exactly what she did. 
The fire plan was pretty genius, and it wasn't long before their attackers were retreating. 
It also didn't take too much effort to get Egil to talk. He was willing to sacrifice himself, but not his wife. Good for him. 
Once the Vikings are done taking care of business in England, it appears they will need to set their sights on King Harold Finehair. Will he be the focus of Vikings Season 5? 
So this is what the grunting of the little pigs was all about?

Floki
Brothers will be brothers. 
It doesn't matter if they're in at home or on the battlefield, they'll still bicker constantly, especially these brothers. 
Is the pigs reference starting to get old? It's been like four episodes now. It's a great quote, really, but we get it. 
Eventually Bjorn and Ivar reallized that they needed to work together. Bjorn has the experience, but Ivar has a natural knack for strategy. 
Ivar kept insisting Ragnar brought him along for a reason, and he was finally able to prove that to his brothers. His idea was pretty brilliant. 
Ivar: Listen, come with me, Bjorn. Let's investigate the battlefield. Perhaps, instead of a narrow and small place, we should stretch the battlefield across a large area, many miles. And use the landscape. Ditches, hills, woods. What do you say?
Bjorn: If it works, it is a good plan. If it doesn't, then it is a bad plan.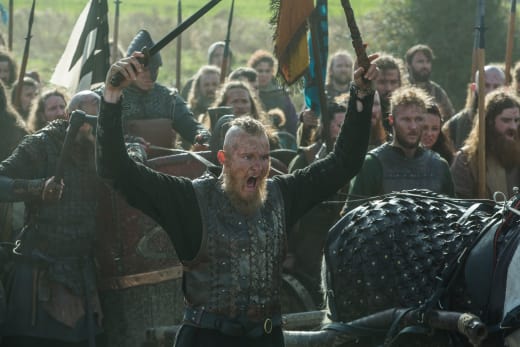 It worked, so Bjorn will have to admit that it was a good plan. 
At least, so far it's working. We haven't actually seen the end of the battle yet, but the Vikings have the Saxons right where they want them. 
One strategy it appears no one thought of though, was maybe the brothers should ride in different boats. 
It's like how the president and vice president ride in different planes. If their ship goes down, they all go down with it. That just doesn't seem very smart. 
I still don't really understand how Ivar got his carriage on the ship. They just don't look big enough to support it. It looks cool in battle though.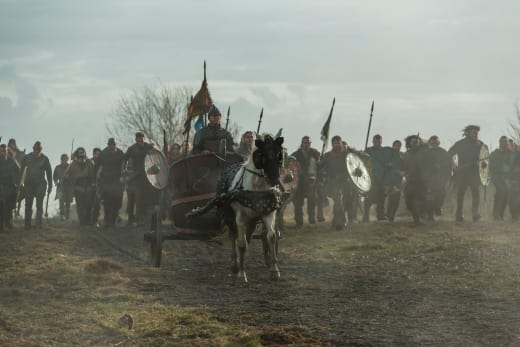 We were treated to more bloody, gory death, and most of it didn't even happen on the battlefield. 
Guys, let this be a lesson. If you kill a woman's husband and she immediately wants to sleep with you after, search her for weapons first. It might have worked out okay this time, but he got lucky. 
I think we all saw Vik's death coming a mile away, but he clearly wasn't expecting the ax to the head. He really should have been a bit more skeptical.
Torvi was sadly killed, or at least badly injured. She did blink, which was kind of creepy, but that was most likely her dying. She will be missed. 
I'm not really sure what's going on with Floki, Helga, and this girl they brought back with them.
So far it seems like an insignificant side story, but there has to be a point to it eventually. I just have no idea what it is. 
Hegla is definitely attached to her, and Floki is obviously not.
I have no idea what the girl is thinking or feeling, other than she's scared and confused. I guess we just have to wait and see where they are going with this. 
Are you guys ready for the final battle of the season?
Aethelwulf is down, but he's not out.
We will find out on Vikings Season 4 Episode 20 if he has any tricks up his sleeve. 
Don't forget, you can watch Vikings online if you need to catch up.
Stacy Glanzman was a staff writer for TV Fanatic. She retired in March, 2019.