The Young Pope Season 1 Episode 1 Review: Sassy and Free of Sin

Lisa Babick at .
I wish I was as free of sin as Lenny Belardo. I wish my conscience didn't accuse me of anything. And I wish the only thing I needed for breakfast was a Cherry Coke Zero.
On The Young Pope Season 1 Episode 1 we are introduced to Pope Pius XIII, aka Lenny Belardo of Brooklyn, who has become not only the the first American Pope in papal history, but also the youngest.
It might seem like great combination to have for a Pope, but Lenny is about to become the Vatican's worst nightmare.
The Young Pope is a symbolic feast for the brain, and the opening sequence may have caused your brain to explode.
My favorite part was Lenny's homily. I loved the imagery of the expectant faces in the rain, how they looked with awe upon a man who they seemed to think was the closest thing to God, maybe even God himself. After all, he did clear the dark skies.
A new Pope. A new day. A new way of thinking.
Too bad it was all a nightmare. At least in Lenny's mind.
My only sin is that my conscience does not accuse me of anything.

Lenny
It turns out that Lenny doesn't have tolerance for much of anything. Not friendly nuns and certainly not Cardinal Voiello, who thought he was going to be able to control Lenny like a puppet.
Voiello thinks he's shrewd telling his assistant to find out all the dirt he can about Lenny just in case Lenny starts giving him a harder time than he is already.
But why didn't he investigate Lenny before pushing him through?
Blind faith?
It's too bad for Voiello that Lenny is a lot more shrewd. What better way to control your enemies, or anybody for that matter, than knowing all their secrets? And what better way to get that information than from the priest who takes everyone's confession.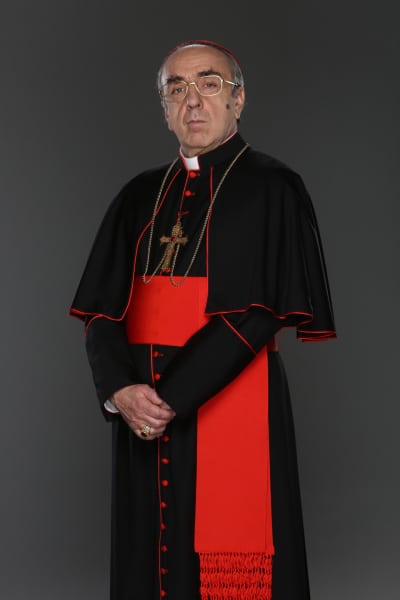 Even worse for Voiello is Lenny's little micromanaging trick via Sister Mary. He wasn't expecting to have someone constantly looking over his shoulder, was he?
Still, as easy as it is to dislike Lenny in this short amount of time we've known him, there's something about him that makes you want to feel sorry for him, too.
Is he trying to control situations because he's had no control over his own life? The little we know so far about his background seems to point that way.
It seems like his life has been pretty much dictated to him. He was left at a Catholic orphanage. It's no surprise he became a priest. Now he's been elected Pope, and it doesn't seem as if really lobbied for the position. It was just handed to him. Like the rest of his life.
The past is an enormous place with all sorts of things inside. Not so with the present. The present is merely a narrow opening with room for only one pair of eyes. Mine.

Lenny
You also have to wonder how serious Lenny was when he told Father Tomasso that he didn't believe in God. Tomasso was beyond shocked at that revelation, but I don't believe Lenny was joking.
Remember when he was on his knees praying? He was waiting for an answer, and he's tired of God's silence.
When you're constantly ignored, are you going to keep knocking at the door?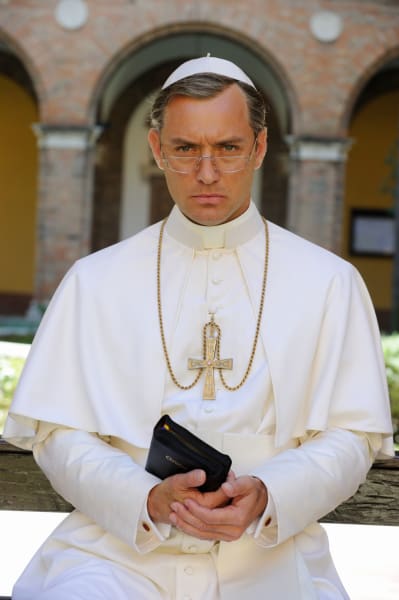 But let's not get too serious here, because this show is not meant to be taken seriously.
One of the funniest moments was when Lenny was walking through the bowels of the Vatican and opened a door to the outside. The look of horror on his face when he realized what he did was hilarious. The double meaning of it all made it even more so.
Lenny: Was it hard? Closing off the Basilica to tourists?
Fr. Gutierrez: No. All I had to do was hang up a sign saying closed.
There's a lot to take in with this "First Episode" of The Young Pope. So many symbols and double meanings.  But that's the fun of it all...trying to figure out what it all means.
Even if we don't "get" all of the references, at least we have one helluva hot Pope to look at for the next nine episodes. 
What did you think of The Young Pope? What  did you think of all the symbolism? Did you like the opening sequence? Will you be tuning in again? 
Remember, the second episode of The Young Pope airs tomorrow, Monday, January 16 at 9/8c on HBO. The series will be running on Sunday and Monday schedule for its entire 10 episodes. 
Be sure to check back here after the episode airs for our full review!