Supergirl Season 2 Episode 10 Review: We Can Be Heroes

Stacy Glanzman at . Updated at .
What the hell Kara? 
Mon-El finally admitted he cared about her on Supergirl Season 2 Episode 10, and he FINALLY admitted to remembering the kiss, and all she could do was give him the deer-in-headlights look?
If she didn't return his feelings, she really shouldn't have pushed him to admit his. No one likes rejection.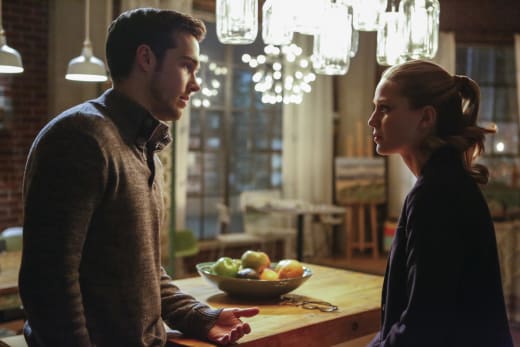 Okay, so, what is the deal with her? 
She does have feelings for him, right? So what's holding her back? 
She hasn't exactly had the best of luck in the men department. They all fall for her; she turns them all down. This one, though, I thought would stick. 
He is hiding something big from her, and maybe she suspects that, but there has been no indication so far that she does. 
I kinda figured that they'd get together, and then the big secret would come out, throwing a wrench into the new relationship. 
But now? I really don't know. I thought she was going to kiss him. 
Working together is going to be super awkward now, which is exactly what Mon-El was trying to avoid by pretending to forget the kiss in the first place.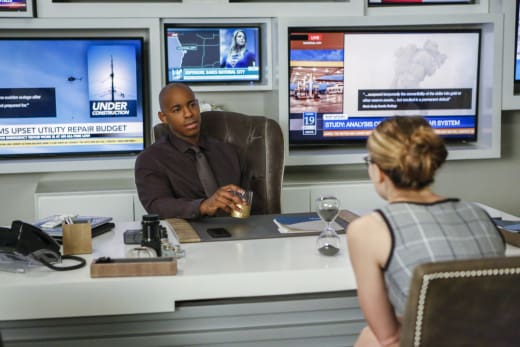 At least James' secret is finally out. I loved how fast the room cleared when Kara asked for a minute with him. It really is surprising that Alex let it go on this long, but she had other things on her mind. 
Kara was really harsh on him, but at least we know it's coming from concern over his well-being. Still, what he's doing isn't all that different from what a cop does every day, except James doesn't have the training. 
Alex is human, and definitely a hero. He could train with her or someone else at the DEO. 
Kara can't support this right now, but maybe they can come to a compromise eventually. He's going to keep doing it anyway, and his storyline will be far more interesting when they're working together. 
Watching him spend a minute or two taking down a thief is boring. Seeing him fight side-by-side with Kara and Mon-El actually has some potential. 
Besides, poor Winn is exhausted. He can't keep working both heroes. If they all work together, he'll get more sleep. 
Winn: If there's a flaw in your suit, that means the suit is faulty. Which means I have to go fix it. And that already on top of me having to make Mon-El a suit.
James: Mon-El?
Winn: Oh yeah, didn't you hear? He graduated from superhero kindergarten, so now I have to make him a suit, according to Kara. And that just means more work for me.
I'm still looking forward to seeing Mon-El's suit. That is, if Kara even lets him have one now. 
She might hold him back and make him repeat superhero kindergarten. 
She probably shouldn't have let him pass until he could get through an exercise with no cardboard casualties. 
I hate having a nemesis. Clark always makes it look so much fun, like you have a deadly pen pal you see once a year. But having a nemesis is stressful.

Kara
Okay, Livewire the victim was unexpected. 
I have to say, it was pretty awesome watching Kara swoop in and rescue all three of them so quickly and easily, even if doing so made her vulnerable to Livewire. 
We've seen plenty of times before that Kara is more than her powers. She can talk her way out of just about anything. And if there's even a tiny morsel of good in someone, she can appeal to it. 
They may have called a temporary truce, but I think it's safe to say she'll be back at some point. Who knows? Maybe she'll even become an ally. 
It was great to see M'gann again. 
It was really hard to watch J'onn's internal struggle over whether or not to help her. It was so sweet that he asked Alex and Kara for support when he finally decided to do the right thing. 
But the White Martians have found her, and they're coming. 
They can get in line behind the aliens that are coming after Mon-El. 
This team has all kinds of trouble coming there way, don't they? 
It looks like the White Martians are going to get there first, which hopefully means we get to see J'onn in action. It's been awhile, what with all the heroes and not enough fighting to go around. 
Cadmus is still lurking out there, too, despite Lillian being behind bars currently. I actually wondered if the evil scientist guy might be connected to them. 
There are no shortage of threats, that's for sure. 
Final thoughts:
J'onn actually thinks Winn and James are an impressive team. I thought he'd be against the idea, but I guess as long as Winn's DEO duties don't fall short, he won't get in the way. 
I'm with Alex. Vegan ice cream sounds disgusting. 
 I was a little sad alien Joe didn't make an appearance. I hope we see him again. 
Your turn. Are you disappointed that Kara didn't jump up and plant a big kiss on Mon-El? What did you think of Livewire's return? 
Don't forget, you can watch Supergirl online any time. 
Stacy Glanzman was a staff writer for TV Fanatic. She retired in March, 2019.