Shadowhunters Season 2 Episode 5 Review: Dust and Shadows

Justin Carreiro at . Updated at .
Poor Simon!
Life's not easy for a baby vampire. You would think dying once would be hard enough, but it doesn't end for him. I would've thought capturing Camille would solve his problems.
On Shadowhunters Season 2 Episode 5, Simon cracked under the pressure of loneliness and returned home to his family. The problem is, however, his vampire side. Mixing humans and a hungry vampire is not a good combination.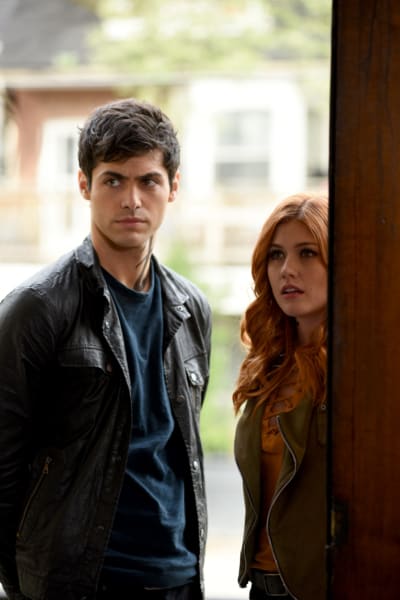 Simon is the quintessential underdog of Shadowhunters. He's lovable, he's geeky, and he continues to get picked on by stronger personalities. Everything bad that has happened to him is because of his "so-obvious-it-screams-in-my-face" love for Clary.
Did anyone else's heart melt when he asked Clary if she was sad when he died? I did, and I felt sad for him. He's so in love with her and she only loves him as a friend.
After four episodes of him being alone, it was nice to see him surrounded by love. His mother and sister obviously care for him deeply. There are some interactions only a family know best.
Mrs. Lewis: Have you joined a cult again?
Simon: For the last time, World of Warcraft is not a cult!
I do question Simon's judgment, however. He knows being a vampire around his family puts them at risk; he's mentioned this before. I don't understand why now he went back on his word.
Sure, he's alone, he's tired, and he needs a serious case of detergent. But why couldn't any of his friends set him up in a place? There's no way he had no options.
I doubt the group couldn't have helped. For example, why didn't he ask Magnus to crash a few days and do laundry? I don't think the warlock would've minded helping him, especially with personal hygiene on the line.
Simon: Mom, I really want to move back home. I'm really bad at laundry.
Mrs. Lewis: Oh, thank god, Honey. I'm glad you know this about yourself. This shirt smells like death.
Don't get me wrong, I love scenes of Simon's family. Christina Cox, who plays his mother Elaine, is a delight and I feel the genuine sadness in the scenes this season. Her and Alberto/Simon have good chemistry together. And I like that his sister is caring but still picks on him.
The only problem is that I find him moving back home to be selfish. His reason for not going home after being turned was to protect them. It would be a shame for someone like Raphael to appear and put them in danger now.
Also, his mother walking in on him feeding on a rat will probably scare her for life.
Becky: Oh my God! Is this blood?!
Simon: Uh, yea. Fake blood...stage blood for my band. We're doing this Ozzy Osbourne glitch hope thing.
Becky: That sounds really terrible. Look, I volunteered in a hospital and I know what real blood smells like.
Simon: Then the guy who sold it to me lied!
Becky: Okay. So, none of this behavior seems crazy to you?
Simon: Crazy? No. Not crazy at all.
When it came to Clary, her reaction to grief was unreasonable too.
It's one thing to miss someone and want to bring them back, but it's another to agree to anything blindly. Let's face it: Horror movies have taught me that raising someone from the dead is never a good idea. NEVER!
Jocelyn was a conflicting yet nice character. And as I discussed during last week's review, it's a shame to lose Maxim Roy. But Clary should've known better than to offer a favor to a warlock she didn't know. At least her (maybe) brother Jace held it together.
Speaking of Iris, does anyone else think there's more to the story with these warlock children? It has to be more than just keeping the race alive. She wanted so badly to have a Shadowhunter baby.
Let's just all be thankful Clary got out of that one. That would've been a terrible fate for her. Luckily, she learned a new rune/power in the process.
Clary: I can bring my mom back, Jace. Our mom.
Jace: You can't, Clary.
Clary: She wasn't supposed to die, Jace. It was a mistake - a freak demon attack. I want more time with her.
Jace: So do I. But you never know what you're going to get back, there are always risks. You could very well conjure a demon in Jocelyn's form.
Clary: You said "could." She could also come back the same, right?
Jace: Look, I know you want her back, but you have to trust me, Clary.
The special effects on Shadowhunters have been getting better. This series has come a long way since the first season and the glowing swords. However, this episode was a bit of a hit and miss.
I loved the look of the funeral scene as the lights moved from the bodies to the sky. It felt as if their souls were departing. This was a nice touch, especially paired with the sad music and a crying Clary.
The downside was the reliance on the flashing effect.
This is the magical moment when Magnus makes the card appear or  Iris with the portal. It's been done a few times already, and it feels a bit lazy to make a transition happen on screen. In fact, it reminds me of the transition used by Davina/the witches on The Originals.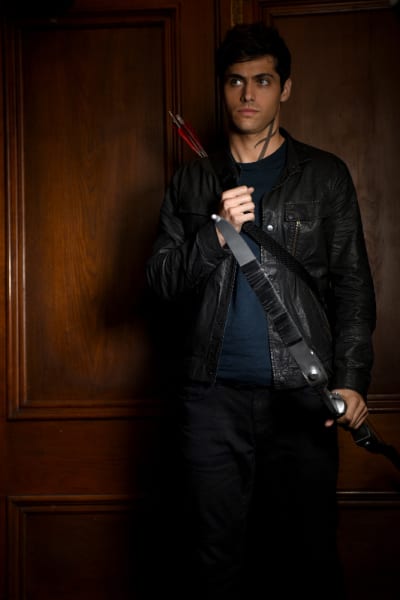 Did anyone feel bad for Alec? I really did. He's going through so much remorse and guilt.
It's not his fault for killing Jocelyn. Sure, it was his hands, but it wasn't his mind. The demon clearly had control over him and made him do it. However, it was nice to see him show genuine emotion to Clary.
Clary and Alec have had a bumpy friendship since the first season. They never clicked or had pleasant moments together. If Jocelyn's death gave us anything, it's a new start for these two, and potential for more scenes together.
Alec: I let a demon in, Magnus.
Magnus: That wasn't your fault.
Alec: I don't know what to say to Clary. I can't face her.
Magnus: But you will, because that's what you do, Alexander. It may take you a minute, but I've seen it up close. I went to your wedding. You'll blow up the very ground you stand on to make something right.
The same goes for Magnus and Clary. They have a new bond together and a shared connection over the loss of their mothers. The revelation of Magnus' mother may have come from nowhere, but it was still heartbreaking to hear what happened to her.
Is something going to happen between Isabelle and Victor Aldertree? Did you feel it?! I think he likes her.
That "medicine" he gave Isabelle looks like bad news. It seems as if it could mess with her mind if she doesn't keep it under control. But I have a feeling he wants her to get addicted to this drug and have her come back for more.
Hopefully, this doesn't mess with her chances of impressing the Iron Sisters she's desperate to meet. It would be nice to see Isabelle achieving success in her life. Though, with Aldertree and this drug around, things don't look too good.
What did you think of "Dust and Shadows"?
What favor could Iris ask in the future? Will Isabelle get addicted to this drug? Do you think Simon's mother will sign up for therapy after seeing him feed on a rat?
If you missed this week's episode of Shadowhunters, you can watch Shadowhunters online via TV Fanatic.
Come back here and let us know what you think.
Justin Carreiro is a staff writer for TV Fanatic. Follow him on Twitter.