Lucifer Season 2 Episode 13 Review: A Good Day to Die

Lisa Babick at .
That was a close call!
Lucifer proved he'd still do anything for Chloe on Lucifer Season 2 Episode 13, but it didn't stop him from walking away from her in the end.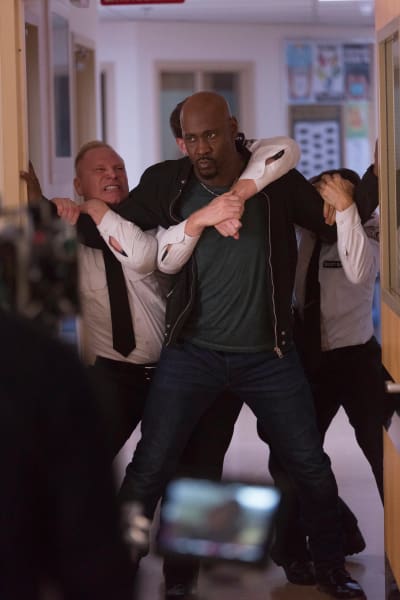 I wish I could knock Lucifer on the head.
While he sees it as some sort of betrayal that God put Chloe in his path, I still see it as a sign of love from his father. A way of maybe seeking forgiveness for sending him to Hell in the first place.
Sure, I get he's angry about being manipulated, but he was manipulated by Charlotte, not God. Charlotte was the one who made it out to be a big deal. She tried to manipulate the situation to get back home.
Lucifer didn't have to fall for Chloe. He had plenty of women. He could have fallen for any of them, he just happened to fall for her. Just because she was "put" in his path, there was no guarantee that Lucifer would fall as hard for her as he did.
God wasn't pulling all the strings. There's still such a thing as free will. 
Chloe: I don't want Trixie getting scared seeing my like this. Do I look okay?
Lucifer: You look heaven sent.
And of course Chloe had no idea. She was being herself. She wasn't sneaking off and conversing with God on how to get Lucifer to fall in love with her.
When he finally gets back his senses, will Chloe be there waiting for him?
It was pretty crappy of him to not even have been there for her when she got out of the hospital. She should have known something was wrong, because that was completely out of character for him. 
She's going to start to wonder if her kissing him was too much too soon. That maybe stepping over the line wasn't the right thing to do.
Do I want Lucifer and Chloe together? It was a little too soon for me, but since they went down that road, I want to see them together. They both deserve happiness, and they belong together.
Having said all that, this was definitely one of Lucifer's finest hours.
Everyone had an important part to play, and they all worked together to get the job done. Even Dr. Linda was an important piece of the puzzle, and I loved how they included her even though Amenadiel was angry that he didn't know she knew all about them.
Like Chloe, Dr. Linda is like family to all of them, only she's in on the family's secret. 
And they really couldn't have succeeded without Dr. Linda's expertise, no matter how long ago she went to medical school. 
I loved that Maze was ready to do the deed to Lucifer and then backed out at the last minute. It showed how much more human-like she's become. She was afraid to do it, because she didn't want to mess it up. Lucifer is way too important to her to have done something wrong.
Charlotte on the other hand? She had no problem dropping her when that time came.
Also showing some humanity was Charlotte who, at first, didn't want to have anything to do with any of it, but when she realized Lucifer was in trouble, she sacrificed herself for her son. 
She may not be the best mom in the world, but she starting to see what it takes to be one. Being "Charlotte" has definitely been working in her favor.
Dan: Where'd you learn to pick a lock like that?
Ella: My grandma.
Dan and Ella were great together, and I still think they'd make a great romantic couple.
Ella is so funny. She really has grown on me, but lots of that has to do with her not being so CSIish as she was when we were first introduced to her.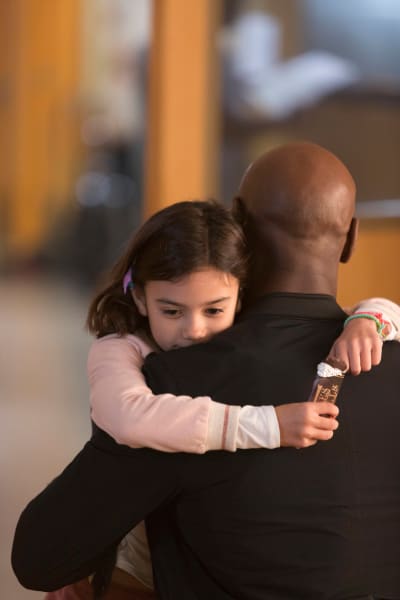 How adorable was Trixie? My heart just melted when she hugged Amenadiel and told him was a good person when he wasn't feeling so good after everything he did, even if he was just doing what he was told. 
He cares about Lucifer, and he cares about Chloe. He wants to do what's right, and I was glad that he decided to not follow Charlotte and stay behind to help the cause. He may be a big, strong angel, but in the end he's just a big teddy bear.
Trixie has got to be part of the bigger plan. There's a reason she's so accepting of everything she sees and it's not because she's just an innocent soul.
Let's speculate for a bit about Uriel's "clue" about the "piece being here." What do you think it means? Could it be that the "piece" is Chloe and that she's the "piece" to Lucifer's happiness? 
If you remember, Uriel wanted to kill Chloe, so it makes sense that the final clue would have something to do with her. And it has to be somewhat important, otherwise Uriel wouldn't have brought it up in Lucifer's personal hell.
I just hope that Lucifer will get over his anger about Chloe and realize that his relationship with her is very real.
What did you guys think? Will Lucifer and Chloe ever be together again? Hit the comments and share your thoughts! If you need to catch up, you can watch Lucifer online right here via TV Fanatic!