Lemony Snicket's A Series of Unfortunate Events Review: The Reptile Room
Paul Dailly at .
The incredibly deadly viper not as deadly as most people think.
That was one of the key things we learned on Lemony Snicket's A Series of Unfortunate Events Season 1 Episode 3 and Lemony Snicket's A Series of Unfortunate Events Season 1 Episode 4.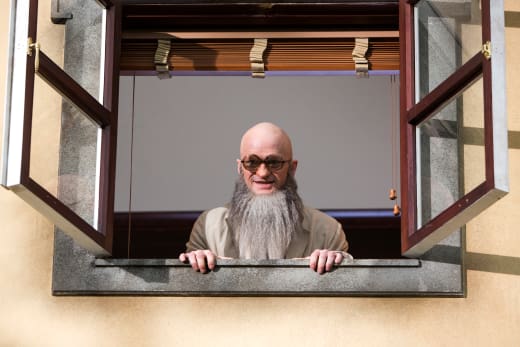 With the kids finally making their way to Montgomery Montgomery's house, there was absolutely no doubt in my mind that Count Olaf would be far behind. 
His latest disguise as Stephano was a stark contrast to his Olaf and it really helped give Neil Patrick Harris another fun character to play. 
The thing I love about the Baudelaire children is that they can tell pretty much straight off the bat whenever Count Olaf is in disguise. It must be such a struggle for them to try and explain it to everyone. 
Then again, when you have the likes of Mr. Poe trying to throw you off to the highest bidder, you kind of have to be a good judge of character. 
Count Olaf: Good morning. I am Stefano. Montgomery Montgomery's new assistant.
Klaus: It's afternoon and you're Count Olaf.
Monty's death should have come as no surprise to fans of the book, but Count Olaf's flawed plan was hilarious. a two-pronged syringe with poison may have been a good plan... at least to him. 
However, as Monty educated the kids about them, there was no way the viper would have been the one to kill its owner. It sucks that we did not get to spend more time with Monty. 
Outsmarting the two pale faced sisters and all of the stuff with the secret codes in the cinema was just gold. Aasif Mandvi was infinitely more likable in the role than Billy Connolly was in the movie.
Maybe he'll show back up at some point through flashbacks. One can hope. 
Olaf's plan to take just Violet to Peru was a surprisingly logical one for the likes of him. This is the guy who thinks it's alright to chase children up a set of stairs with a knife. 
The house being placed under quarantine was pretty hilarious. Say what you want about Count Olaf, but it's pretty clear he's a man who is not going to give up. 
He does not give a damn about what he does to get what he wants. However, it's becoming increasingly clearer that he knows a whole lot more about the parents than we first thought. 
Oh, and he also has some sort of past with Jacquelyn. Playing a statue must have been a tough task for Sara Canning, but the telescope kind of made it clear that the statue was not ordinary.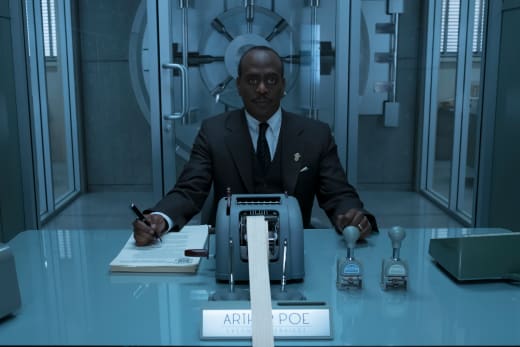 The sad thing about all of it is that Jacquelyn gave the kids false hope. Telling them they would get answers from Aunt Josephine was not all that comforting. 
You would think she would have at least given them some tidbits of information. What if they never even made it to Lachrymose? 
There just seems to be a lot of people out for these kids and it's pretty sad. 
Klaus: the movie is English, why does the movie have subtitles?
Monty: Klaus, all the best movies have subtitles.
With all of that in mind, the exchange between Olaf and Jacquelyn on the boat was hilarious. How silly was Jacquelyn to believe that a spider was on her?
The only good thing that came for the exchange was that Jacquelyn got what was left of Klaus' telescope back. 
All things considered, this was a stellar follow up to the first two episodes. There were even more laughs, drama and peril for the Baudelaire children. 
Other tidbits from the episode:
Olaf throwing the lamp out the window was another perfect moment. Poor Monty was going on about him hatching a plan for an escape. 
The parents being in Peru gave me hope that the children would meet them, but this show just seems to want to keep a level of dread pretty high in our minds. There's still time. 
Can Mr. Poe just disappear? He's the worst banker in the world. 
What did you think of the episodes? 
Sound off below!
Paul Dailly is the Associate Editor for TV Fanatic. Follow him on Twitter.