MacGyver Season 1 Episode 10 Review: Pliers

Megan King at . Updated at .
Even when Mac&Jack (™) aren't on the clock, they're working.
A simple road trip to Mac's hometown in Northern California? Check.
Kidnapping that turns into kidnapping rescue mission? Check. That's what we've got on MacGyver Season 1 Episode 10.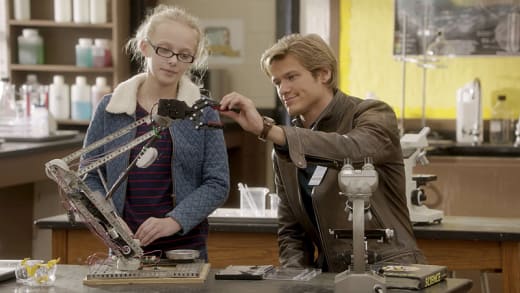 This homecoming episode featured a large helping of nerd word salad and Mac's typical spontaneous save-the-day antics.
The road trip took Mac back to his high school to give a demonstration to his former science teacher's class.
After class, drug gang thugs storm the room and kidnap star student Val (guest star Amiah Miller).
Of course, Mac&Jack figure out her father's involvement.
They had to so they could rescue the teen.
And they had to rescue the team so they could and stop the thugs.
And stopping the thugs wouldn't have been possible without using the exploding elephant toothpaste experiment from the in-class science demonstration.
See how everything starts to come together? 
While this wasn't the most thrilling episode, it featured a look into Mac's past and how he dealt with the death of his mother.
It feels wrong being happy here.

Mac
In fact, Mac bonded with teen kidnap victim Val because she's a brilliant science geek who also lost her mom. 
MacGyver (who, let's face it, could still pass for a Mission City high school student) even bequeathed his tree house, "the lab," to Val.
And a mentor is born.
BTW, did I miss the explanation of the whereabouts of Mac's dad and grandpa? Or Bozer's family? Do they still live in Mission City? No, it's not terribly important, but we kind of needed to know.
Because I am certain my family would not be pleased if I came home for one day and didn't stop by. Mac's family would have probably liked to have seen him, too.
My family would sure be proud if I helped rescue a kidnap victim and took out some bad guys, though. So maybe Mac's family might have liked to know that, too.
I did appreciate that the producers have given us an episode where the whole gang had to improvise, since it was not a planned "mission" with clear objectives laid out beforehand, like all the previous episodes.
Another plus?
Since this was not an official mission, Thornton was relegated to mopping up their mess at the end (probably got there in record time on her private jet).
That was just the right amount of Thornton. And cleaning the mess is the appropriate task, too.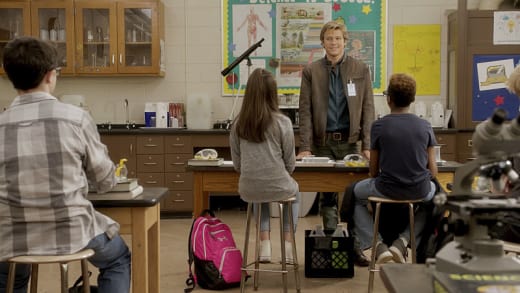 I thought the MacGyverisms were quite believable this week. And more vintage MacGyver-ish.
The only thing I found unbelievable was the situation in which a bunch of coworkers (I get it, they are also friends, but still…) had to go on an eight hour-plus road trip together for a high school science presentation. Why would anyone want to pay for all that travel?
Jack: Wait, is this a ...
Mac: ...a bomb.
Jack: Great.
I did enjoy Jack's nickname for their rented ride, though: The Pregnant Rollerskate.
That thing was hideous!
Oh my God, I'm in a car full of nerds.

Jack
What did you think of this homecoming episode? Are you all caught up this season?
If not you can always  watch MacGyver online now. Why not? What have you got to lose?
Megan King is a staff writer for TV Fanatic.