The Flash Season 3 Episode 7 Review: Killer Frost

Ron Gilmer at .
Worst kept secret, EVER!
We finally found out who Dr. Alchemy is on  The Flash Season 3 Episode 7  and, of course, it's JULIAN!
The big reveal was at the end, but it was kind of a letdown. Everyone and their mother suspected it would be Julian from the jump, and I was hoping that they would surprise me – oh well.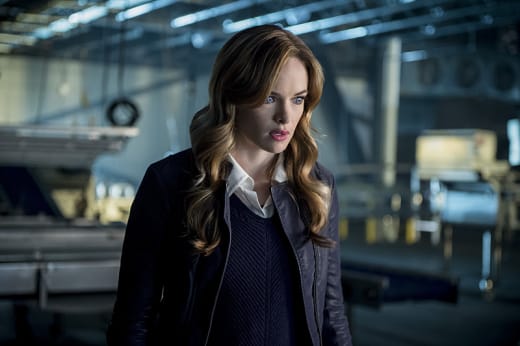 The part about Julian/Alchemy being a mere acolyte of Savitar wasn't that unexpected either. Hopefully Savitar will be a worthy Big Bad for the rest of the season.
What I really liked about this episode were the emotional interactions between all the characters. Cait's slow and sad transformation into Killer Frost provided the jumping off point for the first REAL instance of all the Scooby gang coming to grips with how Barry royally screwed the pooch with the whole Flashpoint debacle.
Barry always means well, but his continual need to "fix" things ultimately makes everything worse. And Cait sure let Barry know about it, didn't she?
Some things you break can't be put back together.

Cait
Cait changing back and forth from the Killer Frost personality to normal Cait really showcased the acting chops of Danielle Panabaker. As a matter of fact, all the cast was really getting their feels on. The credit for that IMO lies in the great Kevin Smith, who directed this episode.
In an interview with Variety, Smith thinks of The Flash as a "Superhero soap opera," so for him it's all about the relationships. On The Flash Season 2 Episode 21. he got an amazing, layered, emotional performance out of Grant Gustin. He did the same here with Danielle Panabaker, coaxing her best performance so far in the series. 
Cisco was great here as well, dealing with the death of his brother that Barry could have prevented. The conversation between him and Barry was heartbreaking. Cisco isn't ready yet to forgive Barry, but it will come in time.
Can't say enough good things about Kevin Smith – the man "gets" the genre, and he knows how important it is to show the human side of this crazy universe. Three dimensional characters really make the story sing, and Smith is very good at getting meaty, emotional performances out of his actors.
For a hero Flash, you sure let a lot of people die.

Cait
Barry doing the big stare down with Cait was unexpected and very cool. Daring her to become Killer Frost and kill him was a bold move, and the scene was intense!
We will hopefully see now that not all of Alchemy's progenies are evil, since Wally looks to be normal so far. I still don't like the Wally character, but I guess he will be needed to help bring down Savitar. 
Barry: If these past few months have taught me anything, it's that I would give up everything I have to keep you all safe. No regrets.
Joe: Every time I think you've run out of ways to be a hero, you show me another one.
Barry FINALLY owning up to all the damage he's done is a big step forward, so hopefully the gang can be united going forward to battle Julian and Savitar.  
The best moment for me was when Barry knocked Julian out cold – LOVED IT! Brought back sweet memories of Hermione punching Malfoy in the face in that Harry Potter movie. To quote Hermione, "That felt good!" 
Each episode keeps getting better, and I'm super stoked for the big ass crossover event!
Will you guys watch all four episodes?
What about you guys out there? Were you surprised that Julian is Alchemy? Are you looking forward to the big crossover event on The Flash Season 3 Episode 8? Sound off in the comments section!
And don't forget, you can always  watch The Flash online right here on the mother ship, TV Fanatic!