Supergirl Season 2 Episode 7 Review: The Darkest Places

Stacy Glanzman at .
Jeremiah's alive!
Okay, we already knew that, but he also seems to be perfectly fine. There are no signs that he's been experimented on for the past 15 years, but do we believe that?
I have to admit, I did not expect him to resurface as early as Supergirl Season 2 Episode 7, but it might be awhile before we see him again.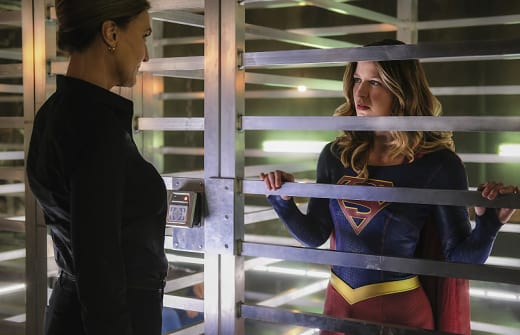 That escape was way too easy, so I think we have to assume Cadmus wanted Kara and Mon-El to escape. They got what they needed with her blood, and if they wanted to kill her, they would have. 
I mean, a crazy villain has a completely powerless Supergirl strapped to a table, and she just throws her back in a cell? She has bigger plans for her. 
That doesn't mean it's not really Jeremiah, or that he's not really himself, but he could just as easily be brainwashed. It's TV, we're all going to stay suspicious. 
So now we know that Cadmus was a person from Greek mythology. I have to say I've seen it written both as Cadmus and CADMUS across the internet, which has made me wonder if it was an acronym. I'm glad that was cleared up. 
After some awkwardness, Alex and Maggie agreed to stay friends. Alex has some seriously amazing speeches. She could not have explained herself to Maggie any better. I bet a lot of us wish we could speak so eloquently to people who have hurt us. 
It's good they're friends again, and I'd say there's still a pretty good chance they'll eventually be more than that. I also wouldn't be surprised if Alex winds up with someone else before then, and Maggie gets jealous. 
Alex: I know six different very painful ways to get you to tell me who Guardian is using my index finger.
Winn: It's James. It's James. Guardian is James.

Did anyone have a pool going on how fast it would take Winn to spill the beans? He really is not very good at keeping secrets. Kara's lucky everyone Winn knows already knows hers. 
I know Alex can be scary and threatening, but come on, Winn has to know there's no way she'd actually hurt him, right?
We also know from Supergirl Season 1 that Alex does not like keeping secrets from Kara, and it doesn't end particularly well. Kara is not going to appreciate being the last to know. 
So it wasn't actually J'onn attacking Kara in the promos, instead it was Cyborg Superman. He was crazy strong, and appears to be sticking around for at least one more episode. I don't know anything about Medusa, other than it's the title of Supergirl Season 2 Episode 8.
I'm pretty curious how Cadmus knew where the Fortress of Solitude is, and how to get into it. Superman might need some new security measures. 
J'onn is going through some transitions of his own. He's becoming a White Martian, the thing he despises most in the world. M'gann did it to save his life, but he's not going to see it that way. He was the last of his kind, and now he won't be, unless the DEO finds a way to reverse it. 
Kara: Mon-El? If something happens, if...if I don't get out of here, I need you to tell Alex something for me. I need you tell her to just keep living her life on her own terms. Tell her I wasn't scared, okay?
Mon-El: Well, if I don't make it and you do, you're welcome to tell everyone I was scared out of my mind.
Mon-El has become quite the comic relief. He had some seriously great lines, which you can check out on the quotes page. Of course, he's more than just the comic relief. They're bringing his character along quite nicely. 
He's grown a lot in just a few episodes. His asking James and Winn if Kara's "mated" to anyone was a pretty adorable and funny way to find out if she's single. Like every other guy on this show, he's got feelings for her. 
He's also coming into his own as a potential hero, and it's obvious he's never thought of himself that way. He also nearly came clean about something in the cell, most likely that he's actually the prince. That will come out eventually. 
Kara now knows that Cadmus is run by Lena's mother. What will that mean for their friendship going forward? 
Kara and Alex will want to find Cadmus and Jeremiah now more than ever, and their only real lead is Lena. Will she help them? I really want to trust her, so I hope she does. 
Remember the epic four show crossover begins next week. If you need to catch up, you can watch Supergirl online.
Get your first look at Barry and Cisco coming to ask for Kara's help right here!
Stacy Glanzman was a staff writer for TV Fanatic. She retired in March, 2019.