Incorporated Season 1 Episode 1 Review: Vertical Mobility

Ron Gilmer at .
Stop me if you've heard this one before: In a world where evil corporations rule a future dystopian Earth, an ordinary man fights to find the one he loves against insurmountable odds!  
Yeah, sounds VERY familiar. That basically sums up Incorporated Season 1 Episode 1, and that's not a good thing.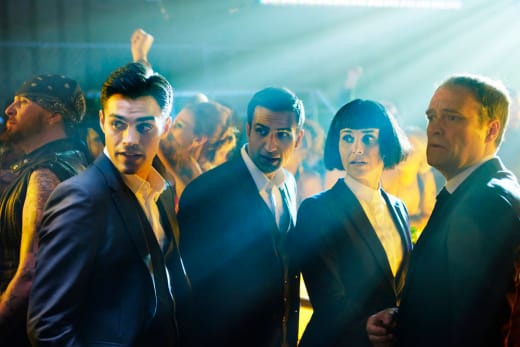 The "Evil Corporation" trope is tired and worn out, but it keeps cropping up like a bad penny. From Rollerball, Soylent Green, Robocop, the Alien films, Elysium, and Snowpiercer, the list goes on and on.
Sci fi has always been, at it's best, a drastic take on our societal fears, going all the way back to the 1950's nuke mutated bug movies to today's fear of technology shows like Black Mirror. 
The devil, as they say, is in the details. It's an old show pony, but if the story is well done, then we can at least enjoy a new take on the same old, same old. But, judging from the first episode, this puppy brings nothing new to the table.
Elizabeth: Spiga is a generous mother: it will feed you, dress you, and protect you. In exchange, it only asks for hard work and loyalty. The alternative? Well, we all know Mr. Peterson's fate.
I also don't get why the future has to be so damn cold and bland. I imagine that's supposed to mirror the gleaming glass and steel of the fancy buildings, but who said the future can't be at least a little FUN? The only people having any fun are the Red Zoners, which is why the Green Drones venture there at night. 
Ben (AKA Red Zoner Aaron) doesn't help matters much, either. I get that he has to act as bloodless and boring as the other drones at Spiga, but having someone that flat and emotionless as a leading man makes it hard to care about his mission.
And is it just me, or does the actor look just like Oscar Isaac from Inside Llewyn Davis and the latest Star Wars movie? Too bad they couldn't get him for the role.
Laura: You're always so...sunny.
Ben: And that's bad?
Laura: No - I just wish it were that easy for me.
Ben: Trust me, it's harder than it seems.
The fact that Laura is a cutter is very intriguing, and I'm sure we will learn more about the traumatic event that has led her down this self destructive path. Since emotions aren't readily accepted in the Green Zone, the fact that she can cut herself and immediately heal the wound is creepy, rebellious, and disturbing.
Right now she's the only remotely interesting character on the show. But the soap opera baby drama with her estranged mother Elizabeth is annoying, too.
Laura: Mom. I am not a child: I am an adult!
Elizabeth: The last time you were an independent adult I received a piece of my daughter in the mail.
Dennis Haysbert does a bit of a heel turn as Julian, the head of security/chief torturer at Spiga, and he's just OK. He has the evil voice down pat, but I was hoping just once he would say, "You're in good hands." Now THAT would be funny!
Corporations are all about the bottom line, so the bottom line here is this: It's nothing we haven't seen dozens of times before, and at this point they are going to have to really step up the character development and plot to keep this show from being downsized (see what I did there?).
It's all boilerplate stuff, and there isn't enough imagination so far to keep me interested.
Maybe bring in Dilbert or the guys from Office Space to steal a few staplers — that's the ticket!
Your turn: do you like the world they are building here? Did the plot or any of the characters resonate with you? Let me know in the comments!