When you get too close, you're going to get burned. That's the lesson of Chicago Med Season 2 Episode 7, where almost everybody steps over a line and lives to regret it.
"Inherent Bias" is deliciously painful because you can see the pitfalls the characters are going to have to deal with, yet that doesn't make them any less painful when they trip.
The main story concerns Sharon Goodwin, who lets her emotions run the show when her youthful love Reggie Dixon (Robert Gossett of Major Crimes fame) arrives at Chicago Med. Natalie and Choi deduce that Reggie had contracted a parasite while overseas decades earlier and it's now surfaced with a vengeance, but Goodwin doesn't want to hear it.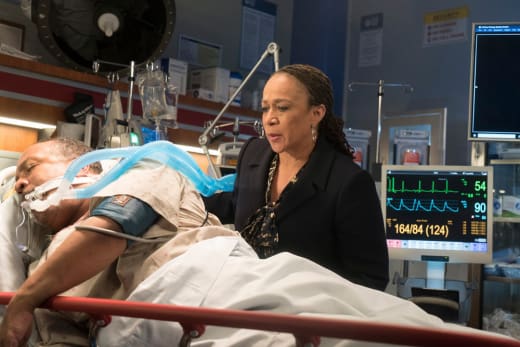 Goodwin doesn't waste much time interjecting herself into Natalie and Choi's treatment plan, and you can completely understand why; this is someone who's dear to her, and it's probably an even bigger wound considering that Reggie is coming back into her life as her marriage is effectively over. She's got a hole in her heart and he's filling it.
At the same time you can't help but be annoyed with her because her bias is so obvious. If this were any other patient she wouldn't have insisted on the same treatment, and she's pushing her doctors who are already doing their jobs the best they can.
I don't want you two throwing in the towel before we've even started.

Goodwin
Still, having S. Epatha Merkerson and Robert Gossett in the same plotline is a wonderful thing for Chicago Med fans. Those two could've spent the episode reading insurance forms and it would've been watchable. That's an inspired bit of guest casting and it's a shame that Reggie won't be around for more episodes.
Elsewhere in the hospital Dr. Charles meets a patient who has both a mental issue and an infected heart valve. It's obvious that he's going to have to call Connor but the two immediately disagree on a course of action. Connor wants to operate but Charles doesn't think the patient can consent.
The scene between the two of them, at loggerheads in the hallway as Pamela's being wheeled down for surgery, is the best of the episode because again, it's two good actors at full speed.
I hope when you're done trying to prove a point, I still have time to save her.

Connor
After so many episodes of seeing Connor on tilt – which is rewarding in its own way – it's a nice change of pace to have him back to his usual confident, assertive self. Colin Donnell can hold his own with anybody and Connor Rhodes is going to make his way back to being one of the best.
It's lovely to watch him grow, but all that growth also has to pay off eventually, and his work in "Inherent Bias" suggests that he's finding himself again.
But this plotline serves two purposes. Audiences already know that Robin Charles was brought on to be Connor's new love interest and that finally surfaces in this episode. First they're making quips about coffee and then she's asking him to come help fill out her reports.
Once again, we're in the same place at the same time wanting the same thing. Would you care to run that through your calculator?

Connor
On one hand, this gives both of them some good lines (as above). On the other, because we know where this is going, it feels more forced than it probably is. I can't help but pine for the times when TV shows let love interests blossom organically rather than developed characters with the intent of hooking them up.
There's nothing that says Robin and Connor can't have chemistry, and it can't be any worse than Connor's ill-fated romance with Sam Zanetti in Chicago Med Season 1. But from this relatively small sample size we still need more time to figure out if this is going to work. I'm not rooting for these two to get together just yet.
Then Dr. Charles's psuedo-daughter Reese (Rachel DiPillo) also earns his ire for wanting to take sex trafficking victim Danny in. Charles is totally right that this is a Bad Idea but you also can't fault Reese since everyone else is telling her they can't do anything. Hopefully she finds Danny, and not dead.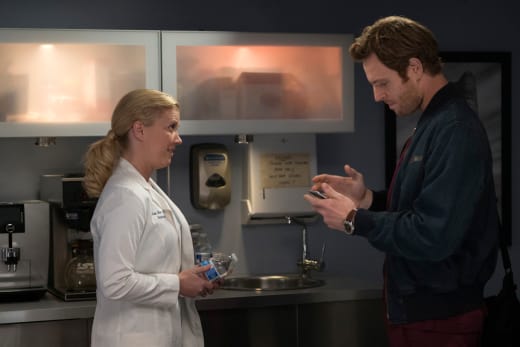 Meanwhile, Chicago Med does its own version of Royal Pains when Noah Sexton tries to recruit Will into the world of concierge medicine. Understandably this does not work well because Will can't leave well enough alone.
Again, if you know Will Halstead you knew that was coming, but at the same time you can't quite blame Noah for being upset because the number one rule of concierge medicine is keeping things on the down low. Will set himself up for failure with this venture.
Still not all is lost for Dr. Halstead. Nina Shore asks him to move in with her, and while we don't get to hear his answer, hopefully he said yes. These two are cute together and no amount of shots of Will looking at Natalie will take away from that.
No offense to the Manstead fans among you, because that's obviously where this is going at some point, but that doesn't mean Will and Nina don't have their own chemistry. And how nice is it that Nina has dragged Will out of his jerk mode from earlier this season?
Will: Oh, I do not want to go home and face Mandelbrot.
Nina: What? Is your new roomie still leaving toenail clippings on the couch?
Will: Worse. Now he's doing jumping jacks in the nude.
Last but certainly not least we have April who's finally engaged but also may be getting sick again. We've already had the TB scare with her so hopefully we're not about to get a case of deja vu, but at least she finally gave Tate an answer.
Maggie does have a very good point though that the new fiancees have some things they probably should be talking through. Let's see if they make it to the wedding. It'd be fun to have a Chicago Med wedding since we already have an impending Chicago Med divorce.
I'm sorry it took so long, but I do want to marry you. If the offer still stands.

April
There aren't any huge surprises in "Inherent Bias" unless you want to count the nosebleed guy not having a brain-eating amoeba (and how fun is that to say?). But the suspense is just one part of why we watch Chicago Med.
The rest of it – the majority of it – is because we care about these characters and love what the actors are doing with them. Several of the main cast members get great scenes in this episode, and the plot seems to open the door for others.
Now can we address the real question: how sad is it that next week is the fall finale already? I'm not ready for this show to take a break!
If you want to re-watch "Inherent Bias" again or catch up on any of Chicago Med Season 2 so far, you can watch Chicago Med online. We'll be back at the hospital next week with Chicago Med Season 2, Episode 8 "Free Will," airing Thursday, November 10 at 9/8c on NBC.
What did you think of this week's episode? Are you disappointed that Reggie didn't make it? What do you think is up with April? Do you think any of the hospital's couples will last? Give us your thoughts in the comments.
Brittany Frederick is a staff writer for TV Fanatic. Follow her on Twitter.