Chicago Fire Season 5 Episode 5 Review: I Held Her Hand

Brittany Frederick at . Updated at .
One of the interesting things about Chicago Fire is that it's always had a somewhat complicated relationship between its two main characters.
Lt. Matthew Casey and Lt. Kelly Severide started the show on rocky ground and the series isn't afraid to take them back there, which is the thrust of Chicago Fire Season 5 Episode 5.
"I Held Her Hand" pops right from the beginning. The fire sequence in the teaser is nail-biting to watch, perfectly paced and wonderfully shot. The Chicago franchise really knows how to nail show openings; this one is the best since the train wreck that opened the first episode of Chicago Med.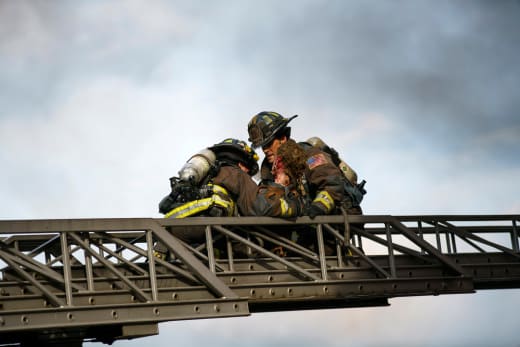 Not only does it work from an entertainment standpoint but it drives home a painful part of the fire department's job: that they'll continue to work on a victim even when they know that person is deceased, for the benefit of their loved ones. To see Dawson load the woman into the ambulance and then give that head shake to Casey is heartbreaking.
But that then opens a whole can of worms. Casey, who was holding the victim's hand as she burned to death (hence the title), wonders if it could be murder when the woman's sister says it was. Severide, who practically had to tackle the husband to keep him from going back into the house, thinks it couldn't possibly be intentional.
I had to use everything I had to keep him from running headlong into the fire...I saw what I saw. There's no way the guy wanted her dead.

Severide
It turns out that Severide is right – at least as far as we're told – but the episode does a fine job of keeping the audience guessing the whole way through. The episode ends with Casey swearing he'll prove the husband's guilt, though, so are we in for a new subplot? We do have room for one now, since Mouch and Brett's writing days are over, but more on that later.
Why "I Held Her Hand" succeeds, though, isn't just because we want to know who's right and who's wrong. It's just as much about how Casey and Severide react to the same difficult case in two totally different ways.
Casey is incredibly emotional about this as anyone would be if they were in his position. At least he's got Dawson to lean on, and it's great that Chicago Fire gives her those scenes to support him and remind us why their relationship works in the first place. We haven't seen enough of that this season.
I'm not sure about anything.

Casey
Meanwhile Severide is much more detached, which is what you'd expect from Severide. He's using his head and not his heart, and he spends the episode asking all the questions. Likewise, it's also good to see Severide back from his brief stint as wannabe buddy to the social media stars.
Jesse Spencer and Taylor Kinney have always played well off one another and this episode lets them do that to the best of their ability. It's a well-written, well-acted conflict that also fits perfectly with what's been established for both of their characters. They carry this one on their shoulders.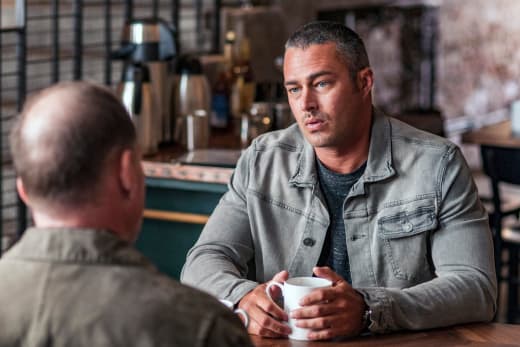 Of course there has to be a comedic subplot to balance out that drama, and this episode has two. The first is the resolution of the Mouch and Brett storyline, with them dropping their book dreams to save their careers. This isn't the way it could've played out but it does the job.
As soon as that storyline started fans knew it was going to involve them being discovered somehow. That was the real punchline. Plus, after so many episodes of them sneaking around, if someone hadn't noticed it'd be making everyone else look stupid.
But the obvious choice would've been for the firehouse crew to find the manuscript in the copier and react to it, not to have the CFD brass rake them over the coals for it. It feels like there's a missed opportunity for some big laughs as a result.
At least the subplot gets a conclusion and at least for Mouch there's a somewhat happy ending as he now has a captive audience. And seeing Otis among them was the best part.
And that is step one to the New York Times Bestseller List.

Mouch
The other and even funnier subplot is Herrmann versus the teenage tagger. There's nothing that David Eigenberg can't make funny. In fact, Eigenberg and Amy Morton should just be allowed to pop up across the franchise whenever they feel like it and chime in. The two of them are the Crow and Tom Servo of One Chicago.
Mouch: Hitting us twice in two shifts takes balls.
Herrmann: First thing I'm going to cut off when we catch him.
But underneath the jokes Herrmann has a real point. The firehouse is the team's home and you don't mess with someone's home. His moment of softness with the kid is incredibly sweet, too, although forgive me if there's some skepticism as to whether or not the kid will actually take this to heart or just be tagging somewhere else in a week.
Let's take a moment here and talk about Eigenberg because Herrmann is one of those TV characters who flies under the radar. He is without a doubt the funniest person on Chicago Fire.
But he's also been a rock for the team and Chicago Fire Season 5 has shown plenty of that. Remember how he counseled Dawson in Chicago Fire Season 5 Episode 1? And now this. He's a good dude, Herrmann, and Eigenberg is fantastic in the part.
This guy defaced our house. That's a middle finger to every one of us.

Herrmann
In other news Brett saves the day of a high school student who not only injures himself trying to ask a girl to homecoming, but finds out that she has a date and has video of his mishap posted on the Internet. This is a reminder of the social media world we live in: if you do something just assume someone's publicizing it.
I can attest to this first-hand: a few months ago I thought I was just having fun singing karaoke at a charity event with The Voice coach Adam Levine. By the time I left the venue video was all over the Internet and people were writing blog articles about me.
One of those articles claimed I had a medical condition that I don't have so I got to spend the next day fielding calls from concerned family members and telling them I was fine.
Now that wasn't embarrassing per se (except for that I'm a terrible singer) but this subplot illustrates that point. Everything you do can end up on somebody's phone and thus the Internet, and people spin it any way they want. In Alan's case it was really hurtful, so kudos to Brett for doing him a solid.
Sacrificing your body for love is pretty darn chivalrous.

Brett
And last but certainly not least Boden tries to piece back together his family by taking up texting, and the episode's fourth act includes his son James showing up across the street from Boden's house.
Given what Boden's been through with his firehouse family of recent (namely what happened to Jimmy Borelli), he deserves something good with his home family. Hopefully he'll get it.
Although does anyone else still get just the tiniest bit confused since Teen Wolf's Melissa Ponzio plays Donna? Even though it's been a while, I still expect werewolves to turn up behind her. Now that'd be a weird crossover.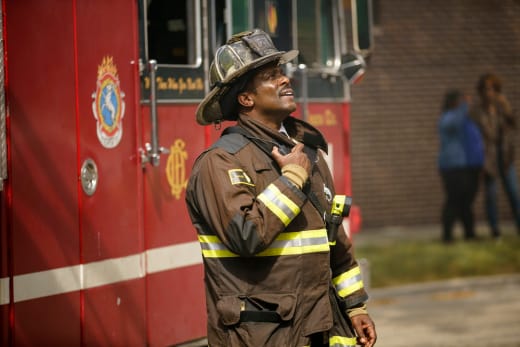 Overall "I Held Her Hand" is a solidly put-together hour driven by a strong central plot and performances balanced by just the right amount of humor. Season 5 of Chicago Fire is getting better every week in a year when many shows start to show their age. Let's hope this trend continues!
If you want to watch this episode again or catch up on the entirety of Season 5, you can watch Chicago Fire online. The season rolls on next Tuesday at 10/9c with Chicago Fire Season 5 Episode 6, when Dawson might need Casey's help after an accident in "That Day." Don't miss it and then come back to TV Fanatic for our postmortem.
In the meanwhile leave your thoughts about this week's episode in the comments. Did you agree with Casey or Severide at first? Do you think Casey will keep pursuing his arson theory? Have you ever fallen out of a tree trying to get someone's attention? Sound off below.
Brittany Frederick is a staff writer for TV Fanatic. Follow her on Twitter.