Arrow Round Table: Will Olicity Get Back Together?
Paul Dailly at .
Arrow is getting better. 
That much was confirmed during Arrow Season 5 Episode 5 when the show took some great risks that raised the stakes. 
Below, TV Fanatics Jim Garner, Steve Ford and Robin Harry discuss Christopher Chance, Tobias being murdered and that Olicity scene...
What did you think of Christopher Chance?
Jim: I really enjoyed him. My only request would have been a little more understanding of how he survived the shooting. I didn't understand exactly how he pulled off the effect of being shot without actually being hurt. 
Steve: I was actually quite interested in this character and I hope to see and learn more about him in the future. I'm with Jim what I would have liked to understand how he was able to pull off the fake assassination. Is he a meta that can heal or was it more complex than that? 
Robin: I liked him, though I had a hard time shaking off Wil Traval's character from Jessica Jones. He'd be an interesting character to see pop up every now and again. Jim - I figured it was just Kevlar and fake blood; the Human Target doesn't have superpowers. 
Are you happy Tobias is out of the equation?
Jim: Yeah, he was a very one dimensional character. I would have been happy to see him be around a bit longer, but they never got him past the gravel-voiced-brass-knuckle brute we initially met.
Steve: Yes. I was hoping his character would get fleshed out and grow into a decent threat, but that never happened. He had potential, but he never went beyond the villain of the week type.
Robin: I'm with Jim. I never found Tobias that compelling. He was just another bad guy with bravado. I'm WAY more interested in who Prometheus might be, and hope that they get into that very, very soon.
Oliver and Felicity had THAT talk. Sound off.
Jim:  Can my reply just be this image: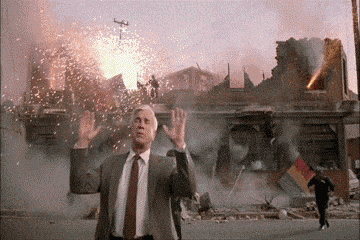 Steve: That is the perfect GIF Jim. They obviously still have feelings for each other, but I'm not interested in these two getting back together. However, it looks like the show is heading that way. That conversation was a little awkward to say the least. 
Robin: Oliver handled that like a champ, and Felicity doesn't know what the hell she wants. Clearly the soft music and the googly-eyes means they're not over each other, but for goodness sake, why couldn't they work through this as single people? WHY do we have to go through the drama of Felicity being with a guy who is either going to die or be evil, and Oliver clearly going to date a reporter that's going to screw him over? I really wish the CW would make being single a thing that happens.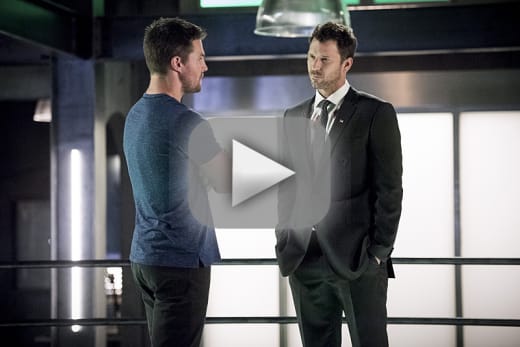 Will Susan blackmail Oliver or Thea with the fact that Oliver was not on the island when he said he was?
Jim: I think she's going to try and use it, but Team Arrow will bring her into the fold in such a way that she will become an ally. 
Steve: I wouldn't put it past her. I'd like to believe that she will stick to her word with Oliver, but I don't see it being as cut and dry as that. She's going to look out for her own best interest. 
Robin: I think she'll try, and Thea will destroy her with her genetically endowed Queen/Merlyn ruthlessness and finesse. I'm looking forward to that.
Who do you think Prometheus is?
Jim: Its Officer Malone of course -- duh! Its always the new love interest played by a decently known actor who seems to be a total good guy. The only way it would be more obvious was if he had random injuries he couldn't explain after fighting the hero. 
Steve: I want to agree that it is Malone, but that seems too obvious. However, I don't have a better choice at this point. 
Robin: I'm thinking it's going to be someone that had ties to Oliver in Russia, because that's usually how the flashbacks end up tying into the present. I really hope it's not Malone because that would just be lazy writing, but part of me wants it to be him so I can justifiably roll my eyes at Felicity and her rebound romance.
Remember you can watch Arrow online right here on TV Fanatic. Get caught up on the latest drama now!
What did you think of the episode? Hit the comments below!
Note: Arrow Season 5 Episode 6 airs November 9 on The CW!
Have a look at the promo below:
Paul Dailly is the Associate Editor for TV Fanatic. Follow him on Twitter.