The Blacklist Season 4 Episode 6 Review: The Thrushes

Sean McKenna at .
Alexander has finally been captured.
I guess I shouldn't be surprised that Agnes was rescued safe and sound as well, but I did wonder if The Blacklist would take the dark route in killing the baby if Alexander chose to jump.
That would have been a drastically different turn of events, and maybe too much of a tragic spin for the series. It definitely would have caused a rift in the group, that's for sure.
Instead, Liz was reunited with her child on The Blacklist Season 4 Episode 6, which thankfully puts an end to the cat-and-mouse game with her biological father.
It definitely was time.
And it was interesting that Liz wound up choosing to go along with Red's plan. There was a certain means to an end, but there was enough level of trust in him to get her daughter back.
I did wonder if Liz would pick Alexander because of her desires to know more about her past, especially since Red hasn't been so open about it.
But as we saw, Alexander broke the arrangement and he nearly got Agnes killed, so again, it's hard to really see that Alexander would even be the good guy.
The twists and turns of how it all played out definitely kept me guessing, and it was pretty cool to see the return of the prison box that Red found himself in on The Blacklist Season 1 Episode 1.
Clearly, Liz should be getting some answers, and I just hope that Alexander doesn't wind up dead before then.
Yet, I actually was more invested in Aram's situation with his girlfriend. Maybe it's because we don't often get to explore the side characters as much, or perhaps it was because we really got to see Aram take action and deal with it all on an emotional level.
It's such a huge bummer that his new girlfriend was a mole, though if you ship Aram and Samar, then by the end of the hour, it was a huge win.
Still, seeing Aram vulnerable and frustrated and upset was such a different look on him. Additionally, Aram having to get involved beyond just sitting at a computer and take part in taking down his girlfriend was a nice change of pace.
What's more was illustrating how nervous and scared he was. He wasn't just another stereotypical badass FBI agent without a care in the world.
Sure, he got that great line of "Quack, quack, bitch," but even then he got pretty beat up afterward.
And it was fantastic to hear him explain his "reason" for acting weird around his girlfriend. It was such a revealing moment for him, and for Samar to hear. Does he love Samar? Though, having Ressler listen in while adding his own comments added some humor to the scene.
Really, it's great when characters not named Liz or Red get some time to shine. And though, it wasn't a happy reveal for Aram learning that he'd been duped, it really added some depth to his character overall.
Plus, Aram and Samar might go on a date in the future?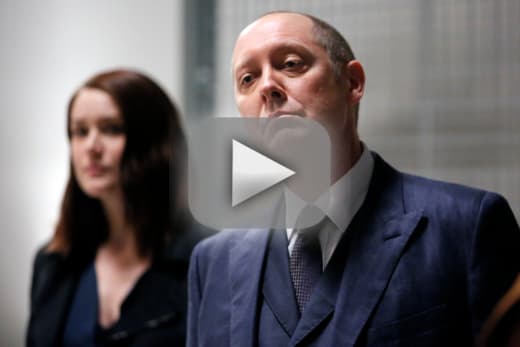 Clearly, Mr. Kaplan wishes she wasn't on a date with her woodsman rescuer.
As much as I'm interested to see her return into the fold and what she's going to do involving Red, the whole creepy guy in the woods angle feels tired.
It makes me almost wish that instead of seeing Mr. Kaplan trapped in the woods, etc., we simply skipped over everything that happened in between being shot and her return. Why not just have shown her dragging her body as the last thing viewers see, and then when she returns episodes down the road, perhaps then we get a few quick flashbacks.
I just worry where's she's at now will feel dragged out until she finds a way to kill the guy and escape.
"The Thrushes" finally ended the hunt for Alexander and it really found a great way to include all the characters (even Harold had a great heart-to-heart with Red about Liz). It definitely sets things up nicely as The Blacklist Season 4 closes in on its fall finale.
Are you glad Samar is staying? Will Alexander reveal more of Liz's past? Sound off below and be sure to watch The Blacklist online at TV Fanatic.
NOTE: The Blacklist Season 4 Episode 7, "Dr. Adrian Shaw," airs Nov. 3 at 10 p.m.
Sean McKenna was a TV Fanatic Staff Writer. He retired in May of 2017. Follow him on Twitter.