Supergirl Season 2 Episode 1 Review: The Adventures of Supergirl

Stacy Glanzman at .
Supergirl is back and she brought along her famous cousin!
Supergirl Season 2 Episode 1 picked up right where we left off with the pod hitting Earth, but we still don't know much about the man inside of it. 
It's been revealed that he is Mon-El, but that's about all we know. Hopefully we'll know more soon, and actually get to see him awake.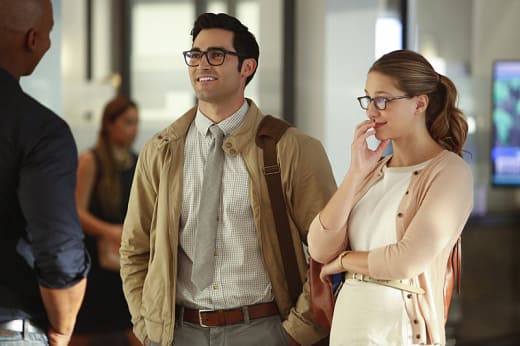 Even though only 12 hours have passed, it sure feels like a lot has changed. And I'm not just talking about the whole switching networks thing, though that was a big move. 
There's a new DEO, which is probably a result of the network change and is much nicer than the previous one, and Kara's feelings for James seem to have changed completely over night. 
While I am a little disappointed they decided to remain friends, I'm actually okay with it. It's still so early in the series, and she's still learning to juggle being a superhero and having a normal life, so it probably isn't the right time. That could change some day, but for now, he's been friend-zoned. 
As for the change to The CW, I personally didn't notice any huge differences, did you guys? Granted, this was shot in the summer, so we may still be in for some darker, colder looking scenes later in the season. As far as the budget and the effects go though, I didn't notice much of a difference. 
But we all know the biggest downfall of the network move will be the recurring status of Calista Flockhart's Cat Grant. 
Kara: You knew even then? How?
Cat: Instinct. And I guess I saw a little bit of myself in you. Obviously not your strip mall wardrobe, and I probably curse more in one day than you've cursed in your entire lifetime, but you have integrity to right wrongs and see justice done. You inspire me, Kara. I can see the hero within you.
Guys, we are really going to miss having her on a regular basis. Kara is too; she needs her mentor. Her one-liners are hilarious, but we'll miss her meaningful speeches the most. Her diving metaphor appeals to everyone. Most of us could probably do more to get out of our comfort zones. 
Plus, we can't get too many scenes between her and Clark. It's disturbing yet awesome at the same time. I'd love to know what that drunken text message said. I wonder if Lois is aware of Cat's little crush. 
Speaking of Clark, Tyler Hoechlin really nailed it, right? He was fantastic as both the Man of Steel and his alter-ego. As long as he's sticking around, he can help fill the void of mentor to Kara. 
That doesn't mean we need him sticking around too long. A couple of episodes and then popping in here and there should be enough. It's still Supergirl, after all. 
Superman has a beef with J'onn. By the way, I don't know what Winn will end up calling him, but I'm sticking with J'onn from here on out. That doesn't mean I won't slip up and call him Hank, but that's the plan. 
The kryptonite argument felt very similar to the CDC keeping vials of smallpox. It was interesting to find out that J'onn actually named kryptonite, and he was the one who decided to keep it. Superman wanted it destroyed. Who's right? 
That's hard to say. It has the potential to kill Superman and Supergirl, but without it, they may not have defeated Non and Astra. There's a good chance Kara's going to end up in the middle of this one. 
That could happen as soon as Supergirl Season 2 Episode 2. Kara's going to get injured by kryptonite stolen from the DEO, and Superman is not going to be happy about that. Chances are Alex won't be either. 
Alex is still as bad-ass as ever. The superheroes may be the ones repairing skyscrapers and stopping rockets from crashing, but she can still bring down a pretty scary villain with just her hand-to-hand combat skills. I will never get sick of watching her fight scenes. 
While most of the spotlight was on Superman, he wasn't the only new character introduced. I already like Lena, and I hope she really is a good guy. She seems as if she can be a real asset. I'd love to get her in a room with Max Lord, just to see what happens. 
We got the tiniest of glimpses at Project Cadmus, and it looks like we'll be seeing more of Corbin. Next time we see him though, he may not be very recognizable. 
What did you guys think? Are you looking forward to more Superman? Did you catch that "moving back to Gotham" line? 
If you missed it, you can always watch Supergirl online. 
Get your first glimpse of "The Last Children of Krypton" here:
Stacy Glanzman was a staff writer for TV Fanatic. She retired in March, 2019.