There was a storm brewing on Queen Sugar Season 1 Episode 8, and it wasn't just outdoors! 
Our TV Fanatics Jasmine, Lee, and Christine O. debate who was in the right in the battle between Nova and Charley, if Darla should be given a second chance, and what stories they're still waiting to see during Queen Sugar Season 1.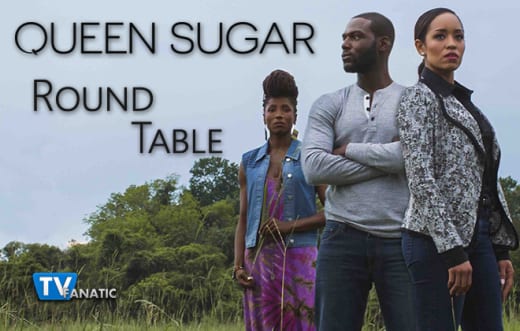 There's been some arguing on Twitter about who was right or wrong in that fight between Nova and Charley? What's your take?
Jasmine: I think they're both right and wrong. And they needed to get some of their hostility out. We don't know much about the situation with both of their mothers but it clearly impacts who they are and the sisters' relationship. I also pick up on the slight colorism and identity issues between the two. Nova when she lashes out quickly resorts to referring to Charley as "bougie."
She disapproved of Charley running away, acting better than everyone else, and in her own way almost questions Charley's "blackness." And Charley for her part does have the uppity moments and looks down on a lifestyle that she probably deems stereotypical. It's so realistic but so painful to watch. I hate it when the sisters are at odds.
Nova was wrong to take the money and she hasn't been apologetic because she's too self righteous. Charley lashing out was inevitable and in some ways warranted. But I'm not a fan of the lifestyle pot-shots, and I didn't like the fact that Charley brought up Nova's affair. I hate that the show hasn't properly laid out the nature of Calvin and Nova's relationship.
I recall in a couple of articles and discussions about the show, they were akin to college sweethearts from opposite sides of the track prior to his being married, and Nova focused on her career first and he sort of moved on. Doesn't justify their affair but explains their connection better.
I also am not fond of how Charley interferes with Nova and Micah's relationship. Nova isn't the ideal role model but she's fantastic with Micah and has been good for him in this infidelity mess. I love both women but both of them irritate me a great deal.
Lee: I agree with Jasmine. One of the things I love about Queen Sugar is how the three Bordelon siblings are all flawed in different, realistic ways; it forces you to really think about their arguments instead of immediately taking sides. Charley makes some good points about Nova's character flaws, but Nova does the same about Charley.
Neither sister is able to throw stones at the other without some coming back to hurt them. As Jasmine mentions, Nova was definitely wrong to take the money, and continues to be in the wrong by being too self-righteous to apologize; I also have a problem with how she continues to place others in the community above her own family.
It's great that she wants to help the less fortunate around her, but she should look after her own blood first. But Charley is just as bad when it comes to acting like her lifestyle choices are vastly superior to her sister's. I hope we explore the situation regarding their different mothers more soon; I think it will be eye-opening.
Christine: I love that Nova is driven to help people but I have to agree with Charley when it comes to Micah living with her. Charley's first responsibility as a parent is to keep her son safe and between Nova living in the lower ninth and selling an illegal drug, there's a high probability that Micah could end up in the middle of a mess of Nova's making.
I agree that there was no need for Charley to announce to the entire family that Nova was having an affair with a married man, but Nova did continue to push her. Like others have said, these are wonderfully flawed characters and that's what makes this show so entertaining. 
Would you give Darla a second chance?
Jasmine: Darla appears to be genuinely remorseful. That scene where she thanked Aunt Vi and Hollywood made me want to cry. Honestly Bianca Lawson was amazing this entire episode. I don't want to see her and Ralph Angel together, but I think she should be allowed to visit Blue more often.
Lee: It seems like Darla has truly turned a corner, but more time needs to pass before we can determine how much more she should be involved with Blue. She should definitely be given a second chance to be involved in his life, but I think it needs to be carefully monitored and ramped up over time. What if Blue grows accustomed to having Darla play a major role in his life, only for her to backslide again? 
Christine: Unfortunately, addicts are known for falling off the wagon, even after being clean for several years, so although I believe that Darla is on the right path, her time with Blue needs to be monitored. But yeah, she deserves to be given a chance to work towards being his mom again; Blue deserves that too. 
Was Charley wrong to kiss Remy?
Jasmine: I kind of laughed because she literally just blasted Nova for being a mistress and not respecting marriage and then she ended up kissing Remy, despite the fact that she's still technically married. I really like Charley and Remy together and it had clearly been brewing for some time. I keep seeing the grey in most of this. I can't say that it was wrong but it is complicated.
Lee: Yeah, that was a bit hypocritical on Charley's part; not that I can blame her! Remy is smoking hot and seems like a legitimately good guy to boot. With all of the drama inherent in her family, I totally understand why Charley would be drawn to the stability and respectability of Remy. But, she should probably have waited until her divorce was final.
Christine: It's way too soon! She just took off her wedding ring. I don't even think she's filed divorce papers yet. I know that marriage is emotionally over, but legally counts too, just ask Aunt Vi. Charley needs to get her life in order before moving forward with anyone else. 
We're past the half way point in the season. What one thing would you like to see the show follow up on before Queen Sugar Season 1 ends?
Jasmine: I'd love to know more about Ernest and the mothers of his children. He was the patriarch and we felt his loss, but we've been so wrapped up in all the farm stuff and everything else that the grieving feels removed from the story at the moment. I'd love to know more about the unique relationship he had with each individual kid and how it made them who they are for better and for worse.
Lee: I totally agree. It's clear that having different mothers has defined their characters and their relationships with each other. I want to know more about these women, their relationships with Ernest and their relationships with their children. 
Christine: It's unanimous. I need to know who had an affair with whom and what was they dynamic as these siblings grew up. There was obviously a lot of drama because it's still affecting them all to this day…and I want details!
Were you disappointed in anything from this episode?
Jasmine: This is minor, but Charley not letting the workers go and once again not listening to Remy or anyone who knows better than she does irritated me so much. On top of that, we never found out if the workers got home safely or if she had to put them up for the duration of the storm. She still operates as if she always knows best and she's so stubborn she refuses to listen to anyone.
Lee: The only thing that really disappointed me was knowing that we only have two episodes left in season one! Queen Sugar is by far my favorite new series this fall and I'm not ready for season one to almost be over already!
Christine: Well first off, I have good news for you Lee. Queen Sugar Season 1 has 13 episodes, not 10!  And I'm with Jasmine about Charley who continually ignores good advice from good people. She always believes that she knows best and it's a serious character flaw; this time it may have put people's lives in danger. 
What was your favorite moment from "Where With All"?
Jasmine: So much was going on and I loved a great deal of it, but I really loved watching them play cards and have fun. My favorite moments are the family moments where they're all together and doing simple family things.
Lee: My favorite moment was probably the big argument between the sisters, to be honest. It wasn't pleasant to watch but it cleared a lot of air and felt like a real turning point for the series. 
Christine: I really loved the grace that Darla showed when pleading her case to Violet and Hollywood. She didn't make excuses and she thanked them for everything they'd done for her. That scene was unexpected and Bianca Lawson, who plays Darla, was amazing. 
Check back in on Wednesday night to read our review of Queen Sugar Season 1 Episode 9 and if you need to catch up, you can watch Queen Sugar online here at TV Fanatic. 
C. Orlando is a TV Fanatic Staff Writer. Follow her on Twitter.