Well, Quantico, you've certainly made up for that awful season premiere.
On Quantico Season 2 Episode 2, things definitely turned around for our little show and got a lot more entertaining. This was, by far, a much better episode than Quantico Season 2 Episode 1.
The surveillance task was actually a lot of fun, and it was nice that both Alex and Ryan weren't instantly awesome at it. They both still have things to learn.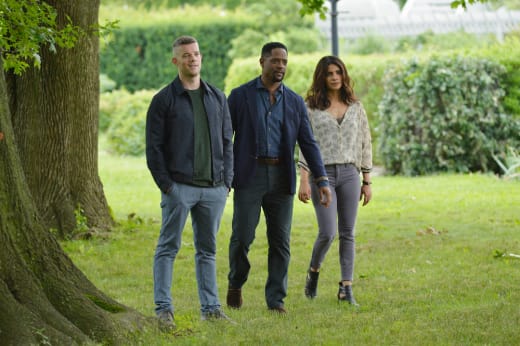 We're also exploring a different side of the FBI by following undercover operatives and their handlers. 
I'm looking forward to seeing how Nimah and Shelby operate as handlers. Nimah and Ryan's friendship is great, so it's nice that we get to showcase a little bit more.
Plus, we get to learn more about the dynamic between a handler and her operative. Who do you think will be the better handler - Nimah or Shelby?
One of my favorite moments during the entire hour was the Jason Bourne line. I just love that the Williamsburg townsfolk are a part of training. Can you imagine living there and just slowly becoming aware to the fact that the CIA uses your town as a training ground?!
Admittedly, Harry being the trigger was ridiculously obvious, but seeing as how it allowed Harry and Alex to be adorable together, I've decided it doesn't bother me as much.
It's official: Harry is my favorite recruit.
Alex: I was in the government service. I wasn't a celebrity.
Harry: No? Well, you looked like one, not a hair out of place. Seriously, when you were a fugitive on the run, you looked like you were flitting between your hair salon and your manicurist.
I mean he totally understands and appreciates the magic of Alex's hair, and he and Alex have great chemistry.
That's right. I'm shipping Alex and Harry now. I've been over Ryan and Alex since the first half of season one, and I can't even muster up one single care in the world for their "romantic" drama.
It's time to move on, Quantico. Out with the old and manipulative, and in with Harry. Who's with me?
Honestly, I'll just be fine if we stop making this the Alex and Ryan show.
I'm hoping that since Miranda made a point to mention that they are on separate teams that this will mean we won't be seeing that much of them together at the Farm anymore.
Here at the Farm, it doesn't matter who you used to be or who you are. All that matters is who we teach you to be.

Owen
We didn't make a lot of progress on the terrorist future storyline front, and I'm okay with that. I like that this is a slow moving event, and we are trying to stop an attack that is currently happening. It's something different from season one. 
Plus, we're also tackling this one event from multiple different angles - Alex on her own inside the perimeter, Raina and Ryan as hostages, and we're also following what's going on in the FBI.
Miranda being one of the terrorists was absolutely shocking in the best way. There wasn't a build up to it. It just happened out of the blue.
Seeing as how we already have to spend time trying to ID the CIA recruits who became part of this rogue group, I'm so glad that we didn't have to try to figure out that Miranda was involved. 
Miranda's involvement in a group that wants to operate without any oversight makes you question every thing she's ever done. You know you can't trust a single word she says in the present day storyline at the Farm. I have so many questions about how she got involved, how up she is, and why.
What did you think of the episode? Has your jaw picked back up off the floor after that Miranda twist?
Leave your thoughts and theories in a comment below. Quantico is back in two weeks with Quantico Season 2 Episode 3.
Remember you can watch Quantico online anytime via TV Fanatic.