Lethal Weapon Season 1 Episode 5 Review: Spilt Milk

Lisa Babick at .
Riggs wasn't going to be able to keep everything in forever, was he?
He finally started to open up on Lethal Weapon Season 1 Episode 5, as the case he and Murtaugh were investigating hit very close to home. Sure it was tiny baby steps, but at least Riggs made progress.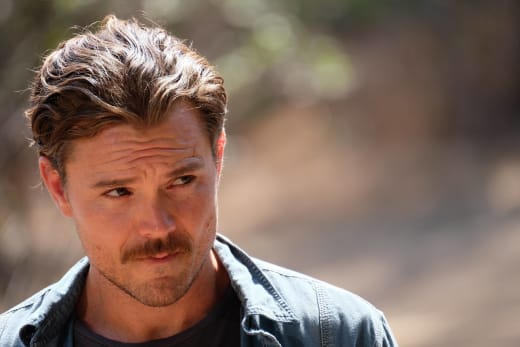 Once again Lethal Weapon tugged at my heartstrings and made me cry. This is starting to become a regular mantra for me with this show. But, c'mon, how can you not be pulled into all the emotion this show exudes week after week?
Chad Jackson wasn't a bad guy. He was just a guy who found himself in a bad situation. He was a vet who was having a hard time finding a job and was on meds that were making him crazy. He was a test subject, and what was happening to him wasn't really fair. 
Riggs really understood what Jackson was going through, and he became rather protective of his fellow vet. He didn't want to see the guy go down and did everything he could to make sure things didn't turn out bad for anyone. He was afraid for Jackson.
Maybe Riggs saw what he could become if he didn't change his ways. He told Murtaugh as much when they were on the roof at the end of the hour. Had it not been for Miranda, he would have been a statistic.
Murtaugh: So what got you through it?
Riggs: Miranda. I was lost until I found her. You know, she saved my life. You see that's the difference between Jackson and I. I had a guardian angel looking over my shoulder.
Murtaugh spent much of the hour drawing parallels between Jackson and Riggs. He was using the investigation as a way to better understand what makes Riggs tick. There's a lot to be said about that, because if you think about it, why does Murtaugh care so much? Why go through all the effort?
Did he feel this way when he was partnered with Avery? I don't think so. So, what is it about Riggs that pulls at Murtaugh?
There is no doubt that Riggs makes Murtaugh feel alive, but there has to be more. 
This time around, Riggs wasn't the one that was doing crazy stuff. Okay, him walking on the ledge at the top of the hour was a little nutty, but whose idea was it to jump out of a window into a swimming pool to save a building full of people from a bomb?
That was the best scene of the series so far mostly because of how surprising it was. Who would have ever expected Murtaugh to make a decision like that? I think Riggs was surprised too.
Maybe Murtaugh went for it, because he basically cheated death twice, once with the heart attack, and once with the trip-wire bomb. So, maybe it gave him the courage to see what it was like on the other side.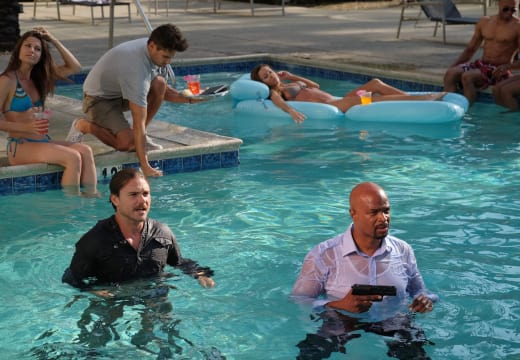 What's interesting is as Murtaugh loosens up, Riggs is becoming less nutty, not that he was incredibly nutty to begin with. There's almost a little bit of role reversal happening. Both these guys are benefiting from being around each other.
I loved that Riggs opened up at the end to Murtaugh, but there were other revealing moments interspersed throughout the hour as well like when he and Dr. Cahill were sharing a drink and talking about the case, and he talked about coming home from the war and being alone.
It was a subtle reveal that sort of took Dr. Cahill by surprise, but I like that Riggs feels comfortable enough with her that he can share these little things. It probably surprises him too.
And, of course the bigger moment was when he told Jackson to trust her. That was a huge step for him, and a huge step for them. I know I've said it before, but the chemistry between these two is real. 
Riggs: Do me a favor, though. Trust her like you trusted me, yeah?
Jackson: Did she help you out, too?
Riggs: Let's just say she understands complicated.
The other relationship that is developing quite nicely is Cruz and Bailey. She wasn't too fond of him when he first came into the department, but he's growing on her.  It amazes me how Cruz has fit in with the team so nicely, like he's always been a part of the group. Even with Bailey's cold shoulder earlier, he still fit in perfectly.
I also get the feeling that working with Riggs is what convinced Cruz to transfer to robbery and homicide. For some reason, I think Cruz feels a connection to Riggs, and I hope to see that story developed more. Why did Cruz transfer?
How adorable was Murtaugh being all jealous with Trish's new assistant? They have such a strong relationship it was almost a little goofy for Murtaugh to be like that, but Trish handled it like a true professional (and loving wife.)
I really love all the Murtaugh famly moments and Murtaugh and Riana playing basketball was no different. There is such a positive vibe in that family. It's really a breath of fresh air. 
What did you think about "Spilt Milk"? We know you loved it! Hit the comments and let us know! If you missed any of the action, you can watch Lethal Weapon online right here via TV Fanatic.
Lethal Weapon is off for a week due to the World Series. Our favorite duo returns Wednesday, November 2 (I know!!)