Law & Order: SVU Season 18 Episode 5 Review: Rape Interrupted

Jack Ori at . Updated at .
Law & Order: SVU Season 18 Episode 5 lived up to the series' reputation for ripping stories from the headlines.
The young, well-off Ivy League graduate's age and job were about the only details of the initial crime that differed from the Brock Turner case.
As entertainment, this was well-done, but the constant claim that Ellis was a victim of a system rigged against wealthy white guys didn't really do anything positive for anyone.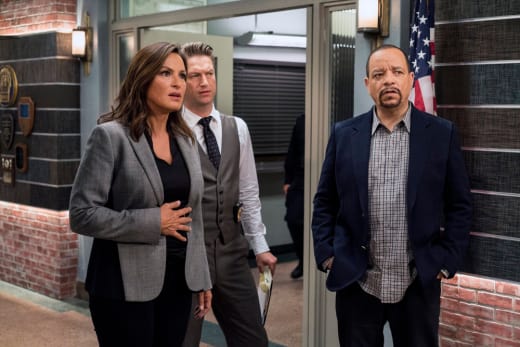 The most interesting aspect of "Rape Interrupted" was the relationship between Olivia and the accused rapist's father, Patrick Griffin.
This was the first time Olivia's backstory with Patrick was mentioned or explored. It both worked and didn't.
It worked because viewers learned what their relationship was along with Olivia's fellow detectives. Watching the history unfold was fascinating, and Olivia owing her career to this guy telling a lie was a nice touch.
On the other hand, I couldn't help thinking that this story would have been even more powerful if somehow it put Olivia in conflict with her former partner Elliot Stabler, whose relationship with her was built up over the course of 12 years.
This is not the same as you and me. This is different. Your son raped an unconscious girl. This isn't going away, Patrick.

Olivia
Patrick Griffin was not a rootable character at all, which didn't help anything. He made lots of excuses for his son's behavior, chalked up any outrage at his behavior to liberals hating Wall Street execs, and equated Olivia's confronting a perp without backup to his son having nonconsensual sex with an unconscious woman.
He is my son. He is 22 years old. He graduated suma cum laude from Dartmouth. He has a six figure job. And you want to destroy his life because he had sex with some drunk girl?

Patrick
It was especially egregious for Patrick to claim that Ellis – who has considerable advantages in American society – was the victim of people using the court system against him. His claims solidified the perception that Ellis was a spoiled rich kid who could just do whatever he wanted.
Ironically, Patrick himself was not rich, and the initial scene between him and Ellis suggested that he was jealous of his son's success. Patrick was very critical of Ellis and seemed to think he had the right to make decisions for his 22-year-old son.
It might have been a more interesting story had it turned out that Patrick was sexually abusing Ellis, causing Olivia to have to investigate her former partner.
Fin: Why didn't he say his father's a cop? First thing I taught my son, never talk to the cops.
Carisi: He thinks he didn't do anything wrong.
Fin: That was his second mistake. First mistake was humping a passed out girl.
The case itself was pretty straightforward, though the defense strategy was odd.
The defense attorney played a tape of drunk Janie's message to her cousin Leah in order to try to prove she just didn't remember consenting. But since when does someone who leaves incoherent, drunk messages on people's voicemail have the ability to consent to begin with?
I was disappointed to find out that Leah's distrust of Ellis was because they'd gone on one date and she felt he was too sexually aggressive. Her insistence that Ellis raped Janie and her disapproval of her cousin being near him seemed far too intense for the backstory.
Leah's hatred of Ellis was so intense that for a minute I thought she was trying to convince Janie she'd been raped when she hadn't been. I'm glad the writers didn't go there.
I don't need any more time or any more help. I just want to plead guilty in front of everyone.

Ellis
Ellis' decision to confess was also a bit strange. He had refused to apologize and proclaimed his innocence when he had a chance for a plea bargain. Then he conveniently decided he couldn't take anymore so that he could plead guilty to a more serious charge.
While his confession was emotional, it seemed like someone looked at the time and realized the story needed to be wrapped up quickly. It seemed to come out of nowhere, and if Ellis was trying to protect his dad, that wasn't clear at all.
What did you think of "Rape, Interrupted"? Do you think we've seen the last of Patrick Griffin? Did anyone else catch the throwaway line about Olivia and Tucker having problems, and if so, did you care?
Weigh in below. 
Don't forget that if you missed anything you can watch Law & Order: SVU online to catch up.
Jack Ori is a senior staff writer for TV Fanatic. His debut young adult novel, Reinventing Hannah, is available on Amazon. Follow him on Twitter.