How to Get Away with Murder Q&A: Milauna Jackson on Renee Sparring With Annalise
Paul Dailly at . Updated at .
The drama on How to Get Away with Murder is only going to get crazier. 
That much was all but confirmed when we caught up with the amazing Milauna Jackson, who plays A.D.A Rene Atwood on the hit ABC drama. 
If you've been keeping track of How to Get Away with Murder Season 3, you'll know that things are far from civil between Annalise and Rene.
In fact, things are going to get worse since it's been revealed to viewers that Rene has been bedding Nate!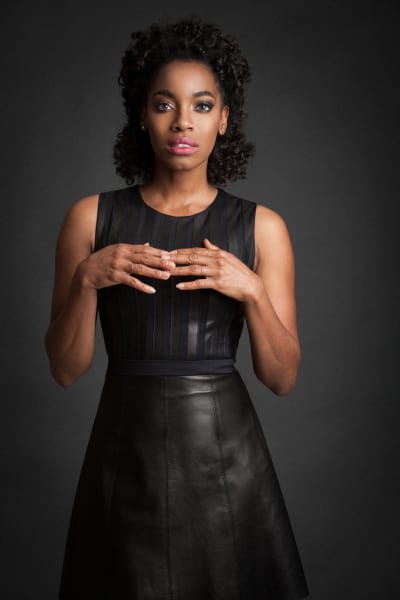 Read the interview below, and you can revisit Jackson's thrilling performance throughout the season when you watch How to Get Away with Murder online!
What was it like to go head-to-head with Viola Davis' 'Annalise?'
Milauna Jackson: Initially it was intimidating. The Annalise character alone is a force. But after I overheard Viola speaking about how it is okay to be humble, but as artists we also must recognize when we deserve it. That encouraged me to see beyond the allure. I did the prep work and I wanted to showcase it. As a result, we really began to play. She is such a giving actress and I appreciate her.
How will Annalise react to Rene bedding Nate?
MJ: As if Renee needed to give AK any other reason to despise her! Annalise probably would never let Renee see her sweat. She broke up with Nate and because of his investigative work in the parking garage, we connected. So technically, she should not be upset. All is fair in love and war. Right? Cheers to that.
Who do you think is under the sheet?
MJ: I would absolutely love to reveal my thoughts about who I guessed was under the sheet, but it is in my best interest to say, "no comment." Who do you think it is?
What is it like to work on one of the most talked about TV shows?
MJ: It is interesting because I never thought I would be offered a role on the show, nor to this magnitude. It is truly been an unpredictable ride. It is not often that I have been presented with an opportunity to work on a show that I also enjoy as a viewer. Thus, it genuinely feels like all the years of hard work and preparation is finally paying off.
What can you tease about Rene's arc, and how does that fit in with current events?
MJ: Renee Atwood is a woman on a mission who is determined to win. You will see her drive and fighting spirit. But I also think you will see my genuine intentions become a lot clearer.
How long will Rene be sticking around?
MJ: I think the audience enjoys seeing Annalise squaring off with Renee, so that will be explored for more episodes. But only Pete Nowalk and the Shondaland fairies know that answer for sure.
Do you have any other projects in the pipeline at the moment?
MJ: I always try to work on keeping something in the pipeline. As soon as I can disclose anything I book, I will post it. Follow me on Twitter and on Instagram.
Paul Dailly is the Associate Editor for TV Fanatic. Follow him on Twitter.