The Young and the Restless Recap: Adam Bites the Dust (Again)

Carissa Pavlica at .
Adam Newman is dead. Again!
Even though it wasn't a surprise, and this is soap opera territory, losing Justin Hartley to primetime will be a recognizable loss and if the miraculous happens returning the reckless Newman son to the roost, well, it will take away from the great story that his death brings, as well as the resulting performances.
Adam's wasn't the only death this week, though, as Neil suffered the loss of his mother again, after only reuniting with her days earlier. 
I thought it was rather unfortunate Neil's story coincided with Adam's as it wasn't given the attention it deserved.
For example, Kristoff St. John gave a simply agonizing performance when when his mother died. Sitting at her bedside after they had just had a very beautiful conversation, she peacefully drifted off after learning all about her extended family. She wasn't alone. The way St. John broke down as Neil sobbed for his mommy was brutal.
It would have been so easy for him to turn to the bottle as he's done many times in the past, especially since his first stop to read a letter left for him from his mom was the bar. But he didn't, and when his family caught up with him, it was a touching scene instead of what could have been.
The shame of all of that was I couldn't even find a photo of Neil crying at his mother's bedside, nor of the room after being cleared nor finally of the family together when they reached him. Considering the huge steps made between Hillary and Lily to get them there and what it really meant for the family, that kind of stinks.
Nonetheless, it didn't go unrecognized. Great strides were made in the Winters family this week. 
I do have one question. Neil was showing the bartender his mother's sobriety chip, right? Certainly Neil wouldn't still have one given that he's fallen off the wagon so many times over the recent past. You don't get to keep your chip if you mess up that bad, I'd assume.
Before we get to the big death, let's move forward with the romantic stuff. If you can even call it that.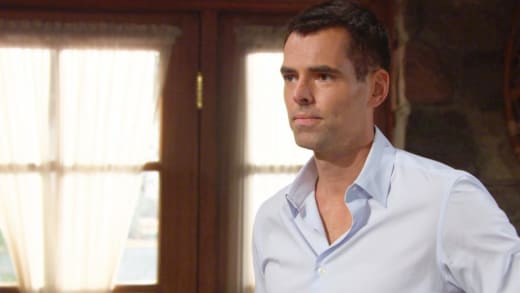 Billy is still being used by Jill as a plaything. She needs to step back. Maybe she will now that she's having a panic attack. And the types of pain she was appearing to have late in the week indicate total panic attack. She's too much of a busybody. It would be fun if she was being fun about it, but she's not.
The least she could do is be comic relief. She wasn't even cute when she talked to Travis. Jill remains rude at all times. Maybe if we could get Esther into more scenes we could get some more fun out of Jill. Vicki was funny when she called Travis a snack. 
As it was, nobody was on board with the trip to Seattle. Billy traded with Travis AND Cane, neither of which were scheduled to go. To be honest, I thought it was TERRIBLE that Jill didn't call it all off after Adam's death. Talk about tacky.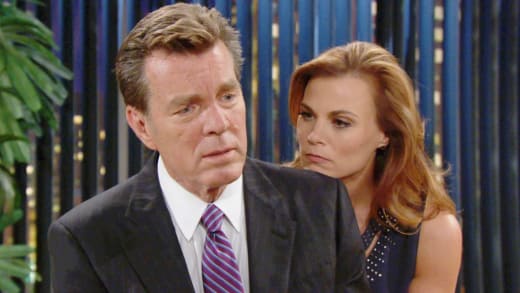 OK, Phyllis was doing a great impression of tacky, too. I get her stance on Victor, I really do. But to go off on Abby right after learning of her brother's death was uncool. Phyl was just plotting and scheming with Victor over Summer a couple days ago. Who can keep up with her? I was shocked she wasn't just hanging with Jack, feeling for him and maybe even willing to let stuff go so Victor could grieve.
That was a stretch. Of course, Phyllis and Billy didn't know Adam was dead before they made their escape plans. They thought they were getting one over on Jill and everyone else (not sure how Phyllis figured she was doing that) with trip trickery.
By the time Adam died, they were like animals in heat. Nothing was going to keep them apart.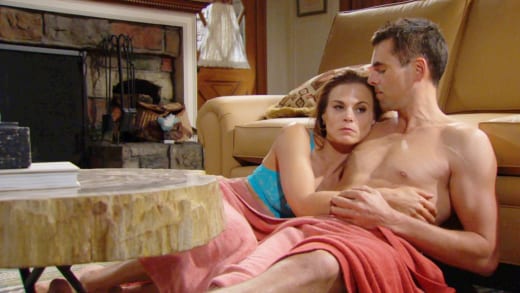 But darn. Phyllis just can't seem to figure anything out. Her big idea after a great sexcapade was to live to lives? One for the publics and another for them. Oh, that's been working out well for you so far, Phyl.
Thankfully, we don't have to wait long for this all to blow wide open. That's right, guys, next week it's all going to come out. 
What I'm really interested in learning is how Jack will behave going forward. He's been a bit of a sack lately. He has no stones whatsoever. I'll give him props for cutting the anger for Adam's memorial, but all else has been overkill. The memorial should have been a surprise, not one more in a long line of oofs from Jack.
You know, every time he opens his mouth, you think to yourself, "Oof, Jack. Did you just say that?" Like the ridiculous conversation with Phyllis in the park. If he had just taken his shirt off, he could have torn a branch off a local tree and started his daily self-flagellation. 
Where Jill sees everything Phyllis does as a giant wrong, Jack sees it as his giant wrong. Granted, he is wrong a LOT, but he makes it worse by being so darn soft. Nobody likes that.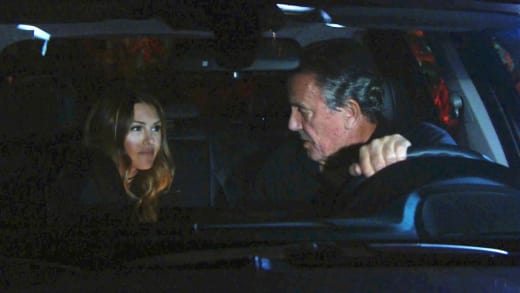 Jack almost cried about Adam's death, but Victor did let tears slide. Other than them and Chelsea, nobody really seemed to care too much Adam was dead. It was rather sad, to be honest. 
I don't know that I'll be able to stand Chloe for much longer. Did she kill Adam or didn't she? Every time someone talks about the evidence found in the cabin, her eyes roll so far back in her head I'm not sure if she's possessed by Adam, just annoyed they're still talking about the late, great, Adam Newman or truly guilty and worried about getting caught.
That nobody but me (and all of you, I assume) sees the blatant disregard for Adam's life and Chelsea's pain on Chloe's face drives me nuts. I don't even want Mariah to think twice about Kevin anymore he's such a dumbass. Chelsea hurts too much to be seeing clearly. Kevin has no excuse. 
At least I'm certain Victor's part in Adam's terror stopped a while ago. Which worries me about Dylan. I LOVE that he's not giving up on finding out the truth about Adam's end, and yes, Victor was involved in it. Jolly good show, Dylan. Don't miss the other tree standing next to Victor in the forest. Chloe looks guiltier and you have stood next to her and questioned her many times.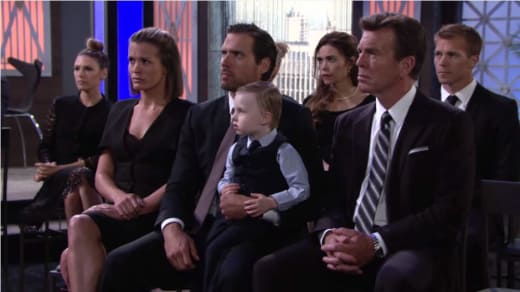 Word on the street is Adam's death might make Victor assess how he's treated his kids in the past. It's a damn shame to think that it would take his son's death to do that, but it would be a welcome redemption storyline.
It would also be a storyline I wouldn't want undone with the resurrection of Adam Newman. How do you all feel about the same characters being on the soap for decades on end? Should they be, or should new characters come and go?
Because of the nature of soap operas, they don't have the luxury of keeping everyone they want on the air at all times. People have to either leave of their own accord, be written off, move, die, etc. I think I would appreciate a death story where the death was permanent, even if the actor's was not.
I don't get to have my loved ones come back to live time and again. I have to pick up the pieces and move on, get new blood into my lifeline. The Newman family deserves that, as does Chelsea. 
One Newman that may get new blood into her line is Abby. She is no longer in love with Stitch. Will his proclamation to her about having another baby change her mind about that? Talk about bad timing.
Drop me a line. 
Is Adam Really Dead this Time?
Carissa Pavlica is the managing editor and a staff writer and critic for TV Fanatic. She's a member of the Critic's Choice Association, enjoys mentoring writers, cats, and passionately discussing the nuances of television and film. Follow her on Twitter and email her here at TV Fanatic.