Suits Season 6 Episode 9 Review: The Hand That Feeds You
Paul Dailly at . Updated at .
Holy guacamole. 
That's about all I can muster after the emotional events that took place on Suits Season 6 Episode 9 and not all of them revolved around Mike.
However, we'll start by chatting about Mike. Viewers will no doubt be ecstatic that Mike is finally out of prison. It only took ten episodes, but Mike Ross is finally a free man.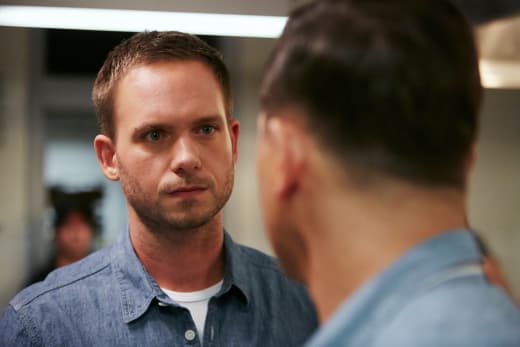 He can't practice law, so that's probably going to be cumbersome for him, but at least he gets to spend the rest of his life with Rachel, who is shaping up to be quite as good at her job as he was at his. 
Mike going the whole ten yards to get Kevin out was predictable, but it also felt so convoluted that I'm genuinely surprised it was allowed to happen. 
I've been rooting for Kevin to get out and be with his family recently, but at the same time, the dude committed a crime and should have served the time. 
To keep the show grounded in reality, it would have made more sense to keep Kevin on the inside if Mike was getting out. Obviously, Frank staying in prison would have spelled a certain doom for Kevin. 
Thanks to Mike for putting himself in danger, he managed to get rid of Gallo for the time being. The whole Gallo storyline just kind of feels unresolved. 
Yes, he's going back to maximum security, but I dare say he has a lot of people on the outside who could do his bidding. His informant past is going to come back and bite him in the ass, but that's not to say he can't get some people on his side. 
Mike and Harvey celebrating their victory was far too premature. Sure, Mike is out, but there's no saying what's going to come next. 
Harvey almost lied under oath to save Mike from Gallo. It really showed how far Harvey was willing to go in order to get Mike out, but could have screwed up his career and integrity in the process. 
I'm thankful that Mike and Cameron managed to get a deal in place to halt Harvey's big lie. As unethical as Cameron is, it was great that he managed to find a way to prevent Gallo from getting out. 
The dude would return to a life of crime pretty much instantly and would probably bribe Harvey and Mike for money, or something. Shallow Gallo had better stay inside after all of this. 
I can't be the only one who thought Kevin was going to be killed off because of Mike's deal. It would have been predictable, but it would have been infinitely more believable than Kevin being set free. 
The best scenes of the night came from the whole Leonard situation.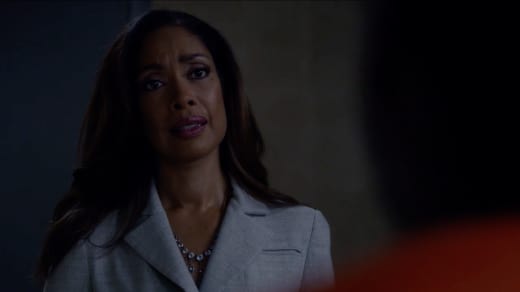 Rachel has been so tenacious in her quest to get Leonard freedom. It's been great to watch her character continue to grow in so many ways. 
Giving Rachel a storyline away from Mike has given Meghan Markle more room to shine. Her relationship with Mike was essentially built around the huge lie and she was constantly worried about what was going to happen. 
Rachel: I think you should fight.
Leonard: Then that's what I'm going to do.
It should be interesting to see just how their relationship plays out now that Mike is home and his secret is out in the open. 
Back to Leonard. It sure looks like Rachel's work is paying off. She took the words out of my mouth when she cornered Jessica about the way she was acting about Leonard taking the deal. 
It was needed and it showed that Jessica had valid reasons for pushing the deal. She knows exactly how she felt when she was in a similar situation. 
Leonard finding out his daughter was at the prison to see him was one of the most heartbreaking scenes in quite some time. Everyone associated with Leonard believed he was a murderer, so he must feel a sense of accomplishment that his daughter is on his side. 
It seems like getting Leonard out is going to become the focal point of the summer finale and I'm quite alright with that. 
"The Hand That Feeds You" was a decent installment for this USA Network drama series. Some of the twists were a little over the top, but they propelled the series on an interesting path. 
Other tidbits from the episode:
Did anyone else cheer when Jessica owned Leonard's former lawyer? The chick seemed to think Jessica would just roll over and stop pursuing the case, but that's not the Jessica Pearson we know and love. 
The Louis and Tara storyline is becoming such snooze fest. Does anyone really care if they stay together at this stage? Tara can turn on all the water works she wants, but I just don't trust her. 
The scene with Louis and Donna in the bath was comedy gold. However, can Donna get something more to do than be Louis' confidante?
Remember you can watch Suits online right here on TV Fanatic. Get caught up now!
What did you think of the episode?
Hit the comments below!
Paul Dailly is the Associate Editor for TV Fanatic. Follow him on Twitter.