From Dusk Till Dawn Season 3 Episode 3 Review: Protect and Serve

Allison Nichols at . Updated at .
How is it that Sex Machine looks even creepier in normal clothes?
On From Dusk Till Dawn Season 3 Episode 3, Sex Machine came back into our lives, unfortunately. I cringe every time he appears on screen.
On the somewhat bright side, Sex Machine is useful. He helps to move the story along by providing us with information that we wouldn't have gotten otherwise. Okay, Richie might have been able to figure that stuff out, but it would take time.
With Sex Machine, it isn't surprising that he knew this stuff off the top of his head.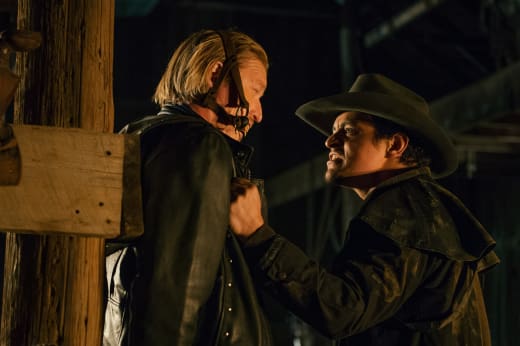 But honestly, if Richie could step up his research game, then we could get rid of Sex Machine all together. He's making progress, what with his footnotes and everything. I mean does anyone genuinely like Sex Machine?
Is anyone else still confused as to why that girl wanted to be a part of the team? You are so much better than that, girl. Go find yourself a non-skeevy guy. He doesn't have to be age appropriate if that's your thing, no judgment there, but set the bar a little higher, okay?
This hour marked a bit of a departure for From Dusk Till Dawn. We had a Xibalban of the week, basically. It was a change, but it worked.
For one, it's something different. It is a way to shake up what we thought a From Dusk Till Dawn episode would be. Now I'm not saying I want the show to fully make the transition to monster of the week, but for now, it's something new.
Also, the Xibalban of the week does some world building. We are learning more about what life was like in Xibalba. Plus, there's the fact that all the Xibalbans are tied to Amaru.
Freddie really benefits from this switch in storytelling. He's our detective, our ranger. If there's a bad guy of the week, the peacekeeper is going to show up and kick its ass. 
Peacekeeper, I've heard a lot about you. Good stuff.

Burt
Freddie really got a chance to shine in this hour. Between his sarcastic remarks to Sex Machine, and how he put everything together, Freddie got the job done. Now if only he could fix his family life. I just want him to be happy.
As for the Xibalban of the week, he was just okay. Yeah, he's creepy as hell, but that was about it. He wasn't a scene stealer by any means, although what he hid under that bandana was terrifying.
The cattle/ranch hand theme was a bit much. Did he really operate as a ranch hand in Xibalba or was it just after his accident required that he wear a bandana, he figured a ranch hand would suit his new look?
What did you think of the Xibalban of the week?
Burt: What the hell are you supposed to be?
Sex Machine: Well, I've got a PhD in Cultural Studies, but my friends call me Sex Machine.
Burt: Right.
Burt was a breath of fresh air. It's always nice to have someone new in town that can kick the Gecko's asses.
He was just so much fun. Not only did he lighten the mood, but Burt helped clue everyone in on Amaru and her plan. 
Richie: What does she want?
Seth: No, fuck that. How do we get her back? How do we get it out of her?
Burt: You don't. Kate's gone.
Burt was a great way to answer some Amaru/Kate questions. Ximena wasn't going to say anything, Brasa and/or Amaru weren't going to talk, and the only other potential source of information would have been Sex Machine.
Admittedly, I'm still a little fuzzy on Burt's background. I'd love to know more of how he became such a badass warrior in the first place. Plus, why did he decide to own a gas station?
All in all this was a decent hour of TV. What did you think of From Dusk Till Dawn? Leave your thoughts and favorite moment in the comments below.
Remember you can watch From Dusk Till Dawn online anytime via TV Fanatic.