Suits Season 6 Episode 8 Review: Borrowed Time
Paul Dailly at .
Will Mike really get out of prison?
Suits Season 6 Episode 8 was a wild ride that had Mike and Harvey trying to find a way to get the deal back on the table, but there were a lot of things standing in the way that had to be resolved. 
Mike had to try his best to get Kevin on board. You have to respect Mike's honesty. Telling Kevin he was informing on him was a bold move and it could have made things much worse.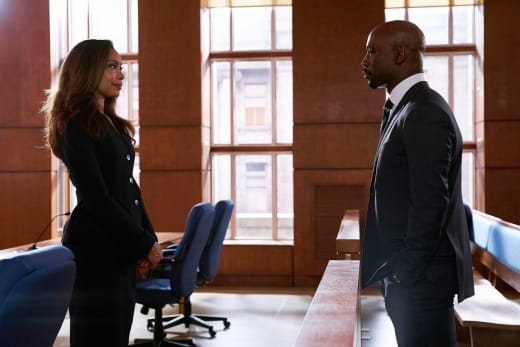 If Kevin found out from someone other than Mike, there was a huge risk that Kevin would never trust Mike again. Mike and Kevin's friendship has been a highlight of Suits Season 6. 
The prison storyline has been all over the place, but it seems like things are finally beginning to come together. The outcome may even be positive. 
It's a shame there's no way a deal could be cut to get Kevin out, but we're just going to have to settle for Sutter's prosecution and Mike's release. Mike informing on Kevin was a bit of a douche move, but he had to think of himself. 
If the tables were turned, I dare say Kevin would have thrown Mike under the bus. Mike didn't exactly throw Kevin under the bus in the grand scheme of things. 
He succeeded in finding a way to get Sutter the judgment he deserved and that's pretty much all I could have asked for from this plot. Sutter certainly won't be winning any father of the year awards. 
He was perfectly willing to throw Jill in prison because of the life he gave her. That's a horrible excuse for sending his kid away for his own crimes, but we don't need to be worrying about that anymore. 
Mike forcing Frank to get Kevin out of solitary was great and all, but it would have been better if Mike had gotten one over on Frank. Frank loves to throw threats around the prison and it's wearing a bit thin. 
He seems to think he's this huge threat, but without his crew, he'd be nothing. In an ideal situation, everyone in the prison would find out about Frank being an informant. 
That would be the ultimate revenge, but it would probably put Kevin in danger in the process. I may have been skeptical of Kevin's true motives, but I'm glad I was wrong about him. 
With Sutter going away to prison and Mike apparently getting out of prison, it had me questioning what direction Mike will go next. The chances of him returning to a law career are pretty much nil. 
Maybe he'll find a job as a hedge funder over on Stu's side of the office. That would at least keep him close to the central characters. Right?!
Elsewhere, Rachel and Jessica's continued efforts to get some traction in the Leonard Bailey case actually worked. 
It's horrible to think that the sole family member Leonard relied on decided to cut him off after learning about him allegedly being a murder. 
It seems to be the case that Leonard was stitched up. At least, that's what I'm hoping happens. Can you imagine how Rachel will feel if she finds out he really was the murderer?
Leonard grilling Jessica about her whereabouts while Rachel was pleading with his aunt was a bit much. He doesn't seem to understand that Jessica is a busy woman and deals with multiple cases at once. 
Leonard knows the case is pretty solid against him, but Jessica and Rachel are the only people who are taking the time to help set him free. Obviously, Pearson Specter Litt will get a lot of press attention if he is freed, but still, don't diss the people helping you stay alive. 
"Borrowed Time" was the best episode of the season. This is the first episode this season on which all of the storylines have been engaging. As we approach the midseason finale, I hope the trend continues.
Other tidbits from the episode:
Louis needs to cut ties with Tara as soon as possible. The dude wears his heart on his sleeve, and I don't see any outcome in which he's in a relationship with Tara. She made it clear she has strong feelings for the other guy. Also, the fact that he was insecure about the whole thing backs up the fact the relationship is not going to work. 
The scenes with Jeff and Jessica were electric. The chemistry between them is off the charts. Jessica was genuinely upset at the thought of him leaving, but she knew she had to let him go. There was word Gina Torres was being phased out of the show, but will she still go? If yes, I hope it's with Jeff. 
I didn't think Donna going to see Jill would work, but opening up about her own father did the trick. Donna Paulsen is woman of many talents. 
Remember you can watch Suits online right here on TV Fanatic. Get caught up on all the drama now!
Note: Suits Season 6 Episode 9 airs Wednesday September 7 on USA Network
Paul Dailly is the Associate Editor for TV Fanatic. Follow him on Twitter.