Suits Season 6 Episode 6 Review: Spain
Paul Dailly at . Updated at .
Louis Litt is a crafty individual. 
On Suits Season 6 Episode 6, he put a plan in motion to get Tara and he actually succeeded! There were a few missteps, but that's not to say he didn't take it all in stride. 
For six years, we've witnessed Louis as a guy unlucky in love who takes his frustration out on his co-workers, but he might finally be getting somewhere with the ladies.
Having Tara think the house was his was a neat trick. Louis and Donna work very well together as part of a team, but the real home owners returning just as Louis and Tara were getting their chat on was priceless. 
Tara was humiliated and gave valid reasons for it. Why would she want to continue speaking with Louis if she thought he was messing her around? It's crazy that she thought the whole thing was romantic. 
I pictured her running for the hills when she realized how desperate Louis was for her attention, but alas, I couldn't have been more wrong. I'm glad I was wrong because it paved the way for Louis to strike up a relationship with Tara. 
Can you imagine Louis actually having a serious romance? It would be very different for audiences, but it would be pretty intriguing. Would a relationship change the way Louis acts towards his co-workers?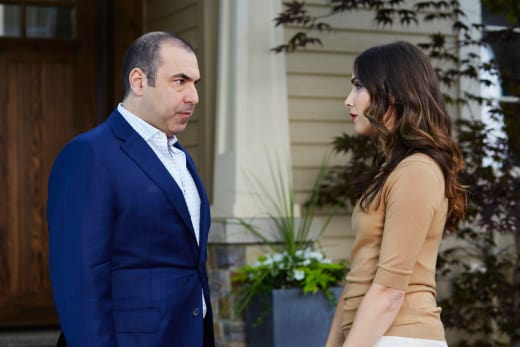 That would be one of the more interesting things to come out of all this. 
Elsewhere, the drama in the prison got considerably more interesting. Mike finally coming to his senses and realizing there were gaps in Kevin's story was what needed to happen to advance the plot for the better. 
Kevin being a new character with a sketchy track record meant the jury was out on him from the get-go. We finally got some more insight into why he's really on the inside. He's in quite the situation. 
If he revealed what happened, his wife would have been sent down. It's crazy to think that the web of deceit around him could be this twisted. 
Don't expect Mike to keep quiet, even if he gave Mike his word he would. Mike isn't someone to let an innocent person go down for something they never actually did. 
Look for Mike to get Harvey up to speed with the truth, but it will probably make Mike's time on the inside a little more difficult. Kevin is petrified his wife gets sent down. 
He knows how corrupt everyone was who got him sent down, so his reluctance to do anything about it was understandable. Something is going to happen that will force him to change his mind. 
Everyone has a breaking point, and Kevin is getting closer to his by the day. There's only so long you can take the rap for something you didn't do. 
If Kevin's case wasn't twisted enough, we also got some developments on the Leonard Bailey front. 
Rachel has returned to the Rachel I loved back on earlier seasons of the show. In her time apart from Mike, she's helping people, and it's proving to be a great arc for her character. 
Rachel is pretty forward when asking things. She expects answers, but Leonard concealing information from her was a bad move. It came back to bite him, but at least Rachel still tried to fight his corner. 
It was a bit surprising of Jessica to blow off Rachel on multiple occasions, but she is trying to make sure the firm gets back to being the firm it once was and that means prioritizing some of the cases. 
For now, it seems like Bailey's fate is pretty much sealed, but might Rachel find a way to delay the execution date? 
"Spain" was a stellar hour of this USA Network drama. A lot of the plots are finally coming together and it's sending the characters in exciting directions. 
Other tidbits from the episode: 
Did anyone else laugh out loud at the scene with Harvey owning Cahill? It's pretty great Harvey has finally realized Cahill has an ulterior motive. 
Are Donna's jokes a little too forced these days? 
There was a severe lack of Stu and Gretchen felt throughout. 
Mike's dream was a bit much. It was super obvious Rachel was not dead. The show may have hit the reset button, but they're not going to start offing big characters. 
What did you think of the episode?
Hit the comments!
Remember you can watch Suits online right here on TV Fanatic. Get caught up on all the drama now!
Note: Suits Season 6 Episode 7 airs August 24 on USA Network
Here's your first look at the next episode:
Paul Dailly is the Associate Editor for TV Fanatic. Follow him on Twitter.