BrainDead Season 1 Episode 8 Review: The Path to War Part One: The Gathering Political Storm
Carissa Pavlica at .
Has Laurel finally realized the infected people she loves are more bug than people?
My dad is a bug.

Laurel
That line just about says it all, doesn't it? Not only did Laurel discover on BrainDead Season 1 Episode 8 that her dad was previously diagnosed with Parkinson's disease, but that he was "cured" by way of infection.
And this new daddy wasn't a nice guy. It's not surprising when the only thing the bugs could seem to agree upon was war. Finally, something both sides can come together to share.
Can I get an EEEEWWWWW out of that one? Because we also learned how these bug people have "THE SEX," and it's not pretty. It's not anything really.
Sorry. My phrasing sent me a little too far into the future. Let me get a little more out into the open first.
When Rochelle found a bug man in her apartment and started doing battle, I wasn't sure if I should be more concerned about the man or the fact our girl Rochelle thought it was OK to store an unwrapped turkey leg in her freezer!
What in the heck was going on there? That was scary. And it didn't have freezer burn?! Absolutely shocking.
That was an otherwise inventive and amusing scene, but it's going to take me some time to get over how poorly a doctor like herself cares for her frozen foods.
Dang. I already forgot the dude's name. Was it Larry? Well, it is now. Larry could take quite a beating. I wasn't under the impression the bugs had any sort of superpowers when it came to the human body, given what we saw previously, especially when that gal splattered off the balcony.
If the bugs are living inside half of a cranial cavity, playing the other half like a video game and controlling the body as if it's a giant robot, then there is a lot more going on than I expected. 
Anywho...Larry got drunk and I can only imagine the bug inside had a difficult time managing the controls. 
Yes, it is a lot more entertaining having him verbally froth at the mouth, but by this point in the process (and especially after the fiasco at congress), I'd think the bugs would have learned how to shut 'em down.
Right? If they're in there knockin' around at the controls and the body/remaining portion of the humanity starts running away with itself due to alcohol or interference the likes of which Gustav can provide, why haven't the bugs figured a way around it by now?
They're not as smart as they claim to be, and that has to be their vulnerability.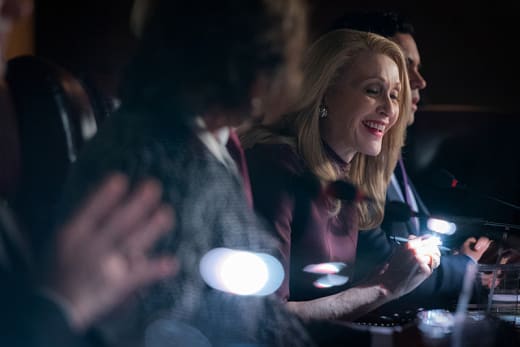 Why did her host allow Ella to sit there drawing big giant droopy-eyed dogs while in Congress? She's supposed to be concerning herself with getting the country to war so they can infect the world. Instead she's doodling.
And then the sex. Back to the bug sex. No more human sex? No. Because Anthony had it with Laurel. But perhaps he didn't LIKE it and only did it to get her infected.
Ella: Feel the Bern.
Red: Always trump.
Watching the two bugs crawl out while Ella and Red then talked dirty on behalf of the crustaceans (who were viewing themselves in a mirror, no less) was something else. That's a reason to avoid infection right there. 
Dean Healy showcases the ugly side of these beings, but there really wasn't an alternative when the actor is Zach Grenier. After all his years as David Lee on The Good Wife, now is not the time to try to make him The Good Dad.
Laurel: Half of your brain is missing, Dad!
Dean: How much of that brain was I really using?
That hug Dean tried to give Laurel was awful. She rolled out of it and onto sex with Gareth, but she couldn't forget about her mom.
Dean thought Laurel would falter in getting mommy dearest away from The Good Dad, but not so much. The magic words were pretty easy for her to swallow. Dad's still seeing the tour guide.
Drop the mic. 
The bug people are getting really confident. Dean wouldn't have talked with Laurel if they weren't. Who will be next to share? Red with Gareth?
Gareth still isn't sure about the bug people, but on BrainDead Season 1 Episode 9 there are photos of him featuring a lot of cherry tree branches in full bloom. He'll either be infected or taken under Red's wing, so to speak.
Share your thoughts in the comment, and watch BrainDead online if you haven't caught up!
Carissa Pavlica is the managing editor and a staff writer for TV Fanatic. She's a member of the Critic's Choice Association, enjoys mentoring writers, cats, and passionately discussing the nuances of television and film. Follow her on Twitter and email her here at TV Fanatic.