The 100 Season 4: The End of the World & Who Is Returning?
Paul Dailly at .
The 100 cast and crew took to the San Diego Comic Con to lift the lid on The 100 Season 4. 
While there, they had a chat about earth, including those scenes at the end of The 100 Season 3, when a cloud of smoke and lightning were approaching Polis. 
Jason Rothenberg teased that the smoke and stuff "probably wouldn't be until the end of the season. … The earth strikes back in Season 4. … It's an unbeatable foe."
"It becomes not how to stop it; it becomes, 'How do we survive?' There aren't enough life boats. … It's a return in a lot of ways, thematically, to what we did in Season 1. … The earth is the Ark."
It all sounds pretty ominous. 
If you recall, the earth is about to come to an end. Taking down Alie meant that the end of civilization was fast approaching and our band of unlikely heroes would have to do battle with mother nature. 
"It's going to be interesting to watch a group of people, humans, trying to survive," Eliza Taylor added.
"This is an enemy we can't defeat, so how do we move forward? In true Clarke fashion, that will be trying to get everyone on board."
What does that mean in the grand scheme of things?
Are we to expect even more death than before?
The 100 had its fair share of death during Season 3. They took out Lexa and Lincoln, who were both fan favorite characters. 
Jason Rothenberg teased that Lexa will not make an appearance on Season 4, but the flame would still be a key part of the story. 
There's also the big question of who will be leading the group through this change. It seems like Clarke will be taking a bit of a backseat. 
Kane seems a little too willing to step up to the challenge and Henry Ian Cusack's that might be the focus of Season 4. Additionally, he had a lot to say about his new role. 
"Kane is fairly pragmatic, even though he's grown a lot. One of the things I like about him is that he sees what needs to be done. Hopefully he won't delve too much into the PTSD. As a good leader, I'd hope he'd put others before him."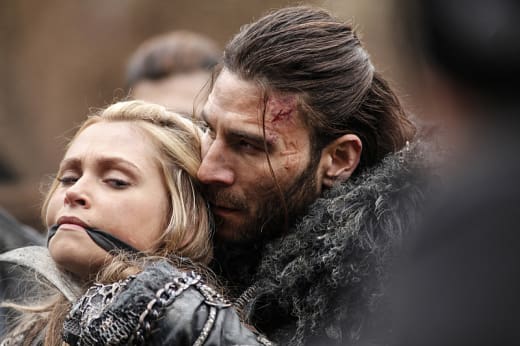 On the casting side of things, Zach McGowan has been upped to series regular, so you can expect a whole lot more of Roann. He and Clarke were frenemies, so they will probably have some things to say to one another. 
Indra is also returning for an undetermined amount of episodes, but she is not quite at series regular status yet. Why? She's one of the best characters on the damn show!
Luna will make a grand return in Season 4, but Rothenberg wouldn't share any secrets on on just how she would enter the story. She wasn't given THAT much to do in the few episodes she's been in, so I'm at least a little intrigued to see what happens with her. 
Finally, we got some insight into how The 100 Season 3 was supposed to conclude, and it involved Jasper's brains being blown out after emerging from the City of Light. 
Rothenberg realized that this would have been too much. 
"It was too dark, even for me. I don't think anyone will ever see that scene. It was a horrible way to leave what was a really dark season."
What do you think of the latest news?
Are you more excited for the new season now?
Remember you can watch The 100 online right here on TV Fanatic. Get caught up now!
Paul Dailly is the Associate Editor for TV Fanatic. Follow him on Twitter.