Suits Season 6 Episode 3 Review: Back On The Map
Paul Dailly at . Updated at .
Would Mike really turn on Kevin?
On Suits Season 6 Episode 3, Sean dropped the bomb that he couldn't get Frank moved, but he could get Mike out early.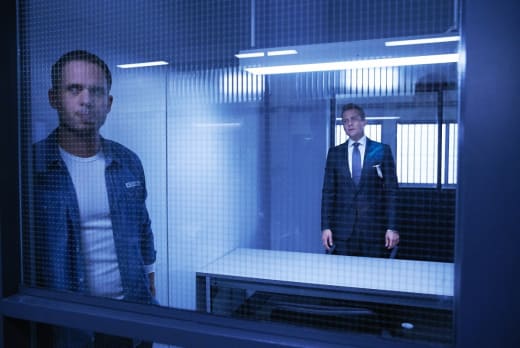 Nothing comes without a price, as Jessica so perfectly put it, and it appears that the only way out now is for Mike to turn on his only ally. 
As great as it would be to rule Kevin innocent, it's difficult to completely rule him out of being in cahoots with Frank. My suspicions would have been put to bed had we gotten to see Kevin being roughed up. 
Maybe I've just watched too many TV shows, and I'm suspicious of everyone. 
It's evident that Mike would jump at the chance to get out early, but he wouldn't throw Kevin under the bus. Mike thinks Kevin is his savior on the inside. 
The added benefit of knowing that Frank informed on someone will no doubt have him more inclined to see out the duration of his sentence if it means keeping his integrity. 
Mike's done a lot of questionable things in the past, but this isn't something he'd even consider. His decision would put a strain on his relationship with Rachel. 
She would understand his decision, but she would resent him at the same time. She'd probably like to think that he'd take any chance in order to be with her. 
Rachel studying law was always going to be difficult in the aftermath of what happened with Mike. It really sucked what Naomi did to her in class. The chick obviously wanted to score some brownie points with her classmates. 
Rachel has never been one to back down, so it was great that she got an apology. 
Is anyone else really enjoying Rachel doing her own thing without Mike? Obviously, exile from Mike isn't good for her sanity, but she's going out of her way to try and get things done while he's away. 
It wouldn't be intriguing to watch her sulking every day until Mike inevitably gets out of prison. 
As always, Louis was on tap to deliver the more comical scenes of the hour. Donna was absolutely right to be glad Louis' big plan to fill the offices was screwed up. 
Louis shouldn't have gone on without her. They agreed to get the job completed together, but should we have expected anything less from Louis?
The dude just does what he wants and has no compunction with not following the rules. Stu was a breath of fresh air around the office. 
All of his scenes with Louis were hilarious. I was so sure Louis was going to find a way to get rid of Stu, so it's great that Harvey stepped in to keep him around. 
Hopefully he's around for a LONG time. It was like having two versions of Louis running around the office. 
How will Donna and everyone else put up with the two of them?
"Back on the Map" was a decent episode of this USA drama. The prison plot has picked up the pace, and it's heading in a very interesting direction. It should be interesting to see what happens when Harvey informs Mike what he needs to do to become a free man. 
What did you think of the episode? Would Mike rat out Kevin? Hit the comments below!
Remember you can watch Suits online right here on TV Fanatic. Get caught up on all the drama now!
Note: Suits Season 6 Episode 4 airs Wednesday August 3 at 9/8C on USA Network
Paul Dailly is the Associate Editor for TV Fanatic. Follow him on Twitter.