Code Black wasn't an out of the gate hit.
But it really put the pedal to the metal as far as the medical drama was concerned. Every week, Code Black Season 1 had a very strong medical case, sometimes involving their own characters. 
Rob Lowe is about to become one of those characters. He's joined as a series regular!!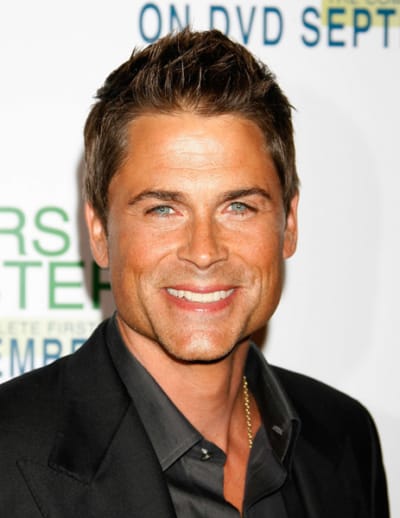 His character will be introduced on the second season premiere on September 28.
A doctor in the U.S. Military's prestigious Combat Casualty Care research program, Colonel Ethan Willis, has been pulled out of a combat hospital in Afghanistan and embedded at Angels Memorial to teach what the military has learned about combat medicine.
His aggressive, rule-breaking style is greeted enthusiastically by Dr. Leanne Rorish (Marcia Gay Harden), but not by all the other doctors.
In addition to Harden, he'll join Code Black stars Luis Guzman, Melanie Chandra, Harry Ford, Benjamin Hollingsworth, Jillian Murray, Boris Kodjoe and William Allen Young.
If you've been paying attention, you've noted that there have been some other casting shakeups behind the scenes at Code Black. The first included the departure of Bonnie Somerville (Christa) and Raza Jaffrey (Neil) and the promotion of Jillian Murray (Heather) and Boris Kodjoe (Will).
"The concept of the show is for each season to begin on the first day for incoming freshman residents, just as in real life there is a cycle of residents coming in and residents either graduating or moving on," Creator/Exec Producer Michael Seitzman told Deadline.
"Another hallmark of the show is that our fictional hospital is intensely populated. Not only do we average 800 extras per episode, but we have a revolving cast of doctors and nurses who enter and exit the show regularly."
"Bonnie Somerville and Raza Jaffrey are beloved by the audience, as well as the rest of the cast and crew. Their departure is painful for us, is no reflection on the extraordinary work they both did on the show."
In addition, three other actors have been added on a recurring basis. 
"We conducted a wide search for actors to play our newest young residents and these three burst to the top," Seitzman said. "All three are tremendous, wildly compelling actors."
According to Deadline, here is the scoop!
Nafessa Williams will play Charlotte Piel, a former child star of an iconic movie franchise who left her acting career to become a doctor instead, now returning to Los Angeles, her adoptive home, to be a resident at Angels Memorial.
Noah Gray-Cabey will play Elliot Han, a sweet and affable new doctor at Angels, who excelled in school but is completely overwhelmed by the catastrophes that regularly burst through the doors of the busiest ER in the country.
Emily Tyra will play Dr. Noa Kean: A street-smart, surfer who sailed to the top of her class at a California university, despite the tough neighborhood she grew up in. Noa is confident and defiant, never pretends to be something she isn't, and has zero patience for the foolish or the over privileged.
It looks like Code Black will look a lot different when it returns. While it might not be what we signed up for, if they keep the premise of changing characters from season to season, it could keep things fresh.
What do you think? Good idea or will you really miss those who are gone? Stoked Rob Lowe is joining? Will his presence make up for all who have gone?
You can watch Code Black online (like I did!) to catch up!!
Carissa Pavlica is the managing editor and a staff writer and critic for TV Fanatic. She's a member of the Critic's Choice Association, enjoys mentoring writers, cats, and passionately discussing the nuances of television and film. Follow her on Twitter and email her here at TV Fanatic.