Ray Donovan Season 4 Episode 3 Review: Little Bill Primm's Big Green Horseshoe

Carissa Pavlica at . Updated at .
Welp, the third time is not a charm.
As much as I like to complain, I remain an optimist at heart. I hate to give up and was really holding out hope that Ray Donovan Season 4 Episode 3 would pull things together.
It didn't. It seemed impossible, but it was the worse installment yet.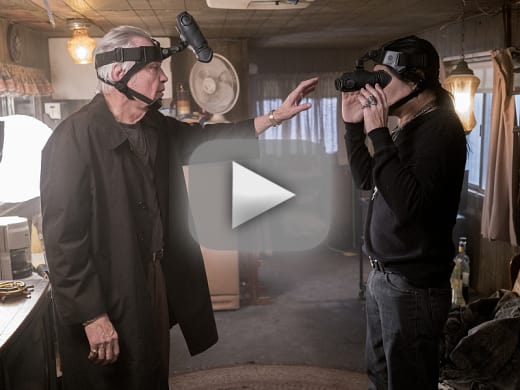 It appears that in addition to new writers (new being relative to third season and beyond, I really haven't kept track since), there are new editors.
Why is that my assumption? The stories of Sonia and Jacob Weller must be on the cutting room floor. That's where they are, right?
I mean, Ray made a deal to get Belikov out of jail (as fast as he got him in) just to appease Sonia. Sonia is the one who apparently hired Hot Dog (the Russian who hung out beside the hot dog truck) to kill Ray or his family this time around.
My impression was Sonia was smuggling art. But Detective Muncie is dead. Hot Dog no doubt did that on his way to snuff Ray. 
Do you see what I'm doing here? 
Here's a hint: I'm rambling. I have absolutely no idea what is going on with Sonia, Belikov and Hot Dog. I don't know why Jacob Weller was the only person to visit Belikov in prison or why Hot Dog killed Muncie just after things went wrong with the stash of bodies on the dock inside a freighter.
And I'm not afraid to say it. I figured, you know what? I was so angry watching the first two episodes that I missed it. I was focused on Hector, Marisol and Mickey. I thought they were going to be the story.
So I went and searched the web for other coverage of Ray Donovan. 
First of all, I discovered a LOT of outlets have decided to stop covering Ray Donovan. There isn't much coverage out there. What do they know that I don't? Did they know it was crap before I did? The probably watched the screeners early. 
One thing they don't appear to know is how any of the story in this episode ties into the overall picture.
The family needed to celebrate Bridget's birthday, and she wouldn't do it unless her mom killed someone? You know, Bridget is such a little bitch, I can buy that. 
I'm completely annoyed that Donellen was dragged back into the fray. Just yuck.
And Mickey's heist wasn't even a winner from a comedic angle. Sure, he looked funny with his stupid night goggles and they trusted a dude named Pinky Toe, but Mickey being taken in the end didn't even sit well.
Once again, Mickey does something totally illegal in front of a room full of people and gets away with it and gets the girl. 
Then Bunchy and his wife were fighting and only an argument about using the dildo got him excited. Apparently all of that working out was fantastic for childbirth, because before they had a chance to get out of the motel elevator, Mickey received a photo of his grand baby swaddled in a crib.
Again...that latter bit is probably editing. They may have thought it was apparent none of that stuff was happening concurrently, but it seemed as if it was. The family arrived with the cake and were singing happy birthday in just the right amount of time, none of which suited the time to give birth.
Not to mention...after spending two weeks with Hector not getting to know him or his relationship with Ray nearly well enough, he was nowhere to be seen. If the first two installments were any good, it wouldn't have felt weird, but they weren't, so it did.
Someone said the show jumped the shark (kind of in a circle of fire, if you ask me, round and round and round). I don't think this is as entertaining as watching Fonzie in a pair of swim trunks water skiing in a leather jacket. 
Don't believe me? Check it out.
Abby deciding not to get anything done regarding her breast cancer makes me wonder if she'll be one of those with super fast spreading cancer and gone by the end of Ray Donovan Season 4. 
Now that Ray doesn't appear to be excited about other women, that would be the time to knock her off. And to be honest, I don't think I can take an entire season of her talking about her titties. Not anymore than I want them to keep talking about cock and all of the other childish things that have been swirling around of late.
Bridget's 17-year-old trench mouth to her mother was another indication Abby might be on her way out. It would serve Bridget right that the memories she's left with for the next 70 years are of her hatefully speaking to her mother and using her accent against her.
What an ugly bunch of people. Where I used to see characters who were just on the cusp of finding each other again, fighting against love and hiding their feelings for fear of pain, now I just see ugliness.
What about you? What are you seeing when you watch these people? Are they beyond redemption? What stories would bring you back? I'm not sure I'm going to continue reviewing the series. But if I don't, someone else will. I won't leave you hanging!!
**Update** Paul Dailly will be carrying the Ray Donovan torch from now on. If I have anything to say, it will be in the comments. Thank you guys for the good times. Over and out!
If you need to catch up, you can watch Ray Donovan online. The first two seasons are wonderful. Don't miss them. 
Carissa Pavlica is the managing editor and a staff writer for TV Fanatic. She's a member of the Critic's Choice Association, enjoys mentoring writers, cats, and passionately discussing the nuances of television and film. Follow her on Twitter and email her here at TV Fanatic.