BrainDead Season 1 Episode 4 Review: Wake Up Grassroots: The Nine Virtues of Participatory Democracy, and How We Can Keep America Great by Encouraging an Informed Electorate

Carissa Pavlica at .
The alients are here to bring about mutually ensured destruction.
Right? Isn't that what Laurel stumbled upon on BrainDead Season 1 Episode 4 before she realized Anthony might be infected?
It's a great storyline, sending alien ants to earth and using one of our most divisive topics to bring the most powerful country (and then, let's assume, the world) to the ground.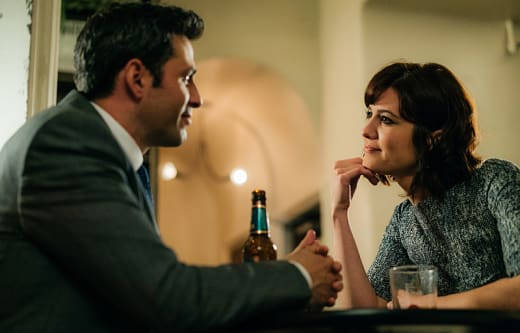 While the little buggers could easily have chosen sports or religion, neither of those would work on a worldwide level once the United States are conquered.
Really, beware the garden level apartment. 
I have to cry foul, though, when it comes to the crazy open windows. What kind of a jackass would ever leave their windows wide open in those areas, regardless of whether they had beautiful rhododendron or azalea bushes right outside or not? 
Even with bars on the windows, people would be considered nuts before losing their brains if they did that.
So it's hard to feel sorry for the Jules and Noahs of the world as the alients get a two-for-one, producing the violent leaders of both sides of the revolt in one toasty evening.
The heroic trio of Laurel, Rochelle and Gustav are so close to cracking the puzzle wide open. Laurel saw the mutually assured destruction, Rochelle noted it would be unlikely the infected would be communicating in a group and Gustav? Well, he's being the group guinea pig, among other things.
That's how we know who is infected. If they're deaf in one ear or off balance, they're probably missing half their brain.

Gustav
They know the brain is being eaten away and the ear drums damaged, so they're looking around for people who are hard of hearing and stumbling and bumbling.
Red Wheatus fits the bill and has been caught in the act by Laurel, as has Anthony. Anthony is Laurel's red herring.
He was in the service. I'm pretty sure at the beginning of BrainDead Season 1 Episode 5 we'll discover he left not only as a whistle blower, but with some damage to his ears. He drinks. The infected don't. 
Is it wrong that I want Laurel to take that cupped ear as some sort of a lesson? She should be with Gareth. Their chemistry is off the charts.
That kiss on BrainDead Season 1 Episode 3 will still go down as one of the best on TV in eons, and somehow, in some way, Aaron Tveit made Gareth's attempt at donating to Laurel's documentary – just after he had sex with another woman, but without his shirt on – incredibly sexy.
There is something about the way he thinks when he's thinking about Laurel that makes his entire face different. Bravo Mr. Tveit. You've won me over as a romantic lead.
And, frankly, if BrainDead goes nowhere, I would like to see Tveit and Mary Elizabeth Winstead work together again. I think Winstead has an easy comfort with every character on the show, but you can see the difference between the romantic sizzle of Laurel and Gareth vs Laurel and Anthony.
Tveit and Winstead are unique and fresh. Anyone who can make this ridiculous tax prom dance look anything other than dorky are doing something right.
While Laurel's friend was diving head first off an apartment balcony to hide her brain from the FBI, causing Laurel some distress, brother Luke was busy staging a governmental coup with three senate members.
Can you really take a unanimous consent vote on a government sequestration bill with only three members of the senate present? The fancy camera work fooled the American public, of course, but that's to be expected.
I guess it shouldn't surprise me the things you can get away with in the government. Federal bills that nobody reads, thousands of pages long, get passed every day. OK, maybe not every day, but when a bill that long is still being written the night before a vote, ain't nobody gonna read it.
So what's the point of our government officials, exactly? BrainDead sure makes you question their purpose. If they don't even hobnob and communicate at taxpayer sponsored cocktail parties any longer, what DO they do?
They don't read bills, they don't communicate, they hire people to do most of the other work. Huh. 
It's easy to see why Jules and Noah and all their followers are so angry, isn't it? Are the alients actually making a point while trying to drive a wedge between everyone?
Or am I totally wrong, and they want to prove we shouldn't mutually destroy...what are your thoughts? Have any on that, our real government or the awesome chemistry between Tveit and Winstead? Drop me a comment!!
Carissa Pavlica is the managing editor and a staff writer and critic for TV Fanatic. She's a member of the Critic's Choice Association, enjoys mentoring writers, cats, and passionately discussing the nuances of television and film. Follow her on Twitter and email her here at TV Fanatic.