UnREAL Season 2 Episode 1 Review: War
Paul Dailly at . Updated at .
The best show of last year is finally back!
UnREAL Season 2 Episode 1 threw us straight into the deep end with these wild characters once again, and it's crystal clear we're in for another wild summer. 
You'd think that filming another season of Everlasting would be cumbersome to watch on screen, but the first impressions are pretty good.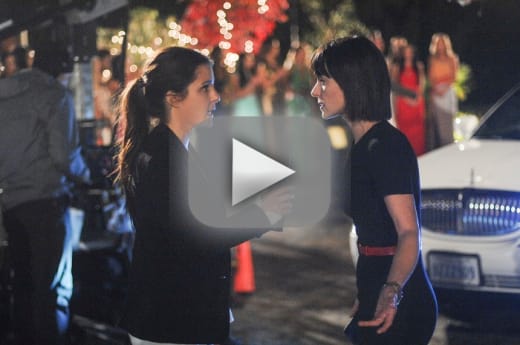 For a start, Quinn decided to go with an African-American lead for the latest season, and it's a blatant middle finger up to the producers of The Bachelor/The Bachelorette. 
Those two shows have had a slew of criticism for not having a person of color as a suitor. There's word on the street that it was close to coming to fruition on the most recent season of The Bachelorette, but producers bailed on it at the last minute. 
First impressions of Darius are great. He already seems like a much better suitor than Adam was last season. I only hope Rachel doesn't find a way to get her claws into him. 
The relationship between Adam and Rachel on UnREAL Season 1 was enjoyable, but it would be a bit odd if she started screwing every bachelor. 
It's obvious Darius is hiding something (of course), and it seems like it's going to be explored as the season progresses. One thing's for sure: He definitely doesn't want to be on Everlasting. 
Usually on these shows, the suitor is always smiling about the prospect of finding love, but it sure seems like that isn't his game. 
Quinn gave Rachel a promotion, and it sent her on a power trip throughout the hour. There is such a thing as having too much power, and it seems Rachel could become another Chet down the line. 
What I don't get is why Rachel fired the dude that ridiculed her. It was all brought on by Jeremy, and I know Quinn was quick to judge Rachel for wanting to fire Jeremy, but the guy she actually fired shouldn't have been let go. 
The best course of action would have been if Rachel was canned. She's totally going to let this power go to her head, and that's going to put her at risk of having another mental break. 
The thing Rachel will remember is that Quinn said she would have Jeremy's head if he went after her. As much as Quinn likes to think she has Rachel's back, she only does sometimes. 
Quinn: Money, dick, power, right?
Rachel: Yes, money, dick, power.

I wasn't a fan of how Rachel manipulated the chick into ditching college for the show. You can't just be throwing guarantees to contestants that they'll make it to final two if they join up. 
It does suggest just how manipulated these shows can be, but I get the feeling there's no way the contestant will make it to final two, causing drama in the media for Everlasting. 
Jay came crawling out of his shell in this installment, and I loved it. His battle with Rachel about what she was doing to Dennee was right on the money. Hopefully, we get to see much more of him, but not the opportunist he was from last season.
We don't solve problems. We make them to point cameras at them.


Rachel
Quinn and her one-liners continued to be a delight. Whoever writes the dialog sure knows what they're doing. Seriously, sometimes you get so sick of characters, but that's a foreign concept on UnREAL. 
It's about damn time Quinn finally got to ink an overall deal with the network, but why is it that Chet somehow managed to worm his way back in anyway? What kind of deal did she make? Maybe she should have someone else take a look the next time. 
Brad knew Chet almost cost him his job when he brought Britney back into the fold, so it's odd that he would even trust him again.
Surely Quinn would have had some terms in place that he couldn't mess with at least one season of the show on which she's working. The network sure doesn't have much faith in her. 
Quinn was the one who turned the show into what it is today and helped the show hit the ratings highs it should be hitting. She knows her stuff.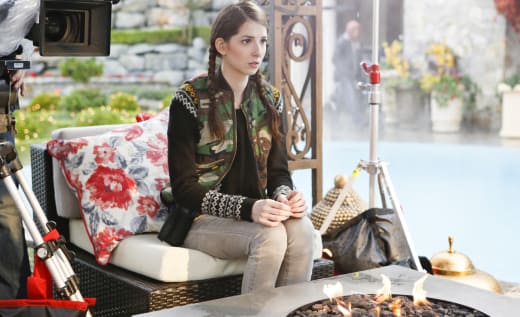 Were you as shocked as I was Madison was now a producer? She's far too shy to be doing anything of that caliber and needs to follow a bit more before she can lead. 
The scene with her attempting to manipulate Chantal was fifty shades of awkward and definitely cringe-worthy. Quinn knew she had to step in to get results, and that's exactly what she did. 
We did get a tidbit of information about Madison's past, but Chantal was just too upset at being called a killer. I wouldn't be surprised if Chantal makes it fairly far in the competition. 
Off the bat, her story is the more intriguing. The ladies this season haven't gelled quite as much as the ones from last year, so it seems like it's going to be an uphill battle if they want to make it a level playing field for all the contestants. 
"War" was a thrilling installment of this award-winning Lifetime drama. The stage is set for what is sure to be a fantastic sophomore season for the show. 
Remember you can watch UnREAL online right here on TV Fanatic. Get caught up on all the drama now!
What did you think of the episode? Does Rachel have way too much power? Sound off in the comments!
Here's you first look at the next episode:
Paul Dailly is the Associate Editor for TV Fanatic. Follow him on Twitter.