Outlander Season 2 Episode 11 Review: Vengeance is Mine

Carissa Pavlica at .
Finally, the Duke of Sandringham has his head in the game!!
To be fair, I will miss the strange little man's quips. But it was a rather good feeling watching Murtagh make a swift and violent end of him on Outlander Season 2 Episode 11. 
It's certainly not where I expected the hour to end, considering where it began.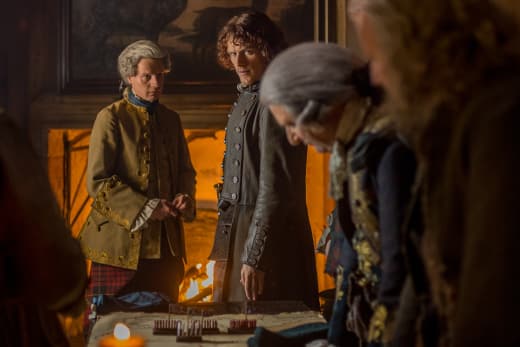 Jamie should have taken that moment before the fire with Prince Charles and his generals as a sign.
Good morning Sassenach. I must give the Prince some credit. It turns out he has a fighting man's heart, even if his generals don't.

Jamie
If the generals cannot take the wins behind them and forge forward when spirits are running high, what are the odds they're going to come back refreshed and do the same? 
They quite simply don't have the confidence in their armies to accomplish their goals. Nor do they seem to have the spirit to see James on the throne. Not a single one of them stood beside Jamie. That was pathetic.
Given what Jamie knows of the future (that the odds are stacked very high against them winning, and it's really a crapshoot at this point), shouldn't he start thinking about a way to use the general's defeatist attitude to get the Jacobites to stand down?
I mean, if the generals of the army won't stand with them, then what chance do they have to win? How stubborn are those Scots, anyway??
Then again, they're all wanted by the Brits at this point. At what point will they ever stop being wanted? I'm not sure how it all worked back in the day. Wouldn't it be exhausting to have to look over your shoulder all the time?
Being chased by the Redcoats led Claire to a very surprising place.
As soon as she decided to use her English status and call herself a victim, it was obvious she was going to wind up meeting someone she knew while with the British. I was expecting it to be one of the Randalls, so 50/50 good or evil.
The Duke of Sandringham was a surprise, but as soon as he appeared, I knew he would play along with her charade. If nothing else, the guy always seemed like he was up for the naughtier side of the action.
The way it all played out though? I didn't see that coming at all. 
The whole story is beyond bizarre. I get a little confused at the part that Le Comte St. Germain actually gets satisfaction on his payment from Sandringham by having someone else rape Claire.
St. Germain doesn't even have the pleasure of setting it up himself, let alone doing the raping. In the end, Claire wasn't even the one raped. So was Sandringham off the hook for his payment to St. Germain, or was that why Sandringham was so relishing the thought of his death at Claire's hands?
What did St. Germain really get out of the deal? No rape, no money. Just an old fart promising to rape St. Germain's enemy and failing to follow through.
Yes, the whole idea is disgusting, and I can't believe I'm writing about it like it SHOULD make some sort of sense, but even bad guys should have some reasoning behind being bad, right? 
This just didn't stand up for me. It was kind of embarrassing for a bad guy. St. Germain was like the loser of the bad guys. Sandringham would have come out on top of that deal no matter how it played out. He didn't have to pay the money he owed, and he didn't have to rape anybody. He just remained the nasty bugger he always was.
Very odd.
It was funny that Sandringham was supposedly stuck in his house being watched as a Jacobite. Nobody to rescue him. But in very short order, Claire and Jamie had the network in place to come together and get her out of there.
It does pay to be nice to people. 
We're also getting closer to the reasoning why Mary never quite gets married to the men to whom she's attached and finds herself with the Randalls. She is a silly thing, though. Thankfully a silly thing who got past her worries about going outside to meet a beggar!
Why was Claire so shocked that Mary stuck a knife into her rapist? I was proud of her. And for Murtagh to follow up with a beautiful beheading of Sandringham was icing on the cake. Mary didn't even flinch.
I kept my word. I lay my vengeance at your feet.

Murtagh
Perhaps Mary will be as strong as Claire when all is said and done. She's certainly getting the training for it!
What did you think of the demise of Sandringham? What's next for the Jacobites? Hit the comments.
Don't forget, you can watch Outlander online anytime right here via TV Fanatic!!
Carissa Pavlica is the managing editor and a staff writer and critic for TV Fanatic. She's a member of the Critic's Choice Association, enjoys mentoring writers, conversing with cats, and passionately discussing the nuances of television and film with anyone who will listen. Follow her on Twitter and email her here at TV Fanatic.