Orange is the New Black Season 4 Episode 8 Review: Friends in Low Places

Amanda Steinmetz at . Updated at .
Piper Chapman is a character people dislike...strongly. She's self-centered, lacks awareness, and likes to think she's smarter than everyone else in the room.
However, Piper may finally be on the road to redemption after Orange is the New Black Season 4 Episode 8.
It's just unfortunate it took her being branded with a swastika by Maria's crew to finally see she the light.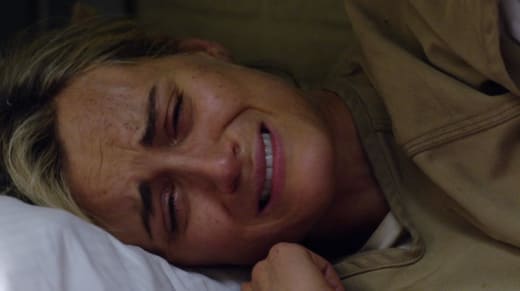 Piper's realization that she's been an awful person might seem too little too late, if it weren't for the writers and the terrific performance from Taylor Schilling. Left bleeding and reeling, Piper has finally taken a look in the mirror and doesn't like the woman she sees.
Piper smoking crack in the cornfield is one of my favorite visual moments so far this season. It was also a moment for Alex and Piper to open up and reconnect over the dark turn of events in both their lives. 
My parents didn't teach me to be like this. What I did to Maria... I didn't feel bad. I didn't think twice. I just... went too far. I always go too far. I always go too fucking far, and I can't fucking stop it.

Piper
I'm not exactly rooting for Alex and Piper to get back together, but being a support system for each other would be a nice change of pace. Alex's admission over killing Kubra's hit-man also furthered Piper's realization just how selfish and blind she's been.
Not only did she ignore Alex's suspicions, but she alienated herself from the other women, unwittingly became a Nazi sympathizer, and made an enemy out of Maria. Needless to say it hasn't been a good few months.
Piper's phone conversation with Cal was an important moment. We haven't seen her have contact with anyone outside the prison in a long time. Cal's joyful news that he was going to be a father seemed to make Piper remember there is life outside the prison walls. 
Red is not one to be overly sympathetic to others, and she's never seen Piper as one of her "daughters." However, Piper's breakdown in front of Red showed their relationship may grow as well. After all, Red takes care of her girls, and Piper needs all the support she can get.
When God gives you a swastika, he opens a window. And then you remember, there is no God.

Red
It's not ideal for Piper to have anything branded into her arm, but Red changing the swastika to a window was an act of kindness. This re-branding gives Piper the freedom to make the changes she so desperately needs to make.
This is a chance to better herself. It'd be a shame for Piper not to seize this opportunity to make amends and move forward.
Elsewhere in the episode, Caputo continued to turn a blind eye to Linda's false promises. She's nothing but a manipulative shark, and it's so frustrating he can't fully see that. 
Caputo should have known better that the MCC wouldn't care about providing real, educational classes to the prisoners. Vocational classes can be helpful, but it's highly doubtful that any of these women would have a career in construction after being released.
I can't for the life of me understand why Caputo continues to allow Sophia to be locked away in the SHU. Crystal isn't going anywhere. He has to know, deep down, that she is right.
Crystal doesn't know if Sophia is alive or dead, and frankly neither do we, after seeing all that blood in Orange is the New Black Season 4 Episode 6. It's time for Caputo to stop being blinded by Linda's lady bits and start doing right by the women he claims to care about.
It wasn't all doom and gloom, though, as we got to witness a hilarious kiss I never thought I would see: Judy and Cindy. I love that Judy got on board for the photo op, and Cindy's reaction was priceless. 
My mamma gonna see me kissing a white woman.

Cindy
I'd like to see more scenes between Judy and Poussey. Despite her fangirling over Judy every time she sees her, Poussey was able to give it to her straight about how she's perceived. 
Judy was pretty accurate in her description of herself. She may be a racist, but she's a pretty damn friendly one. I'd like to see her interact with more people instead of spending most of her time with Yoga Jones.
Extra Thoughts and Questions
I'm not sure how I feel about Coates right now. I'm glad he finally apologized to Doggett, but is she supposed to forgive him now? Are we supposed to, as well?
Maria is becoming even more controlling and power hungry, and I'm not liking it one bit.
Is Lorna going to find out something about her husband she doesn't like?
I've never really cared for Aleida, but her desire to start up a nail salon and stay out of trouble makes me think there could be a chance at happiness in her future.
Check back in for TV Fanatic Elizabeth Harlow's coverage of Orange is the New Black Season 4 Episode 9! 
Hit up the comments section below with your thoughts on "Friends in Low Places"!
Amanda Steinmetz was a staff writer for TV Fanatic. She went into retirement in June of 2027. Follow her on Twitter.