Orange is the New Black Season 4 Episode 6 Review: Piece of Sh*t

Amanda Steinmetz at .
If there's one thing we can learn from the correctional system, it's that nothing ever comes for free.
Orange is the New Black Season 4 Episode 6 saw the official return of Nichols and explored her life inside MAX. Despite her attempt to stay clean, Luschek's visit and Sophia's apparent suicide attempt left her raw and defeated. 
Elsewhere in the episode, we watched Piper continue to make the wrong decisions as the target on her back became even bigger.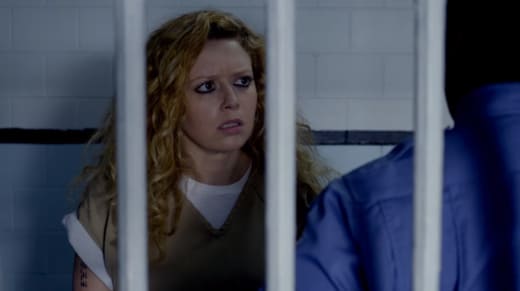 Normally I'd be thrilled to see Nichols. After all, she hasn't been a major part of the show since Orange is the New Black Season 3 Episode 3. However, seeing her fall to pieces by the end of the episode didn't leave me with much hope that she'll ever be able to stay clean.
Sophia's apparent suicide attempt left Nichols reeling, especially because she gave her that magazine. Then Luschek had to come and make her feel even more rage and self-hate. 
Luschek's guilt over getting Nichols thrown into MAX threw him into a tizzy because this is a man who cares for nothing. Even if he thought he was doing the right thing by talking with her face to face, the encounter was more for him than it was for her. Thankfully she called him out for it.
Nichols: Wow! Are you the symbol for empathy. No, Luschek, things aren't great. Let's see, uh... I'm sober, so that's something. All right, like, uh, intentionally sober, not barely-skating-by sober, for the first time in my life. Um... hardest fuckin' thing I've ever done and, oh yeah, I picked a hell of a time to do it considering that anything you want down here is available to you and less than a foot away at practically all times. Uh, what else, what else? Let me catch you up. I have no family, uh... I am completely alone. I have no friends. And, uh, yeah, yeah! It's all my fault, so thank you for coming all the way down here, and, uh, reminding me of that, while also managing to conveniently clear your own conscience, you know. I fuckin' really appreciate it!
Guard: Hey. Hey.
Nichols: I'm sorry. Uh... hey next time, do me a favor, right, just do it the old-fashioned way and cum all over my face and then leave, okay? Fuck you!
Frankly, the whole ordeal is sad for the both of them at this point. Luschek, with the help of Judy, was able to get Nichols out of MAX, but now he is at the sexual mercy of Judy. Nichols had just celebrated a milestone in being sober, but ended up trading sexual favors for heroin with one of the female guards.
It's interesting how sex served a purpose three different ways: blackmail, transactional, and communication. In trying to not be a piece of shit for once, Luschek ended up putting himself in the position to have to satisfy Judy.
This woman has been one of the best additions to the show. She's incredibly smart and conniving. There's a shark underneath that Southern charm. 
Seeing Nicholas have to go down on that guard in order to earn her heroin dose just made me sad. Also, it makes you wonder why the majority of the people who end up working in the prison system are all corrupt.
Seriously though, all these new CO's are all scary. Piscatella's authority may be intense, but these other guys like CO Humphrey just seem frightening in their glee over degrading women.
The only use of sex that was used in a positive, communicative way was with Poussey and Soso. These two are the reprieve from the rest of the bleak storylines.
Poussey: You don't have to do that.
Soso: But..
Poussey: Look, I don't want you to do that 'cause you think that's what I want. I want you to want to do it. You feel me?
You can't help but smile as they say they love each other. Nothing is ever certain, especially once they get out of prison, but their willingness to remain open with one another gives me hope.
Elsewhere in the episode, Piper dug a deeper grave for herself as she sabotaged Maria. Piper's biggest problem is that she thinks she's untouchable. Whether or not she'd like to admit it, she let's her privilege blind her from the realities of prison life.
Piper doesn't truly know what it's like to grow up the way Maria did or the majority of these women did. Maria comes from a family where revenge is taken seriously and you protect your own no matter what.
Piper has no one at this point. I wouldn't be surprised if her bodyguard ditches her too. Her decision to get Maria caught with the panties is going to cause major blow back from Maria and the other women in her crew.
I am going to bury you! You're never coming back from this. Never.


Maria
She has the tendency to rarely think anything through. I'm sure it didn't even occur to Piper that Maria would probably get an extended sentence and that meant she wouldn't see her daughter for even longer.
Piper also probably didn't see the Nazi, white pride group rising up because of her words. Our actions have consequences and Piper's actions are going to get her into serious trouble.
Extra Thoughts and Questions
Without the use of a back story, more characters were able to make an appearance. However, that made most of the episode appear too cluttered and less focused.
We saw an appearance from Stella and she's still nobody I care to learn more about.
Taystee brokering the peace between Alison and Cindy was great. I loved how those two were able to bond over their mutual outrage of Scientology.
When will Caputo realize Linda is not going to do anything to better the lives inside Litchfield?
Keep an out for the Orange is the New Black Season 4 Episode 7 review by TV Fanatic Elizabeth Harlow, and remember you can always catch up on any missed episodes when you watch Orange is the New Black online!
Amanda Steinmetz was a staff writer for TV Fanatic. She went into retirement in June of 2027. Follow her on Twitter.