Feed the Beast Season 1 Episode 1 Review: Pilot Light

Lee Jutton at . Updated at .
AMC does morally conflicted white men like no other network.
So far, we've had brilliant alcoholic ad executive Don Draper (Mad Men), chemistry teacher turned murderous drug kingpin Walter White (Breaking Bad) and troubled, trigger-happy Sheriff Rick Grimes (The Walking Dead) – just to name a few.
These characters are not necessarily likeable and frequently make bad life choices concerning drugs, alcohol, criminality, misogyny, you name it. Yet somehow their stories are compelling enough to keep viewers tuning in week after week in eager anticipation.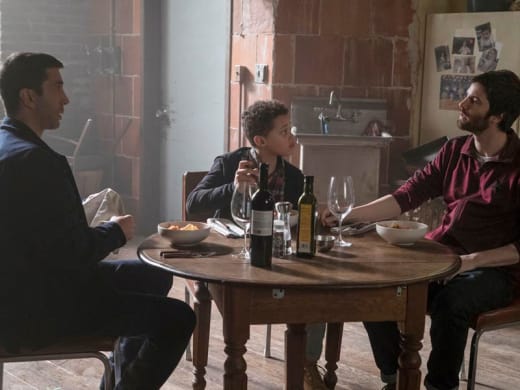 It makes sense that AMC would want to stick to what it does best and keep cranking out dark dramas starring angst-ridden antiheroes.
Enter Feed the Beast, an American adaptation of the Danish drama Bankerot by Clyde Phillips. Phillips previously dabbled in the area of the antihero by serving as showrunner on Dexter and Nurse Jackie, so one would think he's an ideal person to shepherd such a show. 
On Feed the Beast Season 1 Episode 1, Dion (Jim Sturgess) decides that the best way to get out of debt with the Mob is to convince his best friend, Tommy (David Schwimmer) that they should open a restaurant in the Bronx.
Dion is a brilliant chef, while Tommy is a skilled sommelier; naturally, both are not without their fair share of issues. However, it takes more than a few issues to make a good drama – and based on the pilot alone, it remains to be seen if Feed the Beast will be one.
When we first meet Dion, he's a prison inmate cooking a meal for the guards. He is interrupted by his lawyer, who tells him he has gotten released on bail eight months early.
Dion then proceeds to do some drugs and have hot sex with said lawyer before he has even left the premises – so, you know, he's pretty big on those bad life choices.
Meanwhile, Tommy is constantly drinking to numb the pain of his wife's tragic death in a hit and run and the emotional problems his young son, TJ, has been having ever since.
No, you're the only single parent whose son witnessed his mother get killed in a hit and run and who hasn't spoken since.

School Counselor [to Tommy]
At one point, Dion and Tommy angrily confront each other about their shared addictions, and it feels like a scene that could have come out of literally a dozen other television shows. That's a problem. It's an even bigger problem when that exact scene is essentially repeated again later in the episode.
Tommy: So, were you in the one prison without a weight room?
Dion: Don't worry, I'll still kick your ass.
Sturgess and Schwimmer are both talented performers, but the material they are given is riddled with masculine posturing. It doesn't help that London-born Sturgess, no matter how hard he tries, is not exactly believable as a Greek guy from the Bronx – yes, even with the beard and Adidas track suit.
Schwimmer is at least given the opportunity stretch beyond the touch-guy stereotypes as he mourns for his wife; the scene where he breaks down crying in his grief support group while roleplaying a scene with his dearly departed wife, Rie, is one of the highlights of the pilot.
You're like a phantom limb. I love you.


Tommy [to Rie]
Unfortunately, the rest of the hour consists of Dion trying to convince Tommy that they should open the restaurant, while Tommy chugs wine and insists that there is no way they can ever open a restaurant without Rie. Dion then chews him out for wallowing in his grief, Tommy accuses him of being insensitive, and everyone yells a lot.
And repeat.
The Mob scenes feel as though they were copied and pasted out of a lost Scorsese film that was lost for very good reasons, though Michael Gladis (formerly Paul Kinsey of Mad Men) appears to be having a good deal of fun as Patrick Woichik, a mobster known as the Tooth Fairy because of his penchant for ripping out the teeth of his victims. 
They've turned the methadone clinic into a yoga studio.

Dion
Despite these myriad weaknesses, Feed the Beast shows potential in two areas. One is to shine is in the relationship between Tommy and TJ as they both struggle to deal with their grief for Rie, albeit in very different ways.
The other is in the food. The scenes of Dion rapturously cooking are shot with elegant camera angles and set to music. As he moves through the kitchen, Dion resembles a dancer – a striking contrast to the scenes where he is snorting cocaine and throwing objects around the room.
When Dion waxes poetic on food, the dialogue oozes with passion. When he describes a rack of lamb with a wild mushroom sauce, you can't help but feel your mouth water. In these moments, Feed the Beast is truly delicious drama.
But as long as it remains mired in boring bad boy stereotypes, Feed the Beast won't rise to the high standard that AMC has set for itself. 
Share your thoughts. Are you ready to eat it up or spit it out? Hit the comments!
Lee Jutton was a staff writer for TV Fanatic. She went into retirement in July of 2017. Follow her on Twitter.