If there's anything you need to know about Smurf, it's that she doesn't like being lied to.
On Animal Kingdom Season 1 Episode 4, she tries to figure out if her boys are playing by her rules or if they've been working behind her back, and when she learns they've been doing the latter, all bets are off.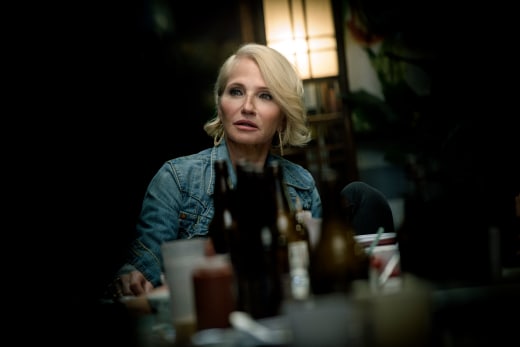 While I still appreciate what this show is trying to do in some ways, it's getting old fast. The shock value and the intrigue are wearing off, and most of these characters are totally unlikable.
The dynamics remain complicated and uncomfortable with all sorts of blurred boundaries and incestuous innuendo, and "the boys" just tear each other apart.
That's the point, and it's what gets our attention, but it isn't sustainable.
What IS sustainable, though, is J's quest to figure out how he fits in with this family. He starts looking into why his mother broke away from the rest of the family, and he also wants to figure out who his dad is.
That answer might be right under his nose, since there are hints that his father could be Baz.
If that's where we're heading, I'm on board, because Baz has already been playing the mentor to J and relating to him in a way no one else has been able.
J shows himself to be a caretaker when he takes the makings for mac and cheese to Catherine and Lena, but he's also there to try to find out more about his family.
Getting that close makes Baz uncomfortable, though, who lashes out when he comes home to find J there. There's definitely more going on beneath the surface, which is also pretty clear when Baz insists Catherine try to make things right with Smurf.
Baz: You said shit you shouldn't have said.
Catherine: No, I should have hit her with the car!
Smurf clearly has a soft spot for her grandson, and is already favoring him over her sons, who in her mind, are betraying her by not playing by the rules.
They also put themselves in danger by going rogue with their own jobs, and that's a problem for everyone.
Leave it to her to teach them a hard lesson by pretending to be arrested and giving them a serious wakeup call.
And when her suspicions are finally confirmed, she plays hardball by kicking all of them out of her house and cutting them off entirely, something she's able to do a little more easily now, I think, because she has someone new to invest in: J. 
Other thoughts:
Can we please have J's recipe for mac and cheese? Because it sounds amazing.
I don't quite know what to say about J's teacher, except that I don't see that ending well. At all. It's also all so very uncomfortable.
I'm a little disappointed that the game of paintball was cut short. Something tells me that could have been incredibly entertaining.
What did you think of this episode of Animal Kingdom? Share your thoughts with us in the comments below!
Need to catch up on past episodes? Remember that you can always watch Animal Kingdom online right here via TV Fanatic!
Watch online now!
Ashley Bissette Sumerel was a staff writer for TV Fanatic. She retired in September 2017. Follow her on Twitter and on Google+.