The Vampire Diaries and The Originals: What Do Their Futures Hold?
Matt Richenthal at .
Earlier this morning, The CW announced its fall schedule.
Of note to many long-time viewers is the absence of The Originals, whose ratings have fallen considerably on Season 3 and whose future now appears to be murky.
What does it mean that the series is being held until midseason? Should fans be concerned?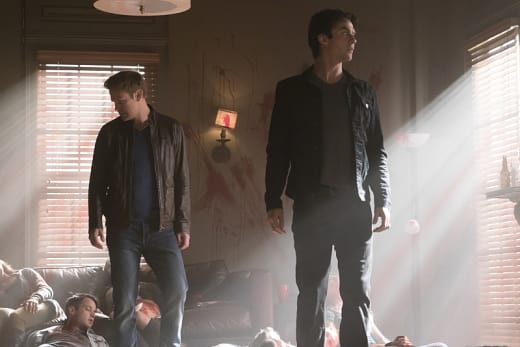 Not according to Mark Pedowitz.
The network President praised The Originals on a conference call with reporters, saying its extended hiatus is simply the result of having too many quality shows and not enough hours in the week.
"We have a very strong schedule. We still believe quite a bit in The Originals," he said.
"We only have 10 hours, so we made a choice to [hold it] to further boost our schedule at midseason." 
Along with The Originals, iZombie, The 100 and Reign and new series Riverdale are also on hold until early 2017.
What about The Vampire Diaries, whose popularity also plummeted last season? To the point where it was shifted to Friday nights?
That's where it will remain on Season 8, but Pedowitz wasn't ready to sing the show's swan song just yet.
"No decision has been made one way or the other," he said of ending The Vampire Diaries after Season 8. "My dream is it isn't [the final season]."
Talk has circulated that it could be, however, because Kat Graham has confirmed she will leave after next season for sure.
And also because, come on... it's just time at this point.
Elsewhere...
Supergirl will joining The CW for Season 2, coming on board a schedule that includes Arrow, The Flash and Legends of Tomorrow.
As a result, Pedowitz promised the network's yearly superhero crossover event will be "the biggest one ever."
(He also remarked that the former CBS drama always "should have been" on The CW.)
Will Calista Flockhart request that her Supergirl role be reduced in Season 2 because the series is moving its filming from Los Angeles to Vancouver?
Pedowitz said that there are "ongoing discussions" with the actress, adding:
"We are thrilled she wants to continue with the show and we're happy to have her in whatever capacity." 
What do you think? Is the Originals doomed? And should The Vampire Diaries end after Season 8?
Matt Richenthal is the Editor in Chief of TV Fanatic. Follow him on Twitter and on Google+.