Supernatural Season 11 Episode 20 Review: Don't Call Me Shurley

Sean McKenna at . Updated at .
Well, I guess there's no more beating around the burning bush when it comes to the question of Chuck being God.
Supernatural Season 11 Episode 20 made it perfectly clear that Chuck is in fact God.
But his introduction during the hour didn't have me initially jumping for joy.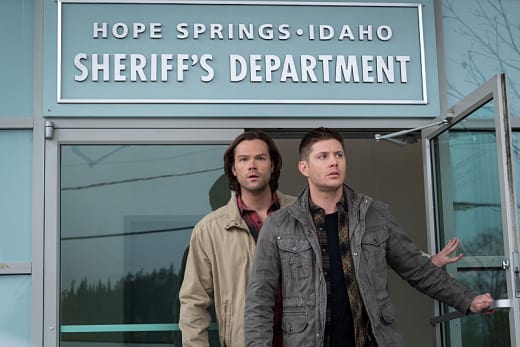 Sure, I was a bit taken aback by such a definitive answer about his character right away, and the whole choir sound when God snapped his fingers to reveal himself to Metatron was cheesy.
Then it just felt like the writers were providing exposition about why the Chuck suit and why Dean's amulet didn't work, etc., and I began to worry that, after looking forward to getting the character of God to finally come onto the show, it would wind up being a letdown.
And yet, the more God and Metatron continued to talk, delving into his reasons for creating life (with a great Rolling Stones song playing in the background) or taking responsibility by leaving or why he wasn't dealing with the Darkness, I was getting sucked back in.
It no longer became about jokes (though I did like the Revolution nod to series creator Eric Kripke) or being cutesy because Chuck is such a fun character that's easy to love. The episode was really digging into the character of God, what makes him tick – the why of it all.
And who would have thought that it would be Metatron who would spur God back into the game and out from his safe haven?
Curtis Armstrong was fantastic in the scene when he begged to know why God left him before telling him about humanity and never giving up. It was a side I can't recall seeing from Metatron, and Armstrong delivered such an emotional performance.
It also is wild to think that I was almost more interested to see what was going to happen with Metatron and God than Sam and Dean.
Because the Winchesters were dealing with a high stakes situation as the fog rolled in and the Darkness infection was back. It really reminded me of the Croatoan virus.
I was surprised that Sam wound up infected again, and Dean managed to be immune to the fog. Really, I kept wondering how the heck they were going to get out of their dilemma.
But it was great to see that Dean wasn't going to leave his brother's side, and just the image of them sitting in the fog was a memorable one.
Though it was the final moments, with actor Rob Benedict getting to flex his music skills, that really hammered home just how fantastic this episode was.
The emotion running through the song and performance, combined with the looks from Metatron as he read the new pages of God's autobiography, or Sam and Dean trying to figure out how the infection was gone and the amulet was glowing, was powerful.
And the repeated "fare thee well" kept making me think that God might be making a big sacrifice coming up.
How awesome was it to see Sam, Dean and Chuck reunited once again, with the brothers realizing who their friend actually was before the "We should probably talk" line? What a superb way to end the hour.
This episode really made me want to go back and see the series from the beginning with the definitive knowledge that Chuck is God. And of course, it got me excited for what's next and wondering just how God is going to play into the final episodes of Supernatural Season 11.
Yes, fellow Supernatural fans, we should probably definitely talk about this one.
Are you glad Chuck is God? What's God's plan? What's next for Sam and Dean? Sound off below, and see this revealing episode again when you watch Supernatural online now.
NOTE: Supernatural Season 11 Episode 21, "All in the Family," airs May 11 at 9 p.m.
Sean McKenna was a TV Fanatic Staff Writer. He retired in May of 2017. Follow him on Twitter.