Person of Interest Season 5 Episode 1 Review: B.S.O.D.

Sean McKenna at . Updated at .
The war against Samaritan will soon come to an end… but whether there's a happy ending and Reese, Finch and the rest of the gang make it out alive and victorious is another story.
Person of Interest Season 5 is sadly the final season of the show, but there's at least some comfort knowing that the series will get a chance to finish on its own terms with a set ending. Additionally, the 13-episode run, while shorter than previous seasons, could help streamline the final chapter and keep it much more on point.
In fact, Person of Interest Season 5 Episode 1 wasted no time in picking up in the heat of battle and where Person of Interest Season 4 Episode 22 concluded, with the team scattered, on the run, and desperate to save the Machine.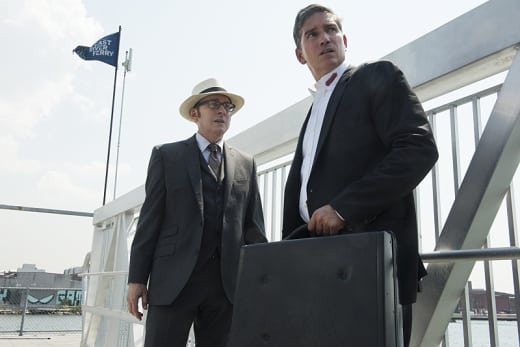 But amongst all the great action scenes, and Root and Reese showing off their sweet fighting skills, was the premiere's focus on Finch and his relationship with the Machine.
It's hard to believe that I could care about a computer, and yet Person of Interest has managed to humanize the Machine in such a way that it's more than just a tool that spits out numbers for the POI team to investigate.
It really is like another person on the team, and watching Finch have a conversation with the Machine as it questioned death and apologized for breaking boundaries pulled at the heart strings.
And a lot of that was because of Michael Emerson's performance and interaction with the Machine. The struggle was there, that concern over what Finch had created and how far to let things go.
Even that moment where he first erased the Machine's memories and then tried to take it back was heartbreaking.
And it was great to see Finch's concern about the evils the Machine could unleash, which we've seen with Samaritan, were prominent. Yet, both Nathan and Root looked to the good of what the Machine could do. And I loved that Root believed in the Machine's good because Finch was its creator, its father.
I never believed the Machine would die, but there was some solid tension as Reese, Finch and Root used those Playstation consoles to allow the Machine to decompress. Turns out, video game systems save lives.
But even with the Machine getting its rescue in the nick of time, the POI team doesn't look even close to taking down Samaritan yet.
The reach of the supercomputer is incredible even beyond its agents.
Getting Fusco cleared and killing off the internal affairs guy? Just another walk in the park for Samaritan.
The scariest moment though was Samaritan activating civilian assets to try and take down Root. It was just wild to see normal everyday people unknowingly become Samaritan's tools.
It does make me wonder if Shaw will be working for Samaritan when she returns…
This was a fantastic start to the final season and further highlighted just how far the series has come since its early days of churning out cases of the week.
With a cast of characters worth caring about, plenty of action, drama and humor, and an engaging serialized story, Person of Interest has truly evolved into a gem of a television show. It's looking to be the beginning of an exciting end.
What did you think of the premiere? Will the POI team survive the final season? Sound off below, and make sure to catch up on the series and watch Person of Interest online now!
NOTE:
Person of Interest Season 5 Episode 2
, "SNAFU," airs May 9 at 9 p.m.
Sean McKenna was a TV Fanatic Staff Writer. He retired in May of 2017. Follow him on Twitter.