Once Upon a Time Season 5 Episode 20 Review: Firebird

Christine Orlando at . Updated at .
What will break the heart of Storybrooke more than Once Upon a Time Season 5 Episode 20? I'm truly afraid to ask. 
Heartbreaking doesn't feel like a strong enough word to describe Emma and Killian's goodbye. 
After everything these two have been through, I refuse to believe that this is the end for them. If it is, then I'm seriously ticked off.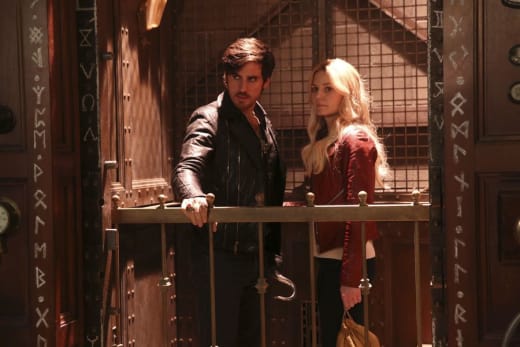 Emma has fought so long and hard to let herself love someone and be loved, it's just not fair to see her go through this type of torment. 
Emma's armor allowed her to keep Hook at arms length for most of their relationship. Hearing what she told him in this Once Upon a Time quote made for a satisfying moment…
I guess my armor's been on for such a long time that sometimes I forget that I don't need it with you.

Emma
I've always loved Emma's red leather jacket; now I can't look at it without being sad. 
Elsewhere, Regina encouraged Zelena to follow her heart, and it nearly ended them all. 
Does Hades love Zelena? Obviously, he does if her kiss got his heart beating again, but what is his plan once he gets back to Storybrooke? It must be something evil if he worked so hard to keep the heroes out of his way. 
And to think Hades actually had me rooting for him before he turned the tables. Kudos to the actor for somehow making the Lord of the Underworld likable. 
The only bit of real fun this week was Rumplestiltskin. 
He managed to use Zelena as leverage to get the contract on his baby torn up. Despite using kidnapping, threats and pairing up with dear old dad, it was good to see him get that done. Now I wonder if Belle will critique his methods once she finally wakes up. 
When Rumple took Robin's heart, I really thought Robin was a goner. Let's face it, we haven't seen very much of him this season, and once Zelena and Hades waltzed off with the unnamed baby, it seemed as though there wasn't much left for Robin to do. 
Rumple's bait and switch with the heart was absolute genius. Peter Pan never saw it coming, and neither did I...
Villains don't get happy endings, Papa, and I'm here to make sure you never get yours.


Rumplestiltskin
The sentiment sounded a little hypocritical since Rumple is hoping for his own happy ending with Belle and their baby, but I'm not about to argue. 
I was actually grateful for Rumple's trickery this time because it meant Pan was gone for good. I've never been a fan, so I'm happy that his story appears to be over and done. 
Is this truly the end for Hook? I hope not. Not only because I want Captain Swan to find their happy ending, but Hook and Regina have some of the best banter on the show. I'll really miss that if he doesn't come back. 
Once Zelena learns what Hades has done, will she align herself with him or Regina and the heroes? And will anyone else find their untimely demise before Once Upon a Time season 5 ends?
Check back later this week to see what our Once Upon a Time round table team has to say, and if you can't wait for more magic, you can watch Once Upon a Time online here at TV Fanatic.
C. Orlando is a TV Fanatic Staff Writer. Follow her on Twitter.