The VIP, the star of this story has to be Fornell.
He stole almost every scene he was in, by virtue of his false confidence and his ignorance, starting with this:
Gibbs: What's he doing here?
Fornell: Good to see you too! How come you never responded to my Snapchat?
We can ignore the fact that there's no way he sent Gibbs any snapchat, given the fact Gibbs doesn't have an account, and more importantly, doesn't even have a smartphone.
And now Fornell is passed out on Gibbs' floor, having been shot.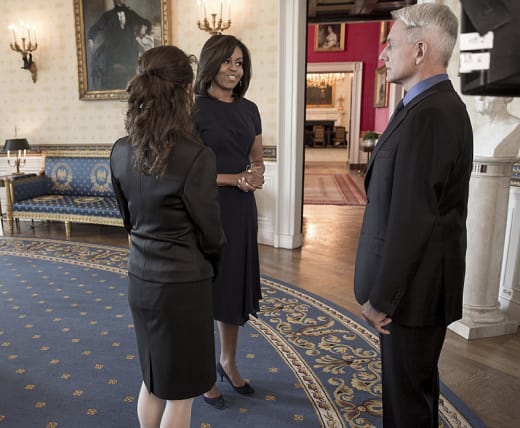 In addition to featuring First Lady Michelle Obama and introducing us all to the Joining Forces initiative, NCIS Season 13 Episode 22 gave us two stories.
The first was a case  in which a young boy witnessed the murder of a drug dealer, and then himself became a target. The team eventually realized that the person they were looking for was the police woman who accessed traffic cameras to follow the boy to his home.
The second was the continuation of the end of season arc, involving a vengeful former MI6 agent named Jacob Scott.
Scott has a list of NCIS agents involved in an operation that resulted in the death of his wife. He has marked them all for assassination.
In the case of the week, it seemed certain that police detective Daniel Swanson was the likely culprit. So to find out the bad guy was actually the woman cop (Officer Kristen Fields) came as a bit of a shock. That was some great writing.
You see so many shows where someone claims to understand the feelings of a grieving person, only to have them react in anger, because there's no way they could possibly empathize. It's happened so often that it has become cliché.
So it's great to see scenes like the ones with McGee and Henry, in which he relates closely to him because Tim's father often left their house for long periods of time too.
It was good to see him take him under his wing and not treat him like a child. Those long conversations provided a clue into the kind of an awesome dad McGee will make someday.
Did anyone notice that the team seemed a little more cohesive this week? A little more together, and willing to collaborate without rancor?
Did you notice that Gibbs had fewer snarks to throw around, too? (I believe he threw only one in this episode; when he yelled at Bishop you know what would make me happy? Find Doyle!)
What did the team all have in common? Who was the odd man out?
It's not as if Tony ever does anything wrong, really. He's not the practical joker he used to be, and he does his job well. Better than well, actually.
So why did it take an episode where he was off in Russia for the team to coalesce so well?
It's troubling. The only conclusions we can draw are:
The ever-present friction that occurs when he's there is by Gibbs' design, in an effort to get him looking for his own team.
There were too many stories to cover (two and a half, at least), and therefore there was no time to adequately explore the usual inner team conflicts.
Or maybe there's another explanation. If you have any, please share your theories in the comments.
Fornell's fumbling in London was hilarious. When the MI6 agent gave his greeting to Vance, I fully expected Vance to give the counter-sign. But instead Fornell's all ARE YOU MI6?
Bull in a China shop.
Despite his treatment of Tony in NCIS Season 13 Episode 21, I'd hate to see him leave the show. There's little possibility of that, thankfully. Generally, when characters black out after being shot at the end of the show, it means they're only wounded.
So now there are two episodes in the season left, where we get to see:
how and where they capture or (more likely) kill Jacob Scott
who the mole is at NCIS
how Tony will leave the team.
Speaking of the mole, there's a better than even chance we've already met him or her. That's usually how it works in shows like this. I couldn't begin to theorize on who that might be.
First Lady Michelle Obama did just fine with her scenes, didn't she? Every line was on cue, and she performed as well as any actor. She was a real treat.
Final thoughts:
As you probably guessed, there really is a veterans families' support initiative entitled Joining Forces. You can read about it on the Whitehouse website.
Abby's #LivingRocks topic is trending on Twitter right now. It's actually a great idea, especially for those of us who often wondered at the incongruity of offering praise to dead people at funerals.
Gary Glasberg initially wanted Michelle Obama to come to the set, but scheduling didn't permit it. So the NCIS crew were instead invited to go to the White House to do the scene.
It's the first non-news film production to film inside the White House.
Be sure to join us here next week for the review of NCIS Season 13 Episode 23, entitled "Dead Letter." Note: Tony will be back.
As always, you can catch up on any missed episode when you watch NCIS online.
Now it's over to you. What are your thoughts on "Homefront"? Did you suspect the police officer? Who's the NCIS mole? Share your thoughts in the comments below!
Douglas Wolfe was a staff writer for TV Fanatic. He retired in 2016. Follow him on Twitter
.