Grey's Anatomy Season 12 Episode 23 Review: At Last

Elizabeth Harlow at . Updated at .
I'll grant the shocking hook-up, but I call shenanigans on the proposals being "jaw dropping."
Grey's Anatomy Season 12 Episode 23 was certainly hyped by by ABC, but it only delivered on one of its promises. That's not to say there weren't some shocking turns. But two long term (if on-again-off-again) relationships talking about marriage aren't that much of a surprise.
No, the biggest bomb dropped was the loss of Stephanie's love. I'd say it was Riggs and Mer, but if Maggie told her about his bacon in a box, I totally understand her about face with him.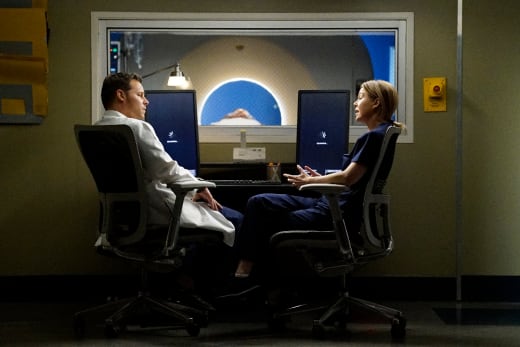 Grief is a funny thing, and that was certainly the impetus for Meredith's snarly behavior. We've focused a lot on her dealing with the loss of Derek this season, but for me, this was the most authentic representation of her grief.
Still, the way she was taking it out on everybody around her wasn't really acceptable, even if Amelia did keep poking the bear.
As unpleasant as her attitude was, I enjoyed the realness of the situation. Even without significant grief, sometimes people just have bad days and act like trolls. Unfortunately for the doctors at Grey-Sloan, none have them have the interpersonal skills to identify and avoid someone who's having an off day.
At least she picked somebody other than Alex with whom to work out her bad mood. I personally don't really see her hookup with Riggs being anything more than an anger driven emotional release, but I also thought Derek was a tool, so apparently Meredith and I have different tastes in men. 
Alex: See? Happy endings -- they happen.
Meredith: Oh, please. Everyone's in love in a foxhole
Alex: What?
Meredith: He saved her kid. That's like post traumatic stress romance.
I'm curious how (and if) Meredith will react to Stephanie's loss. They don't interact all that much, so we may have to wait a while, but I could see it going one of two ways. Either she's empathetic about losing the man you love, or she's nasty and tries to tell Stephanie to get over it because it's not like she was that serious with Kyle.
I didn't really see Kyle's death coming, but that may have been willful blindness on my part. I recognize that happily-ever-afters make for boring stories, but I was really hoping that she'd be leaving to go to Europe with him and not taking a leave of absence to get over his death.
I'll be interested to see where Stephanie ends up when she gets back. Kyle was the end of a very long dry spell for her, and I'd hate to see her clam up even more than she was before. Jerrika Hinton has an excellent resting bitch face, but most of the enjoyment from having an ice princess character is having someone break through that shell. 
I went through nineteen hours of labor with you, without drugs. You owe me at least a text or a "tweep."

Mrs. Diaz [to Kyle]
I never really liked Jo and Alex together, but my heart goes out to the guy. The upside to her finally giving him a solid answer would be if this relationship was actually put to bed and never mentioned again. That's not going to be the case, but a girl can dream. 
The thing is, I find Jo so much more likable when she isn't with Alex. She's had some funny one liners when she's been an observer rather than the one in the limelight. She's become a sympathetic friend to Stephanie – quite the turnaround from when she was backstabbing her bestie to Amelia.
And Alex has been in the same situation that Owen was in with Christina. Okay, so he's been a little less douchey about it, but when you know what you want isn't what your partner wants, that's a problem. One thing I liked about his arc in "At Last" was that he finally stood up for himself in the relationship.
Jackson: So, you're not mad?
Ben: No, I'm pissed as hell, but she's the love of my life, so...I mean, you get it. You got April.
Jackson [confusedly]: April and I are divorced.
Ben: Well, like I said -- waiting game. Stay strong. You'll get there.
I am worried about how much longer Ben and Miranda can wait each other out. Especially since Ben is being so stupid about counseling. Sometimes you need to yell at each other instead of letting all that resentment fester.
I was a little worried about his comment on Grey's Anatomy Season 12 Episode 22, since his insistence that a non-biological parent is still a parent could easily be read as concern over his relationship with Ben. Now I'm just wishing he would listen to his advice to Owen on Grey's Anatomy Season 12 Episode 16.
This has been the hardest relationship to see upended because it's always seemed so strong. I'm not surprised they're both being bullheaded, but hopefully it doesn't take a gunman or a plane crash or, I don't know, contamination with some nasty disease to get them to pull their heads out of their asses.
Maybe Webber needs to give it another go.
Miranda: Um, sir, after the many years I served under you as my chief, you must understand how difficult it is for me when you force me to say, respectfully, this is not my problem and please, go do your damn job.
Richard: I don't think you found that difficult at all.
Despite Meredith's sour attitude, it looks like wedding bells will be ringing on Grey's Anatomy Season 12 Episode 23. At least, they will be if the bride can get her panic attack under control. Of course, it wouldn't be a Grey's wedding if there wasn't some kind of impediment.
While Mer, Maggie, and Owen talk Amelia down, Jo is going to come clean with Alex. She's been hiding something, but what exactly is anybody's guess. My leading (wild) theories are that she's already married – some kind of cash for a green card seems plausible – or that there's been further communication from the fertility clinic or Izzie. 
And as if all that weren't enough drama, April is going to go into labor. On what looks to be Meredith's couch. Luckily for the littlest Avery, Ben and his recently acquired labor and delivery skills are on hand to help her out. Here's hoping he doesn't have to take a clipboard to her!
Now's the time to catch up (by which I mean binge the whole season for clues) and watch Grey's Anatomy online! We'd love to hear your thoughts and predictions in our comments section.
Remember, "Family Affair" will air May 19 at 8/7c on ABC. Get your first look here!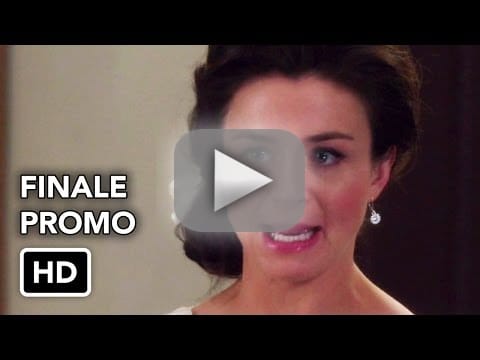 Elizabeth Harlow was a staff writer for TV Fanatic. She left the organization in October 2018.