Castle Season 8 Episode 20 Review: Much Ado About Murder

Christine Orlando at . Updated at .
You only live once, so fans of Caskett need to hold on to every moment we have left, starting with Castle Season 8 Episode 20.
What's sad is that this hour was one of the more enjoyable of Castle Season 8 and had a lot of what I had hoped to see if the series continued. 
For those of you who haven't heard the Castle casting news, ABC has yet to renew Castle for another season, but they have confirmed that if they do, characters Kate Beckett and Lanie Parish will not be returning.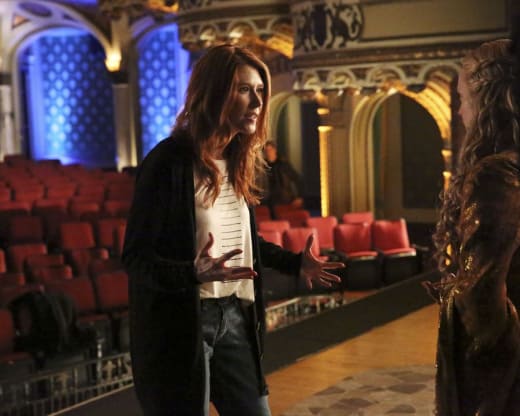 It really does give even an installment like "Much Ado About Murder" a sense of melancholy which is a shame because it actually was fun.
The case of the week had just enough twists and turns to keep it interesting. 
I loved when both Castle and Ryan slipped into Shakespeare speak when trying to question Ophelia…I mean Naomi. I almost didn't want Javi to stop it and yet knew it was completely within character when he did. 
Castle was abducted by the head of a drug cartel because the man wanted Rick to write his story. That's only something that would happen to Castle. 
This was one of the few times this season when Martha truly felt like the character I've come to love over all of these years. She was working with Zane on his acting and helping him as a life coach, plus she immediately came to see Beckett at the precinct when Rick didn't show up for their dinner. 
Beckett: You're such a good son.
Castle: And you're such a good everything.

Well, Beckett obviously isn't so good at planning date nights. As Ryan pointed out, no one was going to be able to top Rick's elaborate, over-the-top dates. Kate needed to learn to keep her plans simple but heartfelt. Something tells me that's all that would be necessary to keep Castle happy. 
I don't think date night counts when it's a candlelit dinner with the Butcher of Guadalajara.


Castle
The DEA obviously didn't care much about Castle's welfare considering the way they shot up that farm to get to El Oso. The only reason Rick ended up bullet-hole free was because this is a TV show. 
Jewel Staite guest starred as Erin Cherloff, the director, and as a fan, I was disappointed we didn't see more of her. Not only was her role small, but it was obvious almost from the first meeting that she was the killer. 
The most depressing part was when it was revealed that Zane had promised Erin she could direct the biopic, only to renege on the deal when he was offered the opportunity. As was said in this Castle quote…
But it was a Hollywood promise; not worth a damn.

Castle
Don't we know it. 
There were lots of moments that made me smile during this episode; Rick and Kate sharing cozy scenes at the loft, and Castle, Becket, Ryan, and Espo theorizing around the murder board being two of the best. 
It's just so darn sad and so very wrong that if they do renew Castle for another season, we'll never get to see these things again. 
And as much as I thought Ryan's behaviors was a little overblown, especially when he threatened to look into another parent's unpaid parking tickets, seeing him sing with little Sarah Grace while Uncle Javi danced along with them was just adorable.
With only two episodes left, check back later this week to see what our Castle round table team thinks and then for our review next Monday of Castle Season 8 Episode 21. 
If you want to see some classic Caskett, you can always watch Castle online here at TV Fanatic.
C. Orlando is a TV Fanatic Staff Writer. Follow her on Twitter.